Tom Petty: One of rock's most distinctive and enduring voices
With his band the Heartbreakers, his songs of everyday American lives spoke to audiences for four decades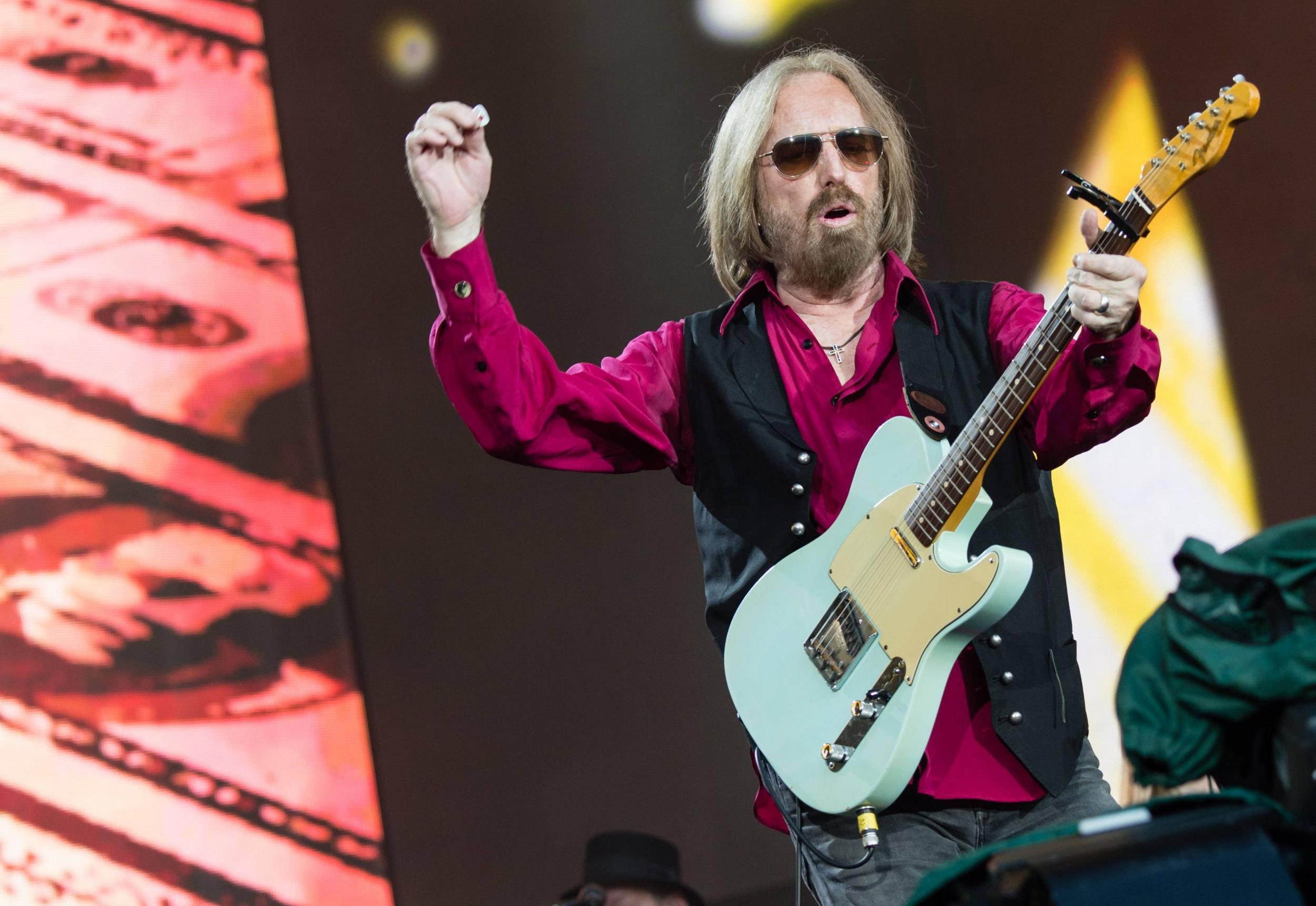 Tom Petty, who has died aged 66, burst onto the scene in 1970s as one of the most original, searching voices in rock and remained a major hitmaker for four decades, writing hits including "Free Fallin´, "I Won't Back Down" and "American Girl".
Petty and his band, the Heartbreakers, released their self-titled debut in 1976 and soon drew comparisons to the bluesy, guitar-heavy rock of The Rolling Stones and The Byrds. Their music was unabashedly sentimental, seeming to speak to striving, everyday Americans no less than the songs of fellow rocker Bruce Springsteen, while featuring clever arrangements that intertwined the fretwork of Petty and lead guitarist Mike Campbell.
The group toured seemingly nonstop for decades, leading boisterous shows as recently as last week, when Petty concluded a nationwide tour that he said may well be his last. "I don't want to spend my life on the road," he told Rolling Stone.
Still, Petty seemed to treat rock as a religion, battling with his record label to prevent the cost of one of his albums from rising by $1 and exuding a sense of divine satisfaction while performing onstage. "I don't think he thought there was a better way to live your life than in a rock band," said rock historian and Rolling Stone contributor Anthony DeCurtis. "You never get a sense that this guy was going through the motions at all. It was a matter of conviction for him."
Petty, the group's leader and principal songwriter, was a musical craftsman who paired polished guitar riffs with lyrics that seemed lifted from bar-room conversations in his home town of Gainesville, Florida. His 1978 single "Listen to Her Heart" begins, "You think you're gonna take her away with your money and your cocaine", while "I Won't Back Down" – the 1989 fist-pumper that Petty co-wrote with Jeff Lynne – starts this way: "Well, I won't back down / No, I won't back down / You can stand me up at the gates of hell / But I won't back down."
It was simple, straightforward and catchy, with a hummable hook that helped Petty's solo debut, Full Moon Fever (1989), sell millions of copies. His Greatest Hits record, a compilation that included the harmonica-driven single "Mary Jane's Last Dance", fared even better, sitting on the Top 200 albums chart for more than six years and briefly staking a claim to one of the 100 best-selling albums of all time.
Tom Petty: A Life in Pictures
Show all 8
Petty's career was marked by personal problems that included a heroin addiction, a tumultuous marriage and a 1987 house fire that burned everything but his basement recording studio. But he remained one of the most durable and distinctive presences in rock for decades, sporting a nasal voice and blond hair that fell to his shoulders.
His 1980s music videos, including an Alice in Wonderland-inspired video for '"Don't Come Around Here No More" (1985), in which Petty played a sunglasses-wearing Mad Hatter, introduced him to some members of the MTV generation. And his recordings with the Traveling Wilburys, a supergroup that formed in 1988 with Bob Dylan, George Harrison and Roy Orbison, connected him with an earlier era of rock music. Still, Petty remained an inscrutable presence to many fans. As one friend told Petty biographer Warren Zanes: "He's got tinted windows on his soul."
Thomas Earl Petty was born in Gainesville in 1950, the son of an alcoholic insurance salesman who beat him relentlessly from the time he was five. His body, he later said, was covered in welts. His revenge was a slingshot to the fin of his father's 1955 Cadillac.
He escaped the pain of his family life through watching television and then through music. An encounter with rock star Elvis Presley, who was in town to shoot a scene from the 1962 Hollywood musical Follow That Dream, was a defining moment of his childhood. Through family connections – an uncle who had been hired to assist the film crew – he managed to get onto the film set and meet the star.
He soon became obsessed with the guitar, the instrument of his musical idol, and his school grades began to drop. He said he preferred the company of his guitar to dates and other teenage rites of passage, and as The Beatles invaded the pop charts his hair grew in length.
Petty played in local rock bands, with musical dates often in topless bars, and left school at 17 to devote himself to the group Mudcrutch, which included two later founder members of the Heartbreakers, keyboardist Benmont Tench and lead guitarist Mike Campbell. He was, former bandmate Jim Lenahan told Zanes, ferociously ambitious, "really good at getting people to quit school and join his band".
Mudcrutch had a strong following in Florida, but Petty said he was determined to cast a wider mark, which meant writing his own music and hoping it would catch the attention of a record company in Los Angeles. They signed with Shelter Records, but the band broke up over artistic and personal clashes. "We did the LA freakout," Petty later quipped. Not until 1975, at a demo session that included Tench, Campbell, drummer Stan Lynch and bassist Ron Blair, did Petty suddenly find the chemistry just right.
Calling themselves Tom Petty and the Heartbreakers, they released two major hits the next year, "American Girl" and "Breakdown", which vaulted them to national attention and a regular spot performing at the Whiskey a Go Go and other major Los Angeles clubs.
Their style was a throwback in many ways, a rejection of arena rock bands like Led Zeppelin and the blues roots music of the Allman Brothers in favour of the feral sound of early Presley and Buddy Holly. When promoters and radio stations classified the group as a punk act, Petty fumed. He and his band were pure rockers.
Legal entanglements ensued when his record company changed hands after the release of the band's second album, You're Gonna Get It! in 1978. Petty said he refused to be "bought and sold like a peace of meat", and found his career stalled over charges of breach of contract when he wanted out. He declared bankruptcy in 1979, signed with a new label, Backstreet Records, and reached a settlement with his former record company.
The new arrangement would mark a renaissance in Petty's music. The record Damn the Torpedoes (1979) – a playful jab at his legal troubles – endures as one of the timeless rock albums of the era, oozing tenderness and toughness and a propulsive rock drive on songs such as "Refugee" and "Louisiana Rain". The album, defined by Petty's emotive vocals and Campbell's vital guitarwork, sold millions of copies and summited the pop charts.
Petty's next several albums with the Heartbreakers – including Hard Promises (1981), with a duet with Stevie Nicks of Fleetwood Mac on the song "Insider", and Long After Dark (1982) – continued to sell exceedingly well. Critics rhapsodised on his originality and suppleness.
"The music on Long after Dark offers the passion, the attention to detail, the delicate balance of originality and love of tradition that have always informed the best rock and roll," Robert Palmer wrote in The New York Times. "Long after Dark also happens to be one of the most gorgeous-sounding rock'n'roll albums in recent memory. Petty and his collaborators have fashioned an aural landscape of remarkable beauty and depth. Phalanxes of electric 12-stringed guitars advance across meadows of layered keyboards, while six-strings chime out harmonious, pealing chords and drums crash like thunder."
As the decade progressed, Petty lent his name recognition to benefit concerts such as Live Aid, and he also contributed hitmaking songs for other performers, including "Never Be You" for Rosanne Cash. Worried that the Heartbreakers were becoming too well-oiled for their own good, he ventured into conceptual rock – with touches of psychedelia and soul – for their 1985 album Southern Accents, which had the one-off hit "Don't Come Around Here No More".
In 1986, he and the Heartbreakers toured as the backing band for Dylan, one of Petty's chief musical influences. Their next album, Let Me Up (I've Had Enough) in 1987, demonstrated a shaggy freewheeling spirit more than their previous polished studio work and a virtuoso-like versatility, but he also saw his commercial prospects dwindling.
His work with the Traveling Wilburys, and the chart-topping success of "Free Fallin'" and 'I Won't Back Down', from Full Moon Fever, propelled him into the next decade. As Petty put it, the album "made me such a nice guy for about a year". He was now a household name, an arena-filling act who suddenly became a target for music critics anticipating that he – now on the precipice of fame – would relinquish his mantle as an innovator and leave behind his roots in favour of lucre.
His later albums, among them Into the Great Wide Open and Wildflowers, continued to reap financial rewards for its creator, but he remained very much attuned to musical integrity. His music lacked superstar pretensions in favour of exquisite melodies and high-level craftsmanship. He tried to avoid the pitfalls of 1980s rock-band excess, and he embraced the hallmarks of the post-Nirvana generation of music makers.
"They don't give a damn how much money they're going to make," he told The Independent in 1994. "I think in America for a long time you had groups that wanted to be stars more than they wanted to make music. We always went on the theory that if we made really good music we might attain stardom, but it was never the primary goal."
Petty made idiosyncratic guest appearances in the 1997 Kevin Costner film The Postman and on TV shows including It's Garry Shandling's Show and the animated series King of the Hill. His marriage to Jane Benyo, with whom he had two daughters, ended in divorce; he said her escalating drug use and mental illness, including threats of suicide, exacerbated his own prodigious heroin consumption and a furtive public posture. In 2001, he married Dana York in a ceremony presided over by rock star and ordained minister Little Richard.
The Rock and Roll Hall of Fame inducted Petty and the Heartbreakers in 2002. "I'd like to see us break some new ground and leave some sort of mark on the music," Petty once said, according to his citation. "That would be the nicest thing – to give something back, as noble as it sounds. If you could make some little dent in rock, where that little area is yours – that's what I'm striving for now."
Tom Petty, rock star, born 20 October 1950, died 2 October 2017
© Washington Post
Join our commenting forum
Join thought-provoking conversations, follow other Independent readers and see their replies