Tony Booth, actor and activist
A lifelong socialist, he was responsible for guiding his son-in-law Tony Blair into parliamentary politics
Marcus Williamson
Wednesday 27 September 2017 15:16 Comments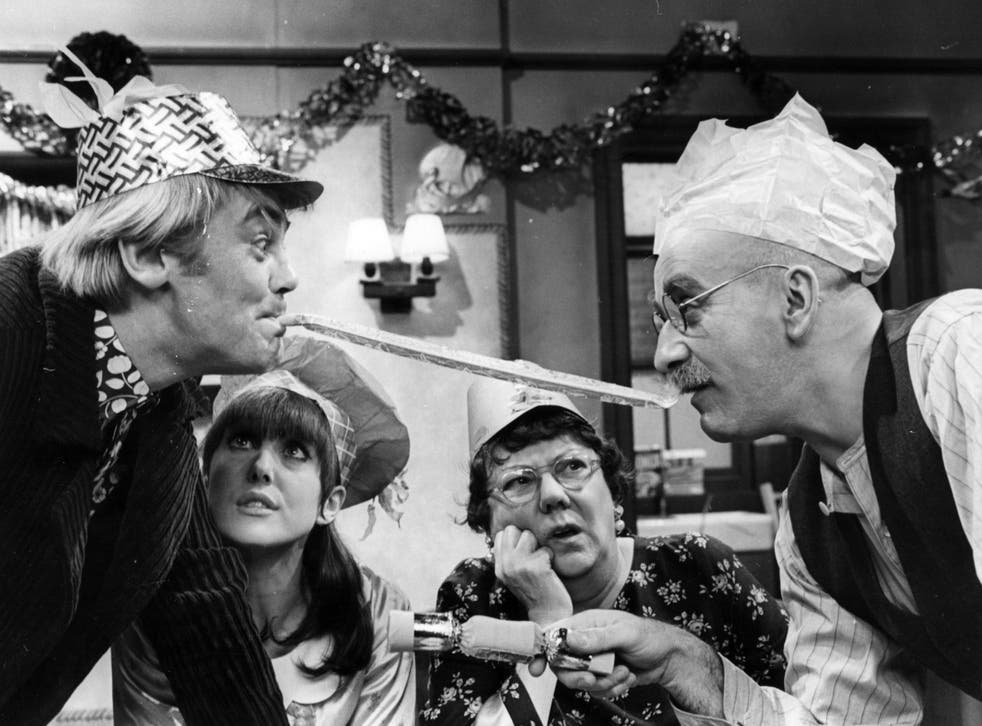 Tony Booth was the actor and activist best known for playing Mike Rawlins, the "randy Scouse git", in the BBC television comedy series Till Death Us Do Part, from 1966 to 1975. Booth was a committed socialist on-screen and off. As the on-screen son-in-law of Alf Garnett he would argue across the dinner table about racism, immigration and economic policy; off-screen, as the father-in-law of Tony Blair, it was the Iraq war, "androids" at Labour HQ and "Tony's Cronies" that exercised Booth's political consciousness.
Booth was born in Liverpool in 1931. He first became involved in politics at the age of just 14, when he canvassed for his local Labour candidate, Philip Voss. As a national serviceman with the Royal Corps of Signals, he was posted to Paris, based at the Supreme Headquarters Allied Powers Europe, near Versailles. It was there that he first got a taste for acting which would define his future career.
After several years in repertory theatre, Booth made his break in the TV sitcom Till Death Us Do Part, written by Johnny Speight and first broadcast in 1966. The series starred Warren Mitchell as Alf Garnett and Booth as Mike Rawlins, the long-haired son-in-law. Unusual for its time, in attempting a realistic portrayal of East End working-class life, it pitched the reactionary Garnett – and his outspoken bigotry – against Rawlins, the younger socialist. For its outstanding cast and handling of controversy with such humour, the programme became an instant success.
Garnett's disparaging description of his son-in-law captured the imagination of viewers, among whom was Micky Dolenz of The Monkees. In 1967 the group released the single "Randy Scouse Git", which reached number two in the UK charts, although RCA Records insisted on a less "taboo" title for British audiences. Dolenz said, "OK, 'Alternate Title' it is," and that name was used instead of the original.
Booth went on to star in the bawdy "Confessions..." series of sex comedy movies, playing the role of the promiscuous Sidney Noggett, alongside Robin Askwith as Timothy Lea, in four films from 1974 to 1977.
His own personal life somewhat resembled the antics of the pair of lotharios in the "Confessions..." films. "It's probably fair to say that the role of Noggett – a priapic Liverpudlian with a van – required less of a mental leap for Booth than certain other characters he has inhabited, such as Hamlet", commented Robert Chalmers, interviewing Booth for The Independent in 2005. He was married four times and had eight children. Cherie Booth QC, the wife of former Prime Minister Tony Blair, is his first daughter by the actress Gale Howard.
Booth's lifelong experience of politics helped convince Tony Blair to enter Parliament, as Paul Routledge reported in The Independent in 1997: "Booth arranged for his future son-in-law to meet Tom Pendry, a boxing fan and MP for Stalybridge. Blair visited him at Westminster and was so impressed by his surroundings he decided to act on his convictions and become an MP." But Booth's political views saw him take on his son-in-law on several occasions after Blair had become Prime Minister. In particular, he reproached Blair for cronyism in his appointments to the Lords and for being "prepared to throw away billions" on war in Iraq rather than giving the money to pensioners.
His third wife was the Coronation Street actress Pat Phoenix, whom he married in 1986, just eight days before she died from lung cancer. Booth wrote three volumes of memoirs: Stroll On (1989), A Labour of Love (1997) and What's Left (2002). Diagnosed with Alzheimer's in 2004, he died at home with his family.
Anthony George Booth, actor, born 9 October 1931, died 25 September 2017
Register for free to continue reading
Registration is a free and easy way to support our truly independent journalism
By registering, you will also enjoy limited access to Premium articles, exclusive newsletters, commenting, and virtual events with our leading journalists
Already have an account? sign in
Join our new commenting forum
Join thought-provoking conversations, follow other Independent readers and see their replies