Tony Gubba: Veteran sports commentator and presenter of 'Dancing on Ice'
Chris Maume
Tuesday 12 March 2013 01:00 Comments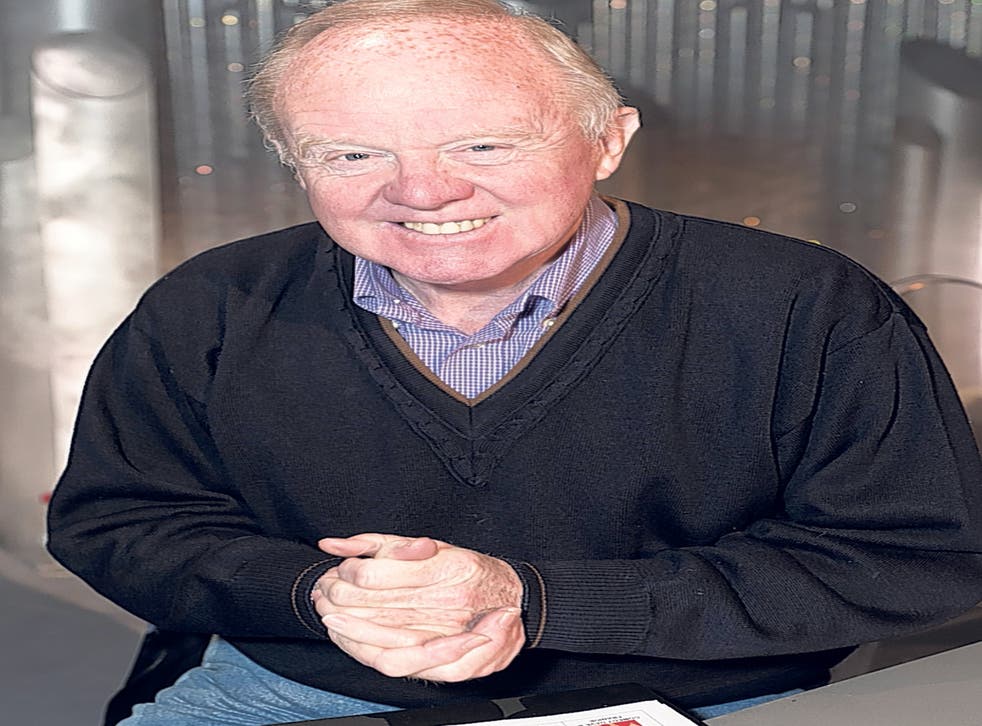 In all his years of covering football for the BBC, Tony Gubba was never given the really big games, and he won't be remembered for one great phrase, but he could be relied on to turn in an impeccable shift. In four decades he rarely put a foot wrong, either in the commentary box or in front of the camera. His career took a late lurch into left-field in 2006 when he signed up to Dancing on Ice, becoming something of a cult figure in the process.
"When ITV first asked me to commentate on Dancing On Ice," he recalled, "they said, 'Do it like Terry Wogan does the Eurovision Song Contest. Describe the lifts and moves – barrel rolls, teapots and death spirals – but do it tongue-in-cheek. Be funny.'" Liberated from the requirement to take whatever he was commenting on seriously, he repositioned himself somewhere between Wogan and Sid Waddell, relishing ice skating's picturesque terminology. Lines like "a sitting stag which became a rotating fish lift" and "a butterfly lift followed by a prawn wrap" flowed freely.
But he also added his own colourful phrase-making. "She's like a succulent satsuma, waiting to be squeezed," he said of the orange-clad Emmerdale actress Emily Symons, while one extravagant manoeuvre earned the observation: "Laundry doesn't spin that fast in a washing machine!" Double-entendres became his stock-in -trade; when a television reporter who should perhaps have known better took to the rink, Gubba declared, tongue firmly in cheek: "This might be the night when Donal MacIntyre pulls everything out!"
Born in Manchester, David Anthony Gubba – the surname is Prussian – was educated at Blackpool Grammar School and enrolled at a Northern music college with thoughts of becoming an operatic tenor before going into journalism. He was the Daily Mirror's north of England correspondent for a time before joining Southern Television in Southampton as a reporter and newscaster. In 1969 he became the BBC's North of England correspondent, based in Liverpool.
He joined BBC Sport in 1972. Sportsnight With Coleman had kicked off in 1968, but when David Coleman departed and it became merely Sportsnight, Gubba took over, and was in the chair for three years before giving way to Harry Carpenter. He went on to introduce Grandstand and Match of the Day – making him one of a handful to have fronted that trio of major BBC sports programmes.
In 1976 it was when he was interviewing Tony Greig that the outspoken captain of the England cricket team made his notorious and ill-advised remark that when West Indies were on form they were good but when they weren't they could end up grovelling, and he intended to make them grovel in the forthcoming series.
After several years of covering football as an interviewer, presenter and reporter, Gubba made his commentating debut in the FA Cup third round in January 1976, covering the match between Scarborough and Crystal Palace. In an era when John Motson and Barry Davies ruled, the biggest occasions eluded him: his two highest-profile games were probably Wrexham's improbable come-from-behind victory over Arsenal in 1992, and the 2007 League Cup final – another defeat for the Gunners, 2-1 to Chelsea at the Millennium Stadium. Last year he overtook Davies to become the third-longest serving football commentator on British television, after Motson and Gerald Sinstadt.
Commentating for 40 years, Gubba was bound to compile his own list of "Colemanballs" – "the shot from Laws was precise, but wide", for instance, or "the ageless Teddy Sheringham, 37 now", or "Mark Hughes pulls his trousers up in a gesture that says 'job done'", or "Wigan Athletic are certain to be promoted barring a mathematical tragedy." When Trevor Francis became British football's first million-pound footballer, Gubba observed: "Others suspect that, like the Mad Hatter at Alice's tea party with ten shillings and sixpence stuck in his hat, Trevor Francis has been condemned to complete his career under the questioning shadow of that emotive seven-figure sum".
But by large his was a steady hand on the tiller, and he accumulated an impressive portfolio of sports away from football. He worked on hockey, table tennis, golf, tennis, bobsleigh, ski-jumping, darts – he presented the World Championships from 1984 to 1990 – and ice-skating. He covered every Olympic Games, both summer and winter, from 1972 to 2012, and every World Cup from 1974 to 2006.
He also became an accomplished after-dinner speaker, and provided the voice for the video game International Superstar Soccer 98, one of a series of games which became Pro-Evolution Soccer. He played himself in the television adaptation of David Peace's Brian Clough novel The Damned United, and he was glorified in song by the cult band Half Man Half Biscuit, in "Gubba Lookalikes".
It was Gubba's experience of covering ice skating that led to Dancing On Ice. "I used to commentate on ice-skating for the BBC when Torvill and Dean were just blossoming, and it was they who recommended me for Dancing On Ice," he recalled. "It's horrifying to think that I turned it down twice because I didn't think celebrities skating badly would make a successful TV programme." Never having missed a programme since the show's inception, he pulled out few weeks ago and did not return.
Gubba, who died after a short illness, leaves his partner of 15 years, Jenny, and two daughters.
David Anthony Gubba, journalist, sports commentator and presenter: born Manchester 23 September 1943; married (marriage dissolved; two daughters); partner to Jenny; died 11 March 2013.
Register for free to continue reading
Registration is a free and easy way to support our truly independent journalism
By registering, you will also enjoy limited access to Premium articles, exclusive newsletters, commenting, and virtual events with our leading journalists
Already have an account? sign in
Join our new commenting forum
Join thought-provoking conversations, follow other Independent readers and see their replies