Udo Lattek: Football coach who won the European Cup, Uefa Cup and Cup-Winners' Cup with three different clubs
He Found His Players Comments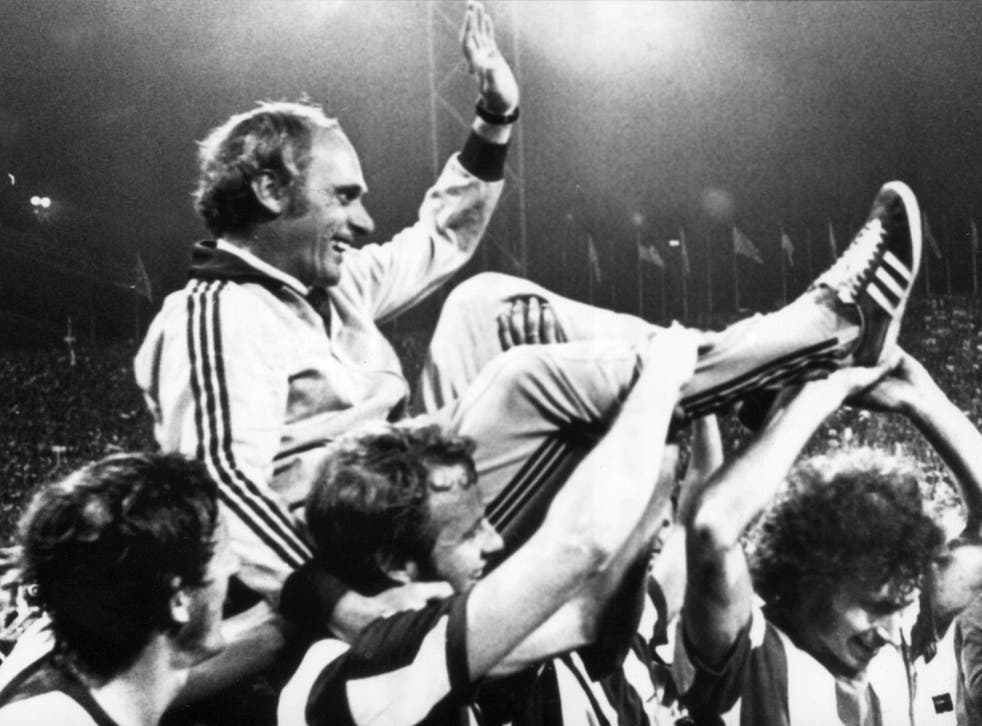 Farmer's son Udo Lattek was a phenomenally successful football coach, the only man to attain the continental game's triple crown – the European Cup, the Cup-Winners' Cup and the Uefa Cup – by triumphing with three different clubs. Then there was the little matter of eight Bundesliga championships, six with Bayern Munich and two with Borussia Mönchengladbach, and three German Cups, and more, his avalanche of honours spread over a glittering career that spanned three decades.
Lattek was a shrewd, resourceful and forthright character who concentrated on ensuring that his charges did the simple things well. He embraced skill, but power was crucial to his method, his sides often steamrollering the opposition. He could be exceedingly stubborn, relishing the cut and thrust of debate with his players, his philosophy being "where there is friction there is energy."
For all that, he was deeply insightful and receptive to the needs of his footballers, and he possessed a sharp line in dry humour. Once, after Bayern had suffered a potentially deflating defeat, a group of his men defied his orders by going to a nightclub. He tracked them down and they expected ructions, only for Lattek to announce: "Right, I'll count to 25,000, and if there's anyone still here after that, there'll be trouble!"
In his own playing days, his principal impact was as a centre-forward with the German lower-division club VfL Osnabruck, for whom he scored 34 times in 70 League games in the first half of the 1960s, many of his goals coming from forceful headers.
Realising that he was not going to hit the heights on the pitch, and emerging as an effective organiser, in 1965 he joined the West German FA as part of national manager Helmut Schön's support staff. He contributed significantly as the team reached the 1966 World Cup final, which was lost to England at Wembley, making influential friends along the way. In March 1970, when Bayern Munich were hunting a new head coach, he was recommended for the job by Franz Beckenbauer, star of club and country.
In view of his lack of experience, Lattek's appointment was controversial, but he made astonishing progress, guiding the Bavarians to domestic cup success in his first full season, then three consecutive Bundesliga titles, climaxing the hat-trick campaign of 1973-74 by scaling the ultimate available pinnacle.
Extracting the best from thoroughbreds such as Beckenbauer, goalkeeper Sepp Maier, full-back Paul Breitner and strikers Gerd Müller and Uli Hoeness, Lattek inspired Bayern to become the first German winners of the European Cup, beating Atletico Madrid 4-0 in a replayed final in Brussels.
Surprisingly, a relatively indifferent spell followed, the coach leaving to take the reins of Borussia Mönchengladbach, and soon he was presiding over a golden era for his new employers. There were Bundesliga titles in 1976 and '77, and the Uefa Cup was won by defeating Red Star Belgrade over two legs in 1979. The euphoria was dented only by the loss of the 1977 European Cup final to Bob Paisley's Liverpool in Rome, where the likes of Berti Vogts, Rainer Bonhof and Allan Simonsen were outshone by Kevin Keegan, Tommy Smith and company.
Next came a disappointing two-year stint with Borussia Dortmund, commencing in 1979, before he succeeded the famous Argentinian Helenio Herrera as coach of Barcelona in 1981. Lattek's Nou Camp sojourn brought more glory, with victory over Standard Liege in the European Cup-Winners' Cup final of 1982 to complete his unique triple – the Italian Giovanni Trapattoni is the only other coach to win all three major European competitions, but he collected two of those at the same club, Juventus. There followed a domestic cup triumph in 1983, but Lattek's relationship with the sumptuously talented but volatile Diego Maradona was not always easy; the Argentinian complained to the club president and the coach was ousted.
Uncrushed, he returned to Bayern Munich and resumed the gathering of silverware, namely three more Bundesliga titles between 1985 and '87 and two more German Cups, though the 1987 European Cup final was lost 2-1 to Porto in Vienna. That year Lattek departed Munich again and spent several seasons out of the firing line before joining Cologne, mainly in an advisory role, in 1991, then passed part of 1992-93 in the Schalke dug-out.
Thereafter he became a television commentator before returning to football, fleetingly but successfully, as a 65-year-old in 2000, taking charge of Borussia Dortmund for five games and steering them clear of relegation. It was a wholly appropriate conclusion to a spectacular career.
IVAN PONTING
Udo Lattek, footballer and coach; born Bosemb, East Prussia (now Poland) 16 January 1935; died Cologne 1 February 2015.
Register for free to continue reading
Registration is a free and easy way to support our truly independent journalism
By registering, you will also enjoy limited access to Premium articles, exclusive newsletters, commenting, and virtual events with our leading journalists
Already have an account? sign in
Join our new commenting forum
Join thought-provoking conversations, follow other Independent readers and see their replies