Ultra Violet: Artist and muse who was part of Salvador Dali's inner circle then joined Andy Warhol's coterie of 'Superstars'
Pierre Perrone
Tuesday 24 June 2014 17:52 Comments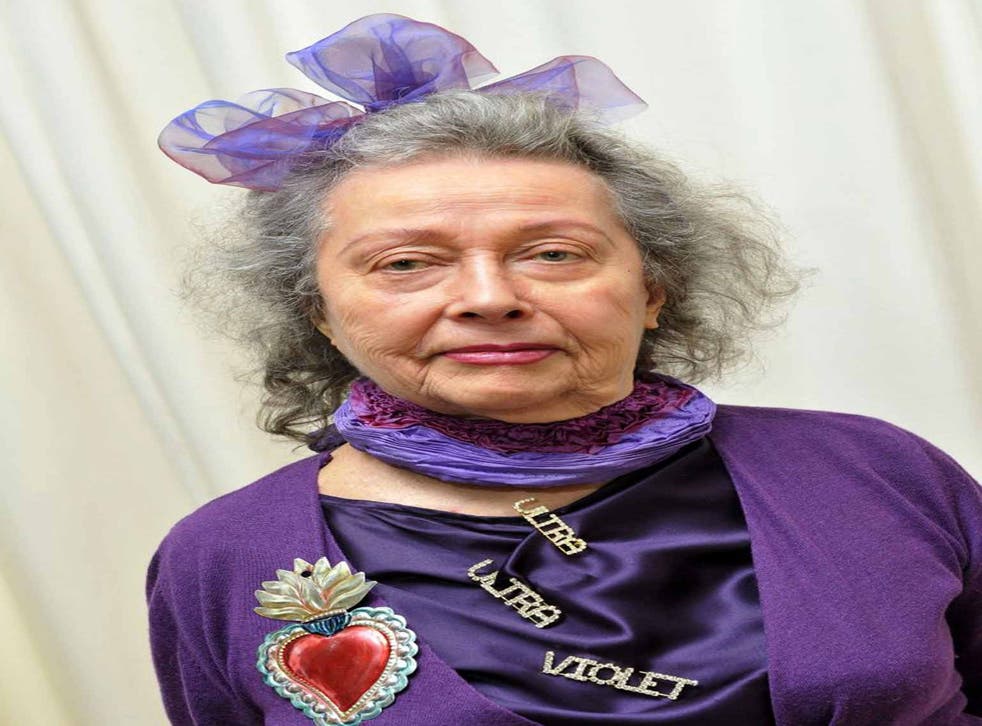 Through much of the 1960s, Ultra Violet, who has died of cancer, was one of the so-called "Superstars" gravitating around Andy Warhol at his New York studio, the Factory, as if determined to embody the artist's famous, prescient pronouncement that "in the future, everyone will be famous for 15 minutes."
She was born Isabelle Collin Dufresne but Warhol pointed out that no one in the US would ever be able to remember, never mind pronounce, her French name, and called her Ultra Violet after her penchant for lilac or purple clothes, wigs and make-up, including lipstick made from beetroots. By her own admission she was an "unleashed exhibitionist chasing headlines" and appeared in several underground films by Warhol and his associates. Unlike the tragic figures of the transgender Candy Darling and the socialite Edie Sedgwick, she was not immortalised in song by Lou Reed, and lived to tell her story in her 1988 memoir, Famous For 15 Minutes: My Years With Andy Warhol, subsequently translated into 17 languages.
A rebellious child, she came from a haute bourgeoisie family who owned a château near Grenoble and didn't know what to do with her. In and out of reform schools, she studied art in Grenoble and was "shipped off" to join her elder sister in New York. "I was only 17 but I was determined to take the city by storm," she said in 2009. "I was a rather striking beauty."
Salvador Dali took a shine to her when she delivered a present from a mutual friend to his New York hotel. She became part of his inner circle, alongside his wife Gala, and was his muse, studio assistant and pupil at his house in the Spanish fishing village of Port Lligat and wherever the artist went. "He was a fascinating character," she reflected about the painter, who was 30 years her senior. "I was his favourite but our relationship was rather platonic,"
In 1964 Dali introduced her to Warhol. "With his wig and his high-pitched, eunuch-like voice, I thought he was a woman," she recalled. Nevertheless, when Warhol asked her to appear in The Life Of Juanita Castro, an experimental improvised film he was about to direct, she accepted. "I felt surrealism was becoming old hat, I was delighted to be discovering something else," she said. "The Factory was this huge loft space, all covered in silver by the painter Billy Name. It was an extraordinary place, open to every one, with people dropping in to buy art, to have their portrait done, to have fun or to get high on one thing or another."
An observer untroubled by the drug-taking that afflicted so many of the Warhol entourage, Ultra Violet noted that many of the original "Superstars", Baby Jane Holzer, Viva and International Velvet, were "young, beautiful, high society women," while she and the German model, actress and singer Nico, whom Warhol teamed up with his protégés the Velvet Underground, fitted the exotic European mould. Rough boys like Joe Dallesandro and transgender creatures like Candy Darling, Holly Woodland and Jackie Curtis, followed in their wake. "If I had lived like all those young people, I would be dead today," she later remarked. "I survived by grace alone."
In 1967 she was back in France, participating in a staging of the farcical Pablo Picasso play Desire Caught By The Tail at the Festival Libre in Saint-Tropez, a remarkable event also featuring the British underground group Soft Machine. The same year, she acted in I, A Man, an obvious pastiche of the Swedish erotic film I, A Woman, alongside Nico and Valerie Solanas, the radical feminist writer who shot and seriously injured Warhol in 1968.
"She was crazy, she thought he had stolen a film script of hers. After that, things changed at the Factory," said Ultra Violet. She had always found Warhol, she said, "intriguing, ambivalent, almost schizophrenic. He could be a devil or an angel. He had hundreds of people on a retainer and never did a day's work. We all did those big lithographs for him, sometimes we used to sign them in his name as well! It all seemed normal at the time. He charged $20,000 a piece for a portrait. Warhol really symbolised the American dream. Celebrity, the 'Superstars', the almighty dollar, instant food like Campbell's soup. And its flipside as well: the car crashes, the electric chair, the guns. That's why Warhol is important."
Ultra Violet appeared in Midnight Cowboy, the 1969 John Schlesinger drama starring Dustin Hoffman and Jon Voight, and Taking Off, the 1971 comedy directed by Milos Forman, as well as several films that have become cult classics, most notably the 1971 camp psychedelic horror picture Simon, King Of The Witches.
Following a near-death experience in 1973 she began questioning her hedonistic lifestyle, and turned to the Mormons. Her spiritual quest was reflected in her subsequent work, particularly paintings and sculptures depicting the heavens, the Holy Shroud and angelic creatures. She also used other media including prints, photography and neon.
Much of her recent work had revolved around the Roman numerals IX and XI, a rather facile, Warholesque reference to the events of 9/11. "I'm a New Yorker and I'm an artist," she said. "I had to do something about 9/11, and the question was what to do, which is not simple. I have infinite imagination. Maybe I don't have too much technique."
Isabelle Collin Dufresne (Ultra Violet), artist and muse: born La Tronche, France 6 September 1935; died New York 14 June 2014.
Register for free to continue reading
Registration is a free and easy way to support our truly independent journalism
By registering, you will also enjoy limited access to Premium articles, exclusive newsletters, commenting, and virtual events with our leading journalists
Already have an account? sign in
Join our new commenting forum
Join thought-provoking conversations, follow other Independent readers and see their replies