Umaru Dikko: Politician who was kidnapped by agents of the Nigerian government then discovered in a crate at Stansted Airport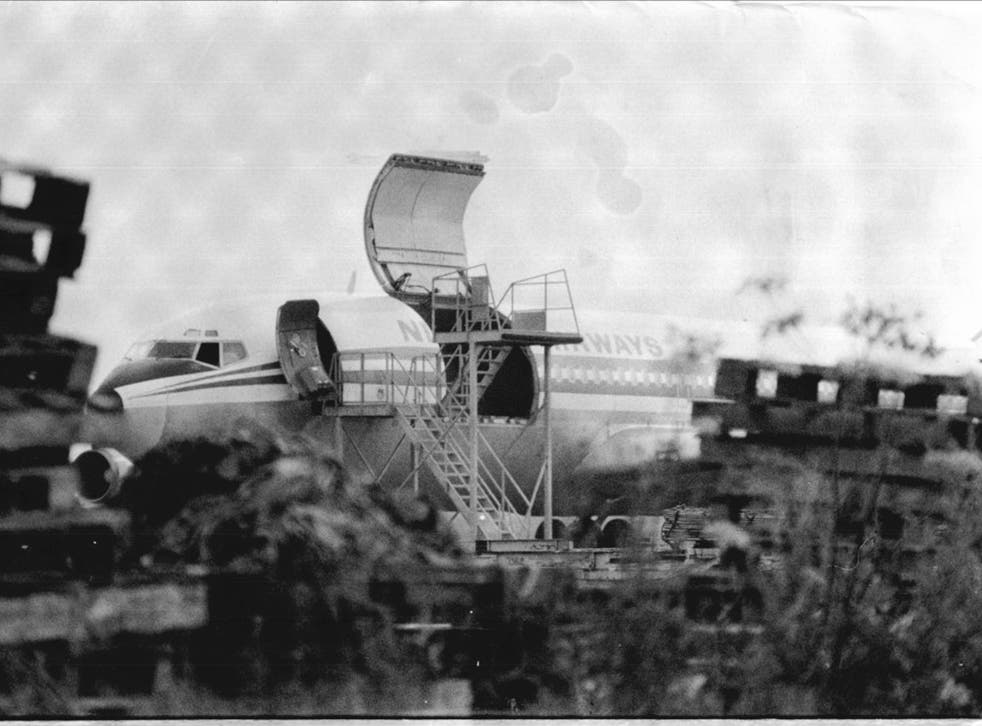 The wealthy exiled Nigerian politician Umaru Dikko became a household name in Britain in the summer of 1984 when men said to be from the Israeli secret service Mossad and the Nigerian government of the day conspired to kidnap him in a large wooden crate.
Dikko was seized outside his house in London, bundled into a van and taken to Stansted Airport in Essex, where a Nigerian Boeing 707 cargo aircraft waited to repatriate him to face charges of corruption brought by his political enemies in Lagos. His captors handcuffed him, drugged him, and stuffed him in chains into the crate with a doctor by his side maintaining a tube to keep him breathing.
The doctor and another of his captors, a diamond trader, were Israelis; the other two, a Nigerian ex-army major and a Tunisian-born shopkeeper. The other men climbed into a second wooden crate. Only when all were awaiting take-off did a telephone call by suspicious British customs officers to the Foreign Office discover that the two crates, each four and a half feet by five and a half in size, did not have diplomatic clearance.
Customs officials were told to open the crates in the presence of an official Nigerian government representative. The crates were searched and the men discovered. Dikko was whisked to hospital in Bishop's Stortford, where he woke up unharmed after remaining unconscious all night, and his captors arrested. The doctor and the shopkeeper were later sentenced to 10 years' imprisonment, the Israeli organiser of the snatch to 14 years, and the Nigerian military man to 12 years. The men lost appeals to have their sentences reduced.
Neither Nigeria nor Israel ever admitted taking part in the only-just-thwarted effort to avoid the time-consuming process of securing Dikko's extradition to Nigeria, but both countries were referred to in Parliament as having been involved, for reasons that would remain shrouded in mystery. The Nigerian High commissioner was expelled from Britain and two expatriate British engineers working in Nigeria were accused of stealing an aircraft. They were sentenced to 14 years' imprisonment, and for the next few years relations between Britain and Nigeria were frosty. The two were freed three years later.
Britain refused a request by Nigeria's then military government, made after the kidnap attempt, that Dikko be extradited. This administration, led by General Muhammadu Buhari, had come to power in an armed coup in December 1983, after four years of civilian government under Dikko's brother-in-law, President Shehu Shagari, leader of the National Party of Nigeria, during which Dikko had been Minister of Transport. Dikko had fled Nigeria three days after the coup disguised in a priest's cassock.
In Britain Dikko spoke of his fears that he would be tied to a post on a beach and shot if he returned to Nigeria, and after the kidnap attempt was given British security protection for the duration of his abductors' trial. When it and his protection ended he asked for political asylum, and though this was refused, he was given temporary permission to stay, which was extended. He went on to study law, being called to the Bar at the Middle Temple in 1991.
Such was the sensitivity in Britain about arms smuggling by foreign regimes at the time of the abduction that the anti-terrorist squad under Commander William Hucklesby was immediately called in on the first report of the snatch. The scene at Dikko's house in Porchester Terrace, Bayswater, where it had happened, was sealed off, and all sea and air ports alerted. This was because of reports earlier that year that a diplomatic crate had been used to smuggle out the weapon used to kill WPC Yvonne Fletcher, during a demonstration the previous April outside the Libyan embassy in St James's Square, London.
Dikko told an interviewer two months after his ordeal: "I was warned all the time... but I had to live. I had to go out." He remembered seeing his abductors staring at him: "The stare sent a shock through me. I was on foot, alone... they grabbed me and held me... they banged me against the van. I hurt my back."
The heroine of the moment had been Dikko's secretary, Elizabeth Hayes, who saw the snatch and her boss being put into a yellow van, and called police. She also managed to tell Dikko by sending a message on his electronic pager, which he received just before being chemically knocked out . "It was a great relief," Dikko said. "Then they jabbed me [injected the drug] and sat on me." He later added: "It was so tight it was as if a knife was cutting through my wrists... They tied my hands and my ankles together. I was bent double."
He denied accusations, made at his abductors' trial, that he was a corrupt man who had caused poverty and starvation in Nigeria. The Buhari government wanted him because he had been chairman of Shagari's presidential task force on rice. The junta said he had forced up the price, but Dikko denied this.
Alhaji Umaru Dikko was born in Wamba and educated in Zaria in Nigeria's northern Kaduna state. He took a Bachelor of Science degree at London University and worked for some time with the BBC's Hausa-language service. The strongly built Dikko was always immaculately dressed, usually in Muslim robes.
He stayed in Britain until being invited back to Nigeria under more clement conditions. There he set up a new political party, and towards the end of his life was chairman of the disciplinary committee of the People's Democratic Party of Nigeria's current President, Goodluck Jonathan. He died in London after a series of strokes. His son, Dr Bello Dikko, survives him.
ANNE KELENY
Alhaji Umaru Dikko, politician and lawyer: born Wamba, Nigeria 1936; died London 1 July 2014.
Join our new commenting forum
Join thought-provoking conversations, follow other Independent readers and see their replies