Uri Avnery: Israeli journalist whose voice of dissent was radical until the end
One of the first advocates of a two-state solution in Israel, he was shunned by the establishment whose unreason he was never afraid to call out
Harrison Smith
Wednesday 22 August 2018 19:37 Comments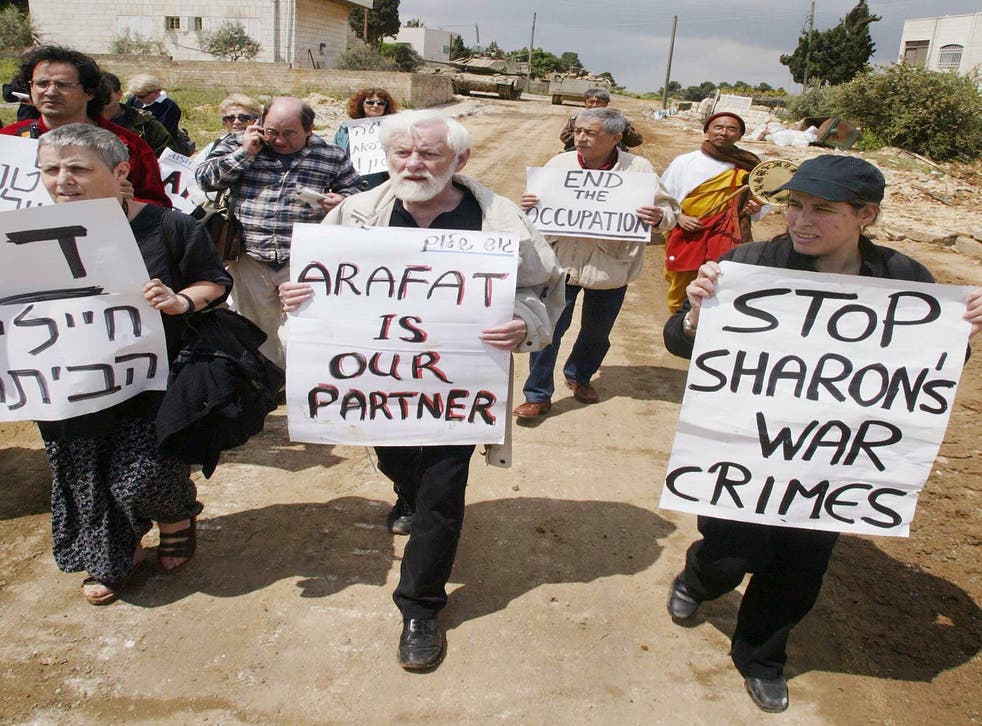 By all accounts, the first time an Israeli met Yasser Arafat was in July 1982, after Uri Avnery – a white-haired war veteran, left-wing politician and muckraking journalist – boarded the Palestinian leader's armoured Mercedes in the streets of West Beirut.
The car swerved through the alleyways of a city under siege, one month into an Israeli invasion of Lebanon, and ferried Avnery to an ordinary apartment building where he spent two and a half hours interviewing the Palestine Liberation Organisation chairman, a man many Israelis deemed a terrorist.
Accompanied by a German television crew, they discussed the possibility of peace in the Middle East and according to Robet Fisk, bonded over a game of chess.
"There was a joke about Mr Arafat not being married," Avnery later said. "I said if he would marry an Israeli girl it would solve the whole problem. He said if it would solve the problem, he would do it that day."
As scenes of his meeting with Arafat aired on Israeli television, Avnery returned home to face accusations of treason. The country's attorney general later said no crime had been committed, but the episode cemented Avnery's reputation as a political renegade and leading advocate of "two states for two nations" – a position that often put him at odds with Israeli officials.
When he died, aged 94, at a hospital in Tel Aviv after suffering a stroke, Israeli President Reuven Rivlin called him "the eternal opposition figure" in a tweet, whose struggle for free speech "paved the way for Israel as a young country".
Avnery was a dominant and divisive figure in Israel, where he called for secularism in the country's politics, negotiations with the Islamist group Hamas, recognition of the right of Palestinians to establish their own state and shared control of Jerusalem.
Once dubbed "Government Enemy No 1" by the chief of Israel's internal security service, he spent four decades as editor in chief of the news magazine Haolam Hazeh (This World), a now-defunct weekly that published exposés of government corruption alongside left-wing political columns and, on its back cover, photos of scantily clad women.
"He ran one of the few truly independent and unabashedly critical newspapers in the state's early years," said Haviv Rettig Gur, senior analyst with The Times of Israel. "Uri is one of the first serious journalists who introduced into our profession in Israel an ethos of independent criticism. Though he was on the deep left on the issues, he could critique left-wing parties as readily as right-wing ones."
In his youth, the German-born Avnery championed an ideology known as revisionist Zionism, which called for a Jewish state that would extend from the Mediterranean through the modern state of Jordan. His views shifted leftward while fighting for Israeli independence, and – after writing a bestselling war book – he became one of the first prominent Israelis to openly call for a two-state solution.
When Avnery came out in support of Arafat, insisting that the Palestinian leader sought peace, he effectively "pioneered ... the argument at the heart of the Oslo project," said Gur, referring to the 1990s negotiations between Arafat and Israeli Prime Minister Yitzhak Rabin.
That peace process has long since stalled, although Avnery expressed confidence that a breakthrough would occur. He had, he told The Independent in 2012, "the misfortune of being an incorrigible optimist", as his views were increasingly out of step with Israel's political leadership and even the country's political left.
"He was ahead of his time and then lagged behind it," said Diana Buttu, a former legal adviser to the Palestinian negotiating team. "Now the conversation among left-wing Israelis is no longer about two states. It's about challenging and actually denouncing Zionism, acknowledging the wrongs of the past ... His death, in a lot of ways, marks the end of the two-state solution – he was the last activist I know of that was really calling for it."
Avnery was born Helmut Ostermann in Beckum, Germany, in the early 1920s, and raised in Hanover, where his father worked in finance. The family immigrated to what was then the British mandate of Palestine when Helmut was 10, months after Hitler came to power.
They soon slipped into poverty, and Avnery left school at 14 to work as a clerk in a law office. He also joined the Irgun, a paramilitary group that, he told Haaretz, "planted bombs in markets in Jaffa and in Haifa, which killed dozens of women and children". He left the organisation after several years, and wrote in a 2014 memoir, Optimistic, that he "learned that the difference between a freedom fighter and a terrorist depends on your perspective".
Avnery served with an Israeli commando unit during the country's 1948 war of independence, during which he was wounded by machine-gun fire on the Egyptian front. About that time he also adopted his last name, Hebraizing the name of his brother Werner, who died during the war.
Acclaim for Avnery's journalistic war book, In the Fields of the Philistines (1949) was followed by dismay at its sequel, The Other Side of the Coin (1950), which alleged wartime atrocities. It brought Avnery his first dose of public scorn, which continued in earnest after he acquired Haolam Hazeh in 1950.
The magazine's circulation was never more than 25,000, according to The Jerusalem Report, although Avnery said each issue found its way to about 150,000 readers. That figure apparently did not include David Ben-Gurion, Israel's first prime minister, who reportedly referred to it only as "that certain weekly", refusing to use its name.
Before Avnery sold the magazine in 1990 (it closed several years later), he and its newsroom inspired frequent controversy and sometimes outright violence. He said the publication's offices were bombed three times, that fingers on both his hands were once broken during a nighttime ambush, that the newsroom's archives were burned down in 1972 and that three years later he was stabbed "by an alleged lunatic" who tried to kill him.
A defamation law that Avnery said was targeting the magazine led him into electoral politics. Establishing a small new political party, he was elected to the Knesset in 1965, re-elected four years later and – after losing at the polls in the aftermath of the Yom Kippur War – served part of a third term, from 1979 to 1981.
Avnery was out of office when he made contact with Arafat, at a meeting that was closely monitored by Israeli forces. This year, in the book Rise and Kill First, journalist Ronen Bergman reported that an Israeli special-ops team was organised to assassinate Arafat, and unsuccessfully attempted to follow Avnery to the meeting in an effort to ferret out the Palestinian leader's location.
The group, codenamed Salt Fish, lost Arafat's car "in the alleys of south Beirut", Bergman reported, and had planned to kill Avnery as well if necessary. That fact was long unknown to Avnery, who in 2003 joined Arafat in Ramallah, during the second intifada, to act as a "human shield". He believed – apparently incorrectly – that his presence might have prevented a possible assassination of Arafat by Israel.
With his wife, the former Rachel Gruenbaum, Avnery founded the activist group Gush Shalom (Peace Bloc). Together they received the Right Livelihood Award, known as the "Alternative Nobel Prize," in 2001, when they were cited "for their unwavering conviction, in the midst of violence, that peace can only be achieved through justice and reconciliation".
Avnery's wife died in 2011. They had no children, and he said his political actions sometimes caused tension with the rest of his family. When his mother died, she scorned him in her will, reportedly writing that he would receive no inheritance "since he didn't take care of me and instead went to visit that murderer Yasser Arafat".
In recent years, Avnery wrote regular columns for Haaretz, most recently condemning the newly passed "nation-state" law, which formally declares Israel a homeland for the Jewish people. Calling it a "semi-fascist" piece of legislation, he wrote that its outcome was clear: "No democracy. No equality. A state of the Jews, for the Jews, by the Jews."
Uri Avnery, journalist, born 10 September 1923, died 20 August 2018
© Washington Post
An appreciation by Haim Baram
Uri Avnery was by far the best journalist in the history of Israel. Contrary to his erratic reputation Avnery was a consistent and hardworking man, whose dedication to the cause of peace has never been in doubt.
Born in Hanover, Germany in 1923, Avnery's rather wealthy family immigrated to Palestine in 1933.
His father realised as soon as Adolf Hitler became chancellor that there was no future for Jews in the Nazi Germany. The family had become impoverished and ran a small laundry in Tel Aviv. Uri himself had to leave school at the age of 13, and worked hard for the family business.
He was very keen on the idea of forming a Hebrew entity, toiling with the Arabs to build a harmonious society while keeping the separate national identities intact.
His very north European appearance and cold manners concealed a very passionate personality.
He was one of the first pioneers of the idea, to reconcile the national ambitions of both sides to the conflict, even when the very word "Palestinians" was virtually banned by both Likud and the Labour Party.
I had worked with him for many years and learned from him everything about journalism. He was not a "leftist" in the conventional meaning of the term. He was liberal-radical with contempt to Russian version of command economy. In my eyes he seemed a bit reactionary on global politics and social policies but I soon realised the revolutionary potential of his opposition to the Israeli-Zionist establishment.
Avnery, the brave soldier in the 1948-1949 Israeli-Arab war was severely wounded, spent more than a year in hospital and published two seminal books about the war and the deportation of the Palestinian population. He never hid his active and ardent role in the fighting nor had he been ashamed of it.
Alongside with our colleagues in the Israeli Council for Israeli-Palestinian Peace, Matti Peled and Yaacov Arnon, Avnery worked with the PLO moderates to bridge the enormous gap between Israel and the PLO.
In the course of his journalistic and political career he was badly beaten and stabbed by Israeli fascists. Set up in 1950, his weekly magazine Haolam Hazeh excelled in exposing crimes against the Palestinians as well as the establishment's corruption. He maintained that Mossad poisoned Arafat.
After more than 30 years he had to sell the magazine. This was a tragedy for him and for many others, myself included. I owe him a great debt: for many years he had encouraged me to publish a column in Haolam Hazeh, dedicated to world and especially to third world affairs.
Our political differences had never hampered our friendship. Perhaps he was reputed to be a cold man, but I always challenged his reputation.
At 94 he has still retained his good looks and unending curiosity and energy. The parting is sad, but proud. He prevented many good journalists from becoming lackeys of the vile establishment in our country.
Haim Baram is an Israeli journalist
Register for free to continue reading
Registration is a free and easy way to support our truly independent journalism
By registering, you will also enjoy limited access to Premium articles, exclusive newsletters, commenting, and virtual events with our leading journalists
Already have an account? sign in
Join our new commenting forum
Join thought-provoking conversations, follow other Independent readers and see their replies