Uthradom Thirunal Marthanda Varma: The Maharajah of Travancore
Former ruler who came to worldwide attention when the treasure vaults of which he was guardian were opened up
Anne Keleney
Tuesday 04 March 2014 18:27 Comments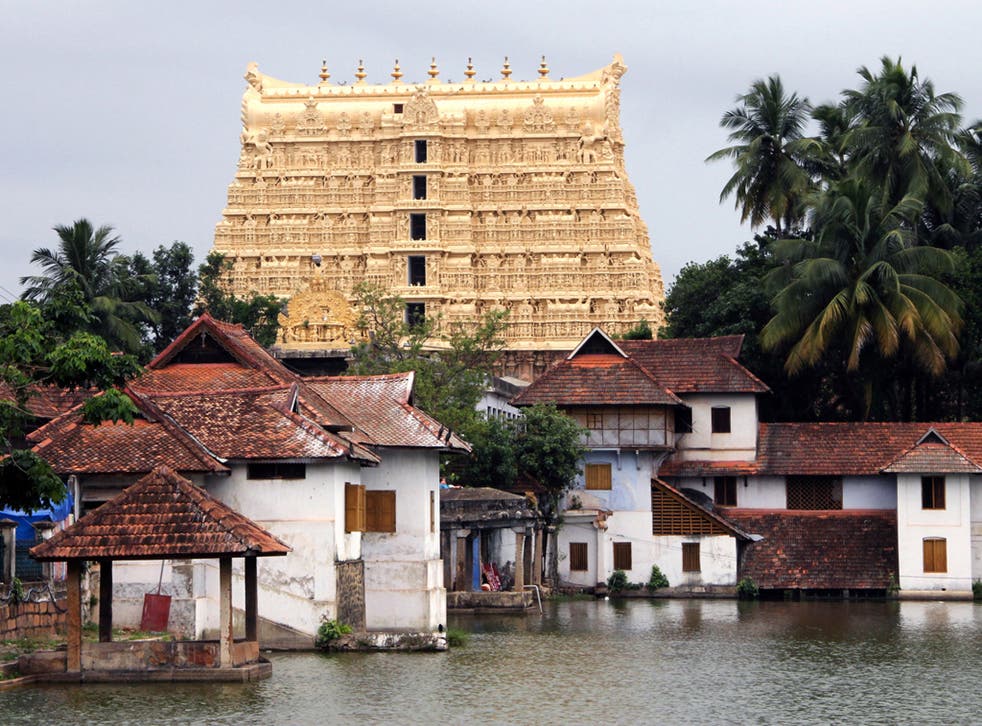 The man still called "king" in Travancore, south India, found himself the centre of world attention in his nineties in June 2011 when the temple hoard of which he was guardian came to light.
The rubies, diamonds, 18ft gold chains, golden bows and arrows, gold umbrellas, coins, and diadems piled in six vaults under the Sri Padmanabhaswamy Temple in Trivandrum, Travancore's capital, were estimated as being worth £26 billion.
Tussling lawyers suddenly surrounded the thin, stooped, simple-living Uthradom Thirunal Marthanda Varma, a coir mat and car upholstery-business owner and sometime dweller in a modest house in Bangalore, whose family remember his "sparkling eyes" and happy doling-out of sweets.
The matter arose from a case brought in 2007 by a local lawyer on behalf of two devotees at the temple, who said that items including a jewelled ring and a Hindu deity's flute carved from an elephant tusk had been pilfered. At the time security consisted of men armed with wooden sticks. The vaults, however, were said to be watched over by cobras, and a curse, it was believed, would hang over any who tried to get in. Tension rose when the uncle of the lawyer took ill and died.
Marthanda Varma distanced himself from the controversy: the dead man, he told a newspaper, "had a small tiff with somebody in the temple, and not with me." His own ties to the temple had been established when he was 56 days old and had been placed on the temple floor as an offering to its incumbent god, the creator Vishnu. He was obliged thereafter to pray there every day, and for the rest of his life he adhered to this strict duty.
When the high court of the then communist-controlled Kerala state, which includes the once-princely state of Travancore, ruled that management of the hoard should transfer to the Kerala authorities, Marthanda Varma appealed to the Indian supreme court in Delhi, which commissioned an independent report, concluding that he should remain the treasure's guardian. But, it also decreed, the vaults had to be opened and their contents inspected.
There was little hint of what would be found. In 1908 cobras had scared off investigators who opened a single vault, and installation of electric fans in 1931 had given no clue. But what emerged, in piles once held in wooden crates that had turned to dust was, museum directors agreed, a once-in-a-millennium event, of greater import even than the contents of the Egyptian Pyramids.
One vault, deemed the most sacred, still lies closed. Openings of the treasure vaults have tended to be when money was needed, yet the inventory written on long thin palm leaves possibly dating back to 800 AD, suggest the vaults' contents, centuries of offerings to the deity, are intact, with pilfering surprisingly rare.
For Ramaswamy Iyer Marthanda Varma, born on a staircase at Trivandrum's Kowdiar Palace in 1922, and called by his mother "Peach", the treasure belonged to the gods, and his temple duties were the last vestige of a royal heritage under which his elder brother had been the final ruler. His own accession as Maharajah of Travancore came on his brother's death in 1991 – after Indira Gandhi's 1971 Amendment to the Indian constitution, which ended erstwhile Indian princes' entitlement to be called "ruler" and stopped the annual privy purse that had been awarded since independence in 1947.
He was educated by 14 palace tutors. He remembered a childhood stay with his mother in London, when he folded up as a paper boat a doctors' report about his being too fat, and set it adrift on the Thames, so that she would not see it. He studied economics at Travancore University, and was a Sanskrit scholar.
He grew up under the administration of CP Ramaswami Iyer for his brother Chithira Thirunal Marthanda Varma. Ramaswami Iyer was a politician and qualified lawyer, who with Marthanda Varma's mother, the Junior Rani, greatly increased industry and business in the princely state, quadrupling its wealth in what was dubbed its "golden age." He joined the British Viceroy's Executive Council in 1931, staying until 1936, when he became first minister of Travancore and opened the temple to all castes including Dalits or "untouchables", an event praised by Mahatma Gandhi.
He remained well-loved, and presided over about 200 ceremonies annually such as the deity's sea-bathing. He received visitors including, in 2013, the Prince of Wales and the Duchess of Cornwall, and, farther back, Somerset Maugham, Agatha Christie and Eleanor Roosevelt, who noted the matrilineal rules of succession, saying she did not understand them, but thought they were good for women.
He collected watches, was an accomplished photographer, loved horse-riding, driving a copper blue 180D Mercedes car, and was Travancore's chief scout.
His nephew, Moolam Thirunal Rama Varma, succeeds him through the family's female line.
Uthradom Thirunal Marthanda Varma, maharajah: born Trivandrum, India 22 March 1922; married 1945 Radha Devi Pillai-Kunjamma (one son, one daughter; died 2005); died Trivandrum, 16 December 2013.
Register for free to continue reading
Registration is a free and easy way to support our truly independent journalism
By registering, you will also enjoy limited access to Premium articles, exclusive newsletters, commenting, and virtual events with our leading journalists
Already have an account? sign in
Join our new commenting forum
Join thought-provoking conversations, follow other Independent readers and see their replies