Very Reverend Sandy McDonald: Moderator of the Church of Scotland who had a cameo role in 'Dr Who' alongside his son, David Tennant
In 1956 he was called up for National Service and came to value his experience of Service life, not least because it was the RAF Chaplaincy which sowed the seeds of his eventual call to the ministry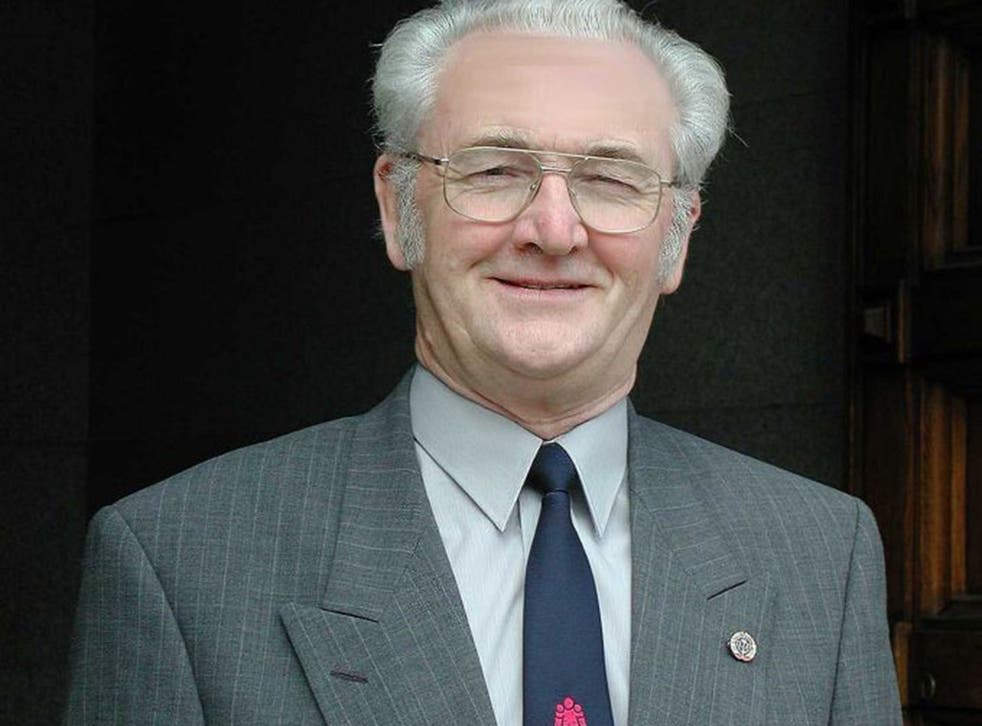 One of my most poignant memories of Parliament is bumping into my friend and political opponent, Lord Harmar-Nicholls, in the corridor. He told me with a tinge of melancholy, "I was MP for Peterborough for 25 years, a minister with important responsibilities in Min Ag and the Ministry of Works, and later a Member of the European Parliament. I've just come through the Central Lobby and heard a lady say to her friend, 'Oh, that man is Sue Nicholls' dad'." Half a century of public service was as nothing compared to Coronation Street.
Equally, Lord David Steel of Aikwood's father, often described as such, was a distinguished Moderator of the Church of Scotland. And, alas, to many people the Very Reverend Sandy McDonald, another Moderator of the Church of Scotland (1997-98), will be remembered as the father of David Tennant, Dr Who and much else besides.
I have never met Tennant in the flesh, other than at a distance on the stage at Stratford-upon-Avon, but Sandy McDonald I knew well, as he was the Minister of St David's Bathgate, West Lothian. And he was much, much more than David Tennant's father. For 14 years he was Secretary of the Board of Ministry, a pivotal position in the epicentre of the Church of Scotland's affairs. McDonald was a wonderful and caring parish minister.
He was born, as he would remind his parishioners when he wished to make any changes at St David's Church, on Guy Fawkes Night in 1937. He went from Whitehill Senior Secondary School to a management traineeship in the timber trade, based at Stow College and the Scottish College of Commerce in Glasgow.
In 1956 he was called up for National Service and chose the RAF. Resentful at first to what he saw as a disruption in his life, he came to value his experience of Service life, not least because it was the RAF Chaplaincy which sowed the seeds, he told me, of his eventual call to the ministry. Certainly, to this day, he is remembered with affection by the elderly members of the British Legion in Bathgate for the attention that he paid to any problems of soldiers, sailors and airmen on their return to civvy street.
From 1958 until 1962 he worked successfully in the timber trade. He told me that he felt much more comfortable as a priest, having worked in industry, than if he had simply done his six years of study at Glasgow University.
As the local MP, at close quarters I witnessed his involvement in the turbulent affairs of the British Motor Corporation's truck and tractor division at Bathgate, at that time the biggest concentration of machine tools in Europe, employing 7,000 people. Every month he made it his duty to walk up and down the assembly line at BMC talking to the operators. Councillor Jim Swan, convenor of the joint shop stewards committee at the time, remembers him as "A constructive conciliator who on occasions urged the Birmingham-based management to see our point of view."
Etched into my memory is being invited in the spring of 1971 to speak to the St David's Church of Scotland Women's Guild. The chairperson leant over and said, "Mrs McDonald can't be with us. Pity. She is such fun. She's heavily pregnant." (With David Tennant.) McDonald owed a lot to his wife, who was immensely popular in Church circles.
In 1974 McDonald moved on (or was it back, since he was very much a West of Scotland person?) to St Mark's, one of the vibrant congregations of Paisley, where he made a friend of John Robertson, the prickly AUEW-sponsored MP. McDonald was careful not to parade his politics, whatever they were; he did go ballistic, however, about Margaret Thatcher's "Sermon on the Mound" to the General Assembly of Kirk, in which the Prime Minister opined that "there is no such thing as society."
In February 2015 McDonald issued a statement that he was suffering from the lung condition pulmonary fibrosis. He made a moving call on Church leaders to back proposed laws to give terminally ill people assistance towards a peaceful death. It was time, he said, to give dying people more rights over end-of-life care. He thought that many legislators have the wrong slant, since assisted suicide has criminal overtones in the minds of many people.
McDonald, characteristically thinking of others, concluded, "We have got so many people in our nursing homes, in our care homes and in our bed-blocked hospitals, whether elderly or seriously ill, saying, 'It is time for me to die.' I sympathise hugely with them. The doctors and nurses have their hands tied because they are liable to end up in court."
McDonald had been a regular on television in the 1980s, co-presenting the religious-affairs programme That's The Spirit! In 2006 he appeared alongside his son David in Ready Steady Cook, and two years later he had a cameo role in Doctor Who. "I think they must have been short of someone," he said. "They very kindly invited me to play the part of a footman." When Tennant received a National Television Award in 2015 he dedicated it to his father –"an inspiration and a role model."
TAM DALYELL
Alexander McDonald, priest and broadcaster: born Bishopbriggs 5 November 1937; married 1962 Essdale Helen (née McLeod) (died 2007; one daughter, two sons); died 17 March 2016.
Join our new commenting forum
Join thought-provoking conversations, follow other Independent readers and see their replies