Vince Powell: Prolific sitcom writer who co-created 'Love Thy Neighbour' and 'Bless This House'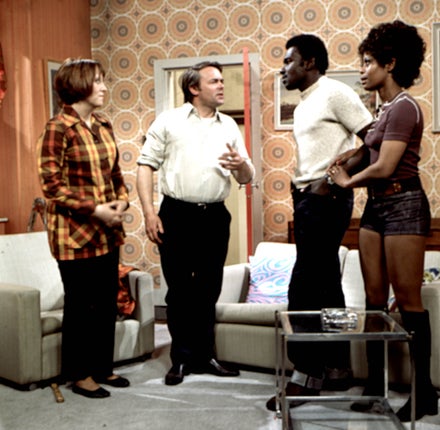 With Harry Driver, Vince Powell formed one of British television's most prolific and successful sitcom writing partnerships.
At their height in the 1960s and 1970s, the pair created some of ITV's most popular comedies, from George and the Dragon and Nearest and Dearest to Never Mind the Quality, Feel the Width and For the Love of Ada, which featured some of Britain's biggest stars, such as Peggy Mount, Sid James, Hylda Baker, Jimmy Jewel, Joe Lynch, Irene Handl and Wilfred Pickles.
But the extremes of Powell and Driver's comedy – and of what was deemed acceptable in those less politically and socially aware times – were exemplified by two of their most archetypal domestic sagas. Bless This House starred Sid James as Sid Abbott, who found himself in a generation-gap battle with his teenaged son and daughter (played by Robin Stewart and Sally Geeson) while being hounded by his wife (Diana Coupland), who invariably outsmarted him. Although Sid's interests were ABC – ale, birds and Chelsea FC – the comedy was essentially harmless.
At the same time, Love Thy Neighbour was being screened. What is most startling is that there was apparently little controversy about such a sitcom, featuring Jack Smethurst and Kate Williams as Eddie and Joan Booth, a white couple living next door to the black Bill and Barbie Reynolds (Rudolph Walker and Nina Baden-Semper), and exchanging racist insults. "Nig-nog", "sambo", "white honky" and "snowflake" were among those traded, but Powell and Driver insisted they were simply mocking prejudice itself – on both sides of the racial divide.
Powell was born Vincent Smith, the only child of poor Catholic parents, in the Manchester suburb of Miles Platting in 1928. His mother died when he was five and his tailor father remarried two years later. The young Smith, who attended St Bede's Catholic College, regularly played truant to watch films at the local cinema and visit the theatre, where his love of comedy was fostered by variety acts such as George Formby, Gracie Fields and Jewel and Warriss.
On leaving school at the age of 15, he became an apprentice at an engineering works, where he met Kevin O'Flaherty. The two friends both wanted to be singers and attended a talent show at the New Manchester Hippodrome. Seeing the quality of opposition, they decided to form a comedy double act and performed locally in the evenings.
After service in the Royal Navy as a probationary sick berth attendant on HMS Mauritius (1945-47), Powell decided to follow his father into the tailoring trade and found a job with Hector Power, in Manchester.
Keen to resume his stage act, he advertised in a newsagent's shop window for a straight man. Harry Driver responded and, together, they became Hammond and Powell, Smith deciding that his surname was not appropriate for a variety performer. The duo performed in clubs by night while both continuing their day jobs, Driver working as a trainee manager with Marks & Spencer.
The double act appeared to be finished when Driver contracted polio in 1955, spent 18 months in hospital and was paralysed from the neck down. But, as Powell continued his day job, the pair switched to writing, with Driver at first dictating his words but later hitting the keys of a typewriter with a knitting needle clenched between his teeth. After Driver was solely commissioned to contribute scripts to Granada Television's airport drama series Skyport, the pair were among the writers of the sitcom Here's Harry (1960-65), which established the comedian Harry Worth as a star.
Then, Powell and Driver were hired as Coronation Street's first storyline writers, once the decision had been made to extend Tony Warren's folk opera about the residents of a Northern terrace after the first 13 episodes. They also wrote scripts themselves for the serial, with Powell responsible for 32 alone and four jointly with Driver between 1961 and 1967.
With another of the soap's writers, John Finch, Powell also wrote a stage play, the comedy Coronation Street on the Road (1964). Powell and Driver then scripted separate episodes of another Street spin-off, the television sitcom Pardon the Expression (1965-66), which transplanted the pompous Gamma Garments haberdashery manager Leonard Swindley (Arthur Lowe) to a branch of the national chain-store Dobson and Hawks as assistant manager.
They teamed up to write five episodes of the fantasy adventure series Adam Adamant Lives! (1966-67), starring Gerald Harper as the Edwardian hero Adam Llewellyn De Vere Adamant, before establishing themselves as a successful partnership with George and the Dragon (1966-68), which they created together. The sitcom starred Peggy Mount, cast to type as the fire-breathing Gabrielle Dragon, housekeeper to the country gentleman Colonel Maynard (John Le Mesurier), with Sid James playing the chauffeur, George Russell, whose amorous advances she fended off – loudly.
Powell's experience as a tailor was useful when he and Driver then created Never Mind the Quality, Feel the Width (1967-71), starring John Bluthal and Joe Lynch as the Jewish jacket-maker and Irish trouser-maker running a business in London's East End. The comedy came from the two men's differing beliefs, with tailoring being their only common bond, and a film version followed in 1973.
The writing partnership was by now working at full throttle, also creating Nearest and Dearest (1968-73), which teamed the music-hall comedians Jimmy Jewel and Hylda Baker as the warring brother and sister Eli and Nellie Pledge, who inherited a Lancashire pickle factory. Soon, other writers were brought in to script episodes, as happened with Powell and Driver's future creations.
Next came Two in Clover (1969), with Sid James and Victor Spinetti as two insurance company clerks-turned-farmers, For the Love of Ada (1970-71), starring Irene Handl and Wilfred Pickles in a comedy of twilight-years love, Bless This House (1971-76) and Love Thy Neighbour (1972-76). The last three were all spun off into feature films.
The death of Driver in 1973, as a result of weakened lungs caused by polio, was a blow to Powell, who finished the sitcoms they had begun for ITV, which also included Spring and Autumn (1972-6), starring Jimmy Jewel as a cantankerous widower.
Thames Television had put the pair on an exclusive contract, earning £50,000 a year between them. Powell's salary then doubled as a result and, for tax reasons, he lived for a year in Saint-Jean-Cap-Ferrat, in the South of France, near Villefranche-sur-Mer, which had been his regular holiday destination since visiting it with the Royal Navy.
He found it difficult to carry on alone, without Driver to bounce ideas off, but had mild success with his next creations, The Wackers (1975), featuring Ken Jones and Sheila Fay as father and mother in a half-Protestant, half-Catholic Liverpool family, My Son Rueben (1975), with Lila Kaye and Bernard Spear as a Jewish mother and her ageing bachelor son both running a dry-cleaning business, Rule Britannia! (1975), about English, Scottish, Irish and Welsh shipmates reuniting after 25 years, and Odd Man Out (1977), starring John Inman as the inheritor of a stick-rock factory.
Powell found a winning formula again with Mind Your Language (1977-79, 1986), featuring Barry Evans as the teacher of English to mature foreign students – although it was eventually cancelled by Michael Grade, then LWT's deputy of controller of entertainment, who considered the racial stereotyping offensive. The series was briefly revived seven years later.
Other Powell creations included Young at Heart (1980-83), with John Mills and Megs Jenkins as the pensioners struggling to come to terms with retirement, and Bottle Boys (1984-85), starring Robin Askwith as an inept milkman.
The writer also contributed scripts to the David Jason sitcom A Sharp Intake of Breath (1980-81), Full House (1985-86) and Slinger's Day (1986-87, featuring Bruce Forsyth as a supermarket manager). He wrote almost half of the episodes in the long-running Johnnie Mortimer-created Never the Twain (1981-91), which starred Donald Sinden and Windsor Davies as rival antiques dealers.
For many years, Powell penned Cilla Black's scripts for Blind Date and Surprise Surprise. He also wrote an Australian version of Love Thy Neighbour (1980) and co-devised the celebrity charades game-show Give Us a Clue (1979-97).
Powell's autobiography, From Rags to Gags: The Memoirs of a Comedy Writer, was published last year. His first two marriages ended in divorce. He had a son with his second wife, Judi Smith, and a son and a daughter from his third marriage, to Geraldine Moore, who survives him.
Vincent Smith (Vince Powell), writer: born Manchester 6 August 1928; married three times (two sons, one daughter); died Guildford 13 July 2009.
Join our commenting forum
Join thought-provoking conversations, follow other Independent readers and see their replies