Violet Smith: The eccentric grande dame of the Fairlawn Hotel in Kolkata
She made the hotel a refuge from the noise and dust for 50 years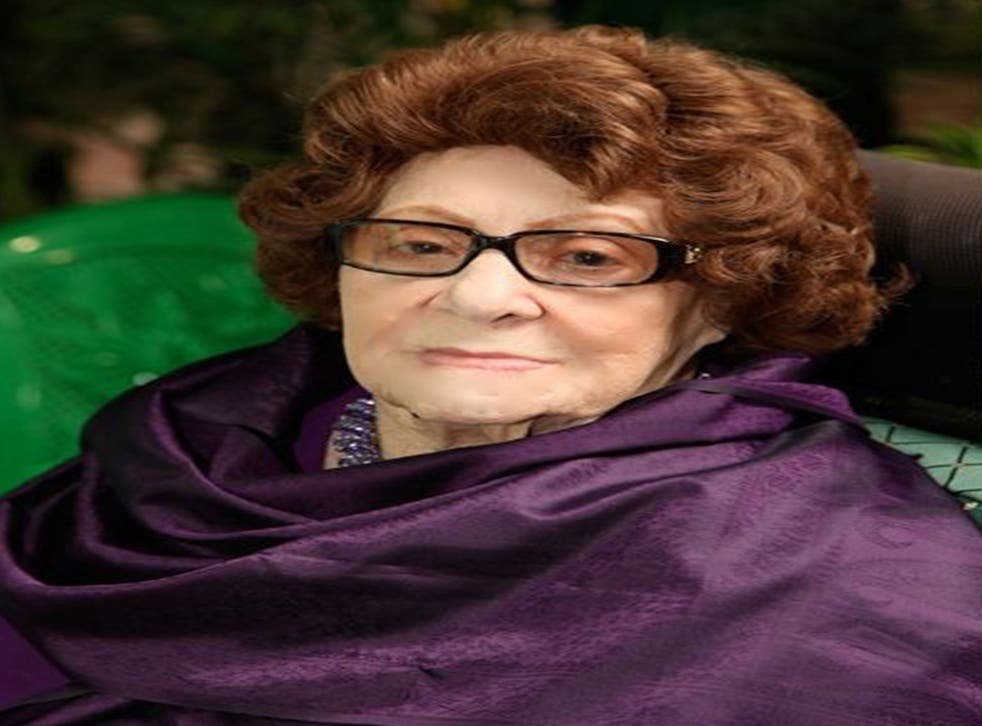 Violet Smith, confidante of many celebrities, was the eccentric grande dame of the Fairlawn Hotel in Kolkata. The 200-year-old building on Sudder Street in the city centre, which she owned and ran for more than half a century, was, to thousands who stayed there, a green-painted refuge of calm from the noise and dust, fringed in its front courtyard by palms, and offering old-fashioned pleasures such as gin-and-tonic taken at sundown on the verandah.
Vi Smith inherited the house from her mother, an Armenian businesswoman, and would hold court with her guests, displaying the quaintnesses of a British colonial memsahib of the days before Indian independence while shrewdly getting to know their every preference.
She had some claim to the airs and graces of a former age: she married an Englishman, Major Ted Smith, who passed through the hotel in 1942. Major Smith had arrived on the way to join his regiment, then fighting in Burma, and as the monsoon rain poured down, charmed the blossoming young Violet, then aged a lissom 21, by showing kindness towards his batman, making sure the boy was lodged in comfort in lesser rooms nearby.
Not long afterwards the house's long history merged with the British eastern Empire's worst moment, the invasion almost up to India's borders of the armies of Imperial Japan. Fairlawn was requisitioned by the military and its pot-plants and cane chairs became a luxurious barracks for Canadian airmen.
After war's end in 1945 the Smiths, having been married in 1944 with full British military honours, moved "home" to Taunton, Somerset. But Violet longed for India, and they went back, Major Smith having found a job with a British company in Bombay. There they lived for 10 years; he worked in the jute trade, and later, as a sales director, travelled all over the subcontinent.
They then returned to Calcutta, where her mother, Rosie Sarkies, presided over Fairlawn, one of five hotels the family owned in the city. It would be left to Violet when Rosie died in 1962. Major Smith, after a long illness through which Violet nursed him, died in 2002. They had a daughter, Jennifer.
Under Violet's stewardship Fairlawn became de rigueur as a stopover for Western artists and performers. Visitors whose presence caused Violet to swell with pride included the actress Julie Christie, the travel writer Eric Newby and the playwright Tom Stoppard. Another who came was Dominique Lapierre, the French writer whose story about a Calcutta slum was made into a film, City of Joy, in 1992.
Violet took an especial shine to the Indian actor Shashi Kapoor, who starred in the Merchant Ivory film Shakespeare Wallah (1965). She would tell other guests how he had spent his honeymoon at the Fairlawn. Kapoor married Jennifer Kendal, daughter of the travelling actor-manager Geoffrey Kendal, who in the 1950s toured India staging Shakespeare plays. Kendal père even had his troupe give some performances in rooms at the hotel.
Fairlawn was also the backdrop from which, in the early 1960s, Kendal's other daughter, Felicity, the British actress, launched her European career. "I loved it here," she wrote in 2012, "and it is from this hotel that I left, aged 17, to try my luck in England, my father's disapproval ringing in my ears."
Fascinated former guests recount the thickness of Violet Smith's make-up, the formality of her dress, and her determination, even in her nineties, to descend two flights of stairs each day in order to hold court in the hotel's green foyer. There, looking up from the magnifying glass with which she would peruse the day's newspapers, she personally greeted every arrival. Word has it that the mere whisper of a misdemeanour by a member of staff once made Vi Smith fall ill, but she always swore she would not take to her bed until the day she died. Her birthday parties held at the hotel were gatherings to be seen at, and to write home about.
Her parents had come to India and to what is now Bangladesh in 1915, six years before she was born, having fled Armenia under the threat of massacre and even genocide in fighting between Armenians and Turks. They travelled by way of Isfahan and the Khyber Pass, and, said Violet, "my mother carried my grandmother on her back, all the way."
Violet was born in Dhaka, now the capital of Bangladesh, where an Armenian community had existed for centuries. She first lived in Calcutta as a teenager in 1936, when her mother bought Fairlawn from two English spinsters. The house had been in the hands of a string of British owners ever since William Ford bought the land from a local Indian aristocrat.
Even by that date – 1781, during the governor-generalship at Calcutta of the English East India Company's greatest administrator, Warren Hastings – Armenians were experienced players on the Bengal scene. Men such as the enigmatic Khwaja Petrus, part of Bengal society since Mughal times, used their wealth to support the British rise to power. Violet Smith, Armenian upholder of all things British, was part of a very long tradition. Her daughter Jennifer now continues it.
Violet Sarkies, hotel owner: born, Dhaka, East Bengal, now Bangladesh 19 January 1921; married 1944 Major Edward Frederick Smith (died 2002; one daughter); died Kolkata 20 September 2014.
Register for free to continue reading
Registration is a free and easy way to support our truly independent journalism
By registering, you will also enjoy limited access to Premium articles, exclusive newsletters, commenting, and virtual events with our leading journalists
Already have an account? sign in
Register for free to continue reading
Registration is a free and easy way to support our truly independent journalism
By registering, you will also enjoy limited access to Premium articles, exclusive newsletters, commenting, and virtual events with our leading journalists
Already have an account? sign in
Join our new commenting forum
Join thought-provoking conversations, follow other Independent readers and see their replies