Zao Wou-Ki: Artist whose work combined Oriental landscapes and Western abstraction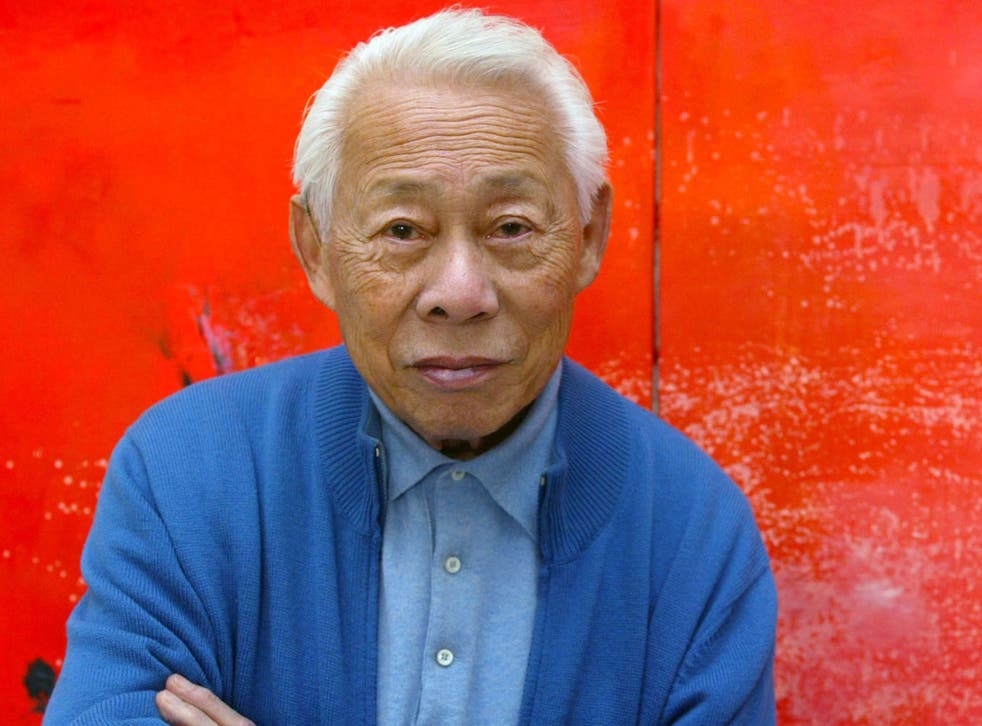 Zao Wou-Ki was an artist whose work unites Oriental landscapes with the influences of abstraction and of the Paris School. His signature, which combines a first name in Chinese characters and the Zao family name in Western script, symbolises this synthesis of Eastern and Western cultures in his paintings.
Zao was born in 1921 in Beijing to a family of intellectuals, who encouraged him to draw and paint from an early age. He studied at the School of Fine Arts in Hangzhou and went on to become a teacher of drawing there.
In 1948 he emigrated to Paris and spent his first afternoon in the city at the Louvre. He held his debut solo show at the Galerie Creuze the following year. At the print workshop of Desjobert he worked with lithography and produced a series of eight prints. The painter and poet Henri Michaux saw this work and was inspired to write a sequence of poems. The resulting book Lecture par Henri Michaux de huit lithographies de Zao Wou-Ki (1950) was the beginning of a life-long collaboration and friendship between the two artists. Michaux in turn introduced Zao to the art dealer Pierre Loeb, who immediately bought 12 paintings and much of his work over the following seven years.
His early output from the 1950s bears a striking similarity to pictures by Paul Klee, whose work he encounted for the first time at exhibitions in Switzerland. He said of the discovery "How could I be ignorant of this painter whose knowledge and love of Chinese painting is so obvious? From these small signs drawn on a ground with a multitude of spaces, a dazzling world emerges." and later told a biographer, "I was very much influenced at the beginning by Paul Klee. I continued my search and, from 1954, finally found my own voice."
This new-found voice was further amplified by a prolonged visit to New York in 1957, where he met artists of the Abstract Expressionist group, including Franz Kline and Adolph Gottlieb. His paintings turned increasingly towards abstraction. Although, as the art critic Jonathan Hay points out in a 2003 catalogue essay, "Abstraction is somewhat misleading as a description of Zao's paintings; it would be more accurate to say that their image field hovers between nature and abstraction, once in a while slipping over the edge into the reminiscence of a Chinese landscape schema."
Zao was wary of what he called "chinoiseries" (chinese-esque style work) and deliberately avoided ink painting until the early 1970s, when he adopted the technique at the suggestion of Michaux. His wife Chan May-Kan was suffering from mental illness and he had trouble finding the energy for large-scale paintings. He recalled: "As I spread out those stains, life became easier to live and the pleasure of those gestures prevailed on the traces of my memory." Following her death he returned to painting and created the vast En mémoire de May (In Memory of May, 1972), a dark landscape with flickers of light, hints of optimism after the sorrow of loss.
Paint remained his favoured medium, as he said "Painting, painting, always painting, painting again, the best possible, the empty and the full, the light and the dense, the living and the breath". He travelled and exhibited widely throughout the 1960s and 1970s and was recognised with exhibitions at the Grand Palais in Paris in 1981, the Galerie Nationale du Jeu de Paume (2003) and the Bibliothèque Nationale de France (2008). The Tate holds Avant l'orage (Before the Storm, 1955) and the V&A has a number of lithographs.
While he was well-known in his adopted country from the 1960s, recognition in his native land came rather later, with a first major exhibition in 1983 at the National Museum of China in Beijing. Renewed interest amongst the art-collecting Chinese and Hong Kong nouveaux riches boosted his work, resulting in a record price for a Chinese painting in 2005, when one of his works went for US $24m. Then, in October 2011 at Sotheby's Hong Kong 20th Century Chinese Art, his 10.1.68 (1968) sold for US $8.8m, the most expensive lot in the sale.
But this financial success was not without its difficulties. He had recently moved to Dully, on the shores of Lake Geneva in Switzerland, with his third wife Françoise Marquet. His son Jia-Ling Zhao accused her of emigrating in order to control Zao's inheritance. A legal battle was ongoing at the time of his death.
Zao had taken French citizenship in 1964 and was honoured by the country for his contribution to the arts. He was appointed Officier de la Légion d'Honneur (1984), progressing to Commandeur (1993) and Grand Officier in 2006.
A retrospective of his work was held in 2011 at de Sarthe Fine Art, Hong Kong. The gallery owner, Pascal de Sarthe, told me, "The art world has lost a giant, especially in Asia. He was a great man, kind and generous with a great passion for art. His original contribution to modern Chinese culture positioned him as a leading figure of the postwar generation. His paintings were not simply abstract, they expressed thoughts and feelings."
Marcus Williamson
Zao Wou-Ki, artist; born Beijing 13 February 1921; married firstly Xie Jinglan (divorced 1957' one son), 1958 Chan May-Kan (died 1972; one daughter), 1977 Françoise Marquet; died Nyon, Switzerland 9 April 2013.
Join our new commenting forum
Join thought-provoking conversations, follow other Independent readers and see their replies