Zienia Merton: actor who played Sandra Benes in Space: 1999
In the 1970s, she gained international recognition starring opposite Martin Landau and Barbara Bain in the British-made TV series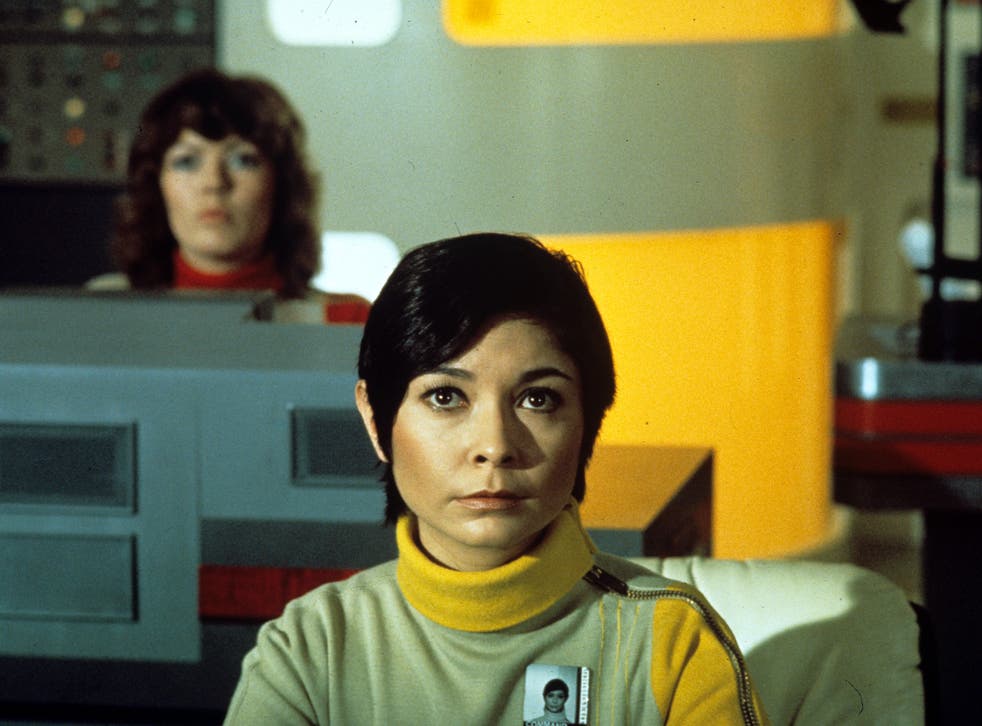 Zienia Merton, who has died aged 72, is best known for playing Sandra Benes, a data analyst, in the Seventies TV sci-fi series Space: 1999. More recently the English actress appeared in the Doctor Who spin-off, The Sarah Jane Adventures.
She was born in Burma to a Burmese mother and a half-French, half-English father, who sent her to study in England.
Cecil Gerald Merton, a major who served in the Burma Rifles, judged his daughter to be artistic and fearing she would take, as Zienia put it, a "helluva beating on the hockey field" at a girls' boarding school sent her instead to the Arts Educational School in Tring.
"I swapped the jungles of Sarawak for the green fields of Hertfordshire," she wrote in her 2005 memoir, Anecdotes and Armadillos. She also spent time in Singapore and Portugal as a child.
In 2004, she was tracked down by a distant cousin who informed her that her great-great grandfather had changed the family name to Merton from Moses. ("No wonder I make a mean chicken soup!" she said).
Her first acting role was playing a rat in the Royal Festival Ballet's The Nutcracker Suite, aged 12 in 1957. The following year she played a kitchen maid. She won her first film role as Marla in 1962's Masters of Venus – part of a series of six science fiction films.
"I had been elevated to playing an extra-terrestrial," she wrote. She went on to play a field mouse, rabbit and stoat in a production of Toad of Toad Hall at the Comedy Theatre in London's West End.
She had met its director, David Williams, while playing a fairy in his production of A Midsummer Night's Dream at the Regent's Park Open Air Theatre.
Merton first wanted to be a dancer, having trained in classical and Greek but decided: "I'd rather deliver one spoken line than be in a chorus with 15 other girls."
After getting her o-levels in Tring, she attended the Arts Educational School's London branch. Here, a fellow student gave her the phone number of a director who was looking for a Chinese girl.
She wasn't too impressed, and was possibly a bit nervous about making the call. So she flipped a coin. "It came heads. I got on the phone."
"Hello, you don't know me but my friend said you were looking for someone oriental," she recalled saying.
And so she went to meet the first director of Doctor Who, Indian-born Waris Hussein who cast her as Ping-Cho, a young girl travelling with Marco Polo, in seven episodes, including "Assassin at Peking" and "Rider from Shang-Tu" in 1964.
Merton described Ting Ling, her character in 1969 film The Chairman, set in Mao's China, as "a smashing part, getting to kiss Gregory Peck".
In 1971, she earned the scorn of Mary Whitehouse, the era's self-styled voice of Middle England's moral outrage, when went topless as Cristina in the Dennis Potter-directed BBC Two series Casanova, set in 18th century Italy.
She once appeared as Benny Hill's Chinese wife, Chow Minn in The Benny Hill Show, which was filmed before a live audience. The sketch was based on "mispronunciations" – such as "gleen" for clean or "crutch" for clutch. Despite the obvious racial stereotyping, she described Hill as an "absolute sweetheart".
Often struggling for work, she described her distress after landing a bit part in 1970 film The Adventurers (directed by Lewis Gilbert) who died earlier this year – "not many words, a lot of action". After having filmed one rape scene, she was excited to be called in for another scene only – and dismayed to learn it was another rape.
During a rehearsal, she was upset when a male assistant director stepped up and said: "You're a bit overdressed for this scene" and tore at her dress. "I yelled for my dressing gown, I wish I could have yelled for my agent," she wrote.
"Whether that scene survived or not," she added, "I have no idea. I heard them laughing and wondering [aloud] who would be prosecuted as the names of both director and camera were on the clapperboard."
A worthier role arrived in 1975 with Space: 1999, with a cast led by Martin Landau and his wife Barbara Bain. Set on Moonbase Alpha, a colony dislodged from the solar system alongside the moon by a nuclear blast, her character, Sandra Benes, made it into the second series but was not offered another contract so after three episodes, she took another job.
Perhaps her career did not take off in the way it might have, she was ever generous in relaying stories from the sci-fi series – which, to her surprise, she found herself talking about to fans decades on.
In recent years, she appeared in TV dramas such as Casualty, Coronation Street, EastEnders.
In 1999, she reprised her character Benes for a seven-minute film that was screened at the Breakaway Convention in Los Angeles. In Space: 1999 – Final Message From Moonbase Alpha, Benes said: "To you the people of planet Earth, we say goodbye, and ask but one thing: remember us."
Zienia Merton, actor, born 11 December 1945, died 14 September 2018
Join our new commenting forum
Join thought-provoking conversations, follow other Independent readers and see their replies