Abe Vigoda: Character actor whose greatest success was as Sal Tessio in the Godfather films
'My experiences have taught me that if you deeply believe in what you are doing, success can come at any age'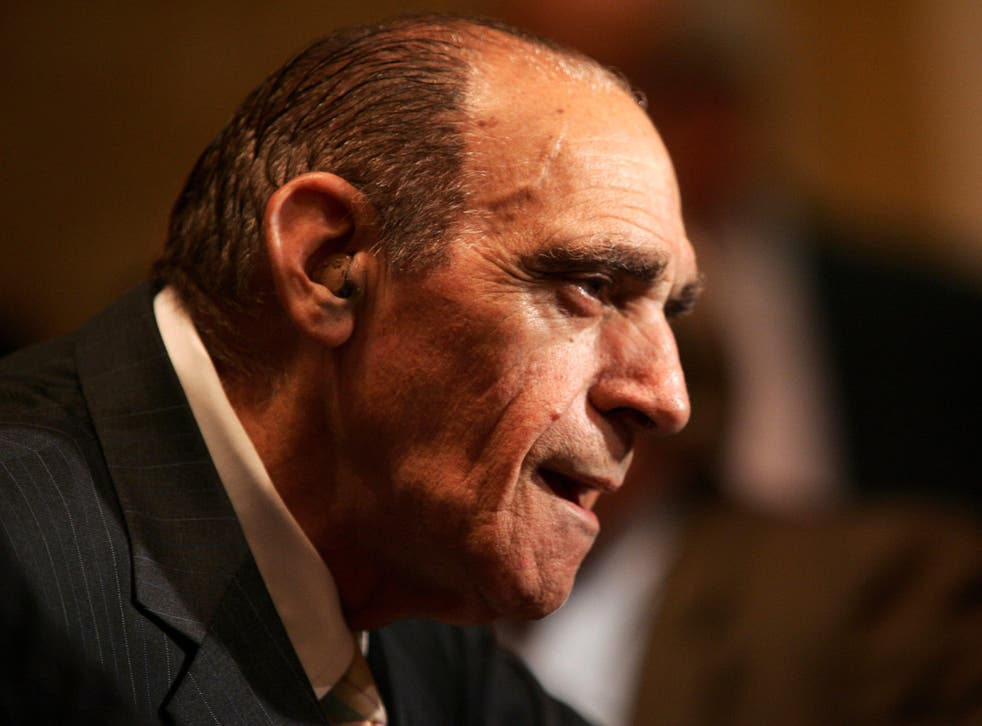 Abe Vigoda's leathery, sad-eyed face made him ideal for playing the over-the-hill detective Phil Fish in the 1970s TV series Barney Miller and the doomed Mafia soldier in The Godfather. His death brought to an end years of speculation on whether he was still alive, sparked by a false report of his death more than three decades ago.
Though Vigoda took it in his stride, the question of whether he was dead or alive became something of a running joke: there was even a website devoted to answering the much-Googled question, "Is Abe Vigoda dead?"
Vigoda was worked in relative obscurity as a supporting actor in the New York theatre and in television when Francis Ford Coppola, who was looking for unheralded actors to play most of his supporting roles, cast him in The Godfather. He played Sal Tessio, an old friend of Vito Corleone (Marlon Brando) who hopes to take over the family after Vito's death by killing his son Michael (Al Pacino). But Michael anticipates that Sal's suggestion for a "peace summit" among the big crime families is a set-up – and the escorts Sal thought were taking him to the meeting turn out to be his executioners.
"Tell Mike it was only business," Sal mutters to consigliere Tom Hagen (Robert Duvall), as he's led away. Although Vigoda was Jewish rather than Italian, his looks fooled the mobsters who visited the set one day. "They kept looking at me, as if to say, 'What family is he from?'" he recalled.
The huge success of the film and The Godfather Part II led to numerous roles, often as hoodlums. But it was his comic turn in Barney Miller which ran from 1975 to 1982, that brought Vigoda's greatest recognition in the US.
He liked to tell the story of how he won the role of Fish. An exercise enthusiast, Vigoda had just returned from a five-mile jog when his agent called and told him to report to Danny Arnold, who was producing a pilot for a police station comedy. Arnold remarked that he looked tired, and Vigoda explained about his jog. "You know, you look like you might have haemorrhoids," Arnold said. "What are you – a doctor or a producer?" Vigoda asked. He was cast on the spot.
The Complete Directory to Prime Time Network and Cable TV Shows, a reference book, commented: "Not only did he look incredible, he sounded and acted like every breath might be his last. Fish was always on the verge of retirement, and his worst day was when the station house toilet broke down."
Vigoda remained a regular until 1977, when he took the character to his own series, Fish, which dealt with his domestic life and his relations with the five street children he and his wife took in. The show lasted a season and a half. Vigoda continued making occasional guest appearances on Barney Miller but eventually quit over billing and salary differences. He remained a popular character actor in films including Cannonball Run II, Look Who's Talking and Joe Versus the Volcano. His resemblance to Boris Karloff led to his casting in the 1986 New York revival of Arsenic and Old Lace, playing the role Karloff originated on stage.
Born in New York in 1921, Vigoda attended the Theater School of Dramatic Arts at Carnegie Hall. In the early 1950s, he appeared as straight man for Jimmy Durante. For 30 years, he worked in the theatre, acting in dozens of plays in such diverse characters as John of Gaunt in Richard II (his favourite role) and Abraham Lincoln in a short-lived Broadway comedy, Tough to Get Help. He attributed his success rate in winning roles to his performance in auditions. Instead of delivering the soliloquies that most actors performed, he wrote his own, about a circus barker.
Reflecting on his delayed success, Vigoda once remarked: "When I was a young man, I was told success had to come in my youth. I found this to be a myth. My experiences have taught me that if you deeply believe in what you are doing, success can come at any age."
Reruns of Barney Miller and screenings of the Godfather films kept Vigoda in the public eye, and unlike some celebrities, he enjoyed being recognised. In 1997 he was shopping in Bloomingdale's in Manhattan when a salesman remarked, "You look like Abe Vigoda. But you can't be Abe Vigoda because he's dead."
Abraham Charles Vigoda, actress: born Brooklyn 24 February 1921; married firstly Sonja Gohlke (marriage dissolved; one daughter), 1968 Beatrice Schy (died 1992); died Woodland Park, New Jersey 26 January 2016.
Register for free to continue reading
Registration is a free and easy way to support our truly independent journalism
By registering, you will also enjoy limited access to Premium articles, exclusive newsletters, commenting, and virtual events with our leading journalists
Already have an account? sign in
Register for free to continue reading
Registration is a free and easy way to support our truly independent journalism
By registering, you will also enjoy limited access to Premium articles, exclusive newsletters, commenting, and virtual events with our leading journalists
Already have an account? sign in
Join our new commenting forum
Join thought-provoking conversations, follow other Independent readers and see their replies