Adam Driver interview: Girls star on the fear of working with Martin Scorsese
Driver: 'I grew up watching his movies and just to talk with him or work with him like that on something, you can't even imagine'
Kaleem Aftab
Friday 10 October 2014 12:19 Comments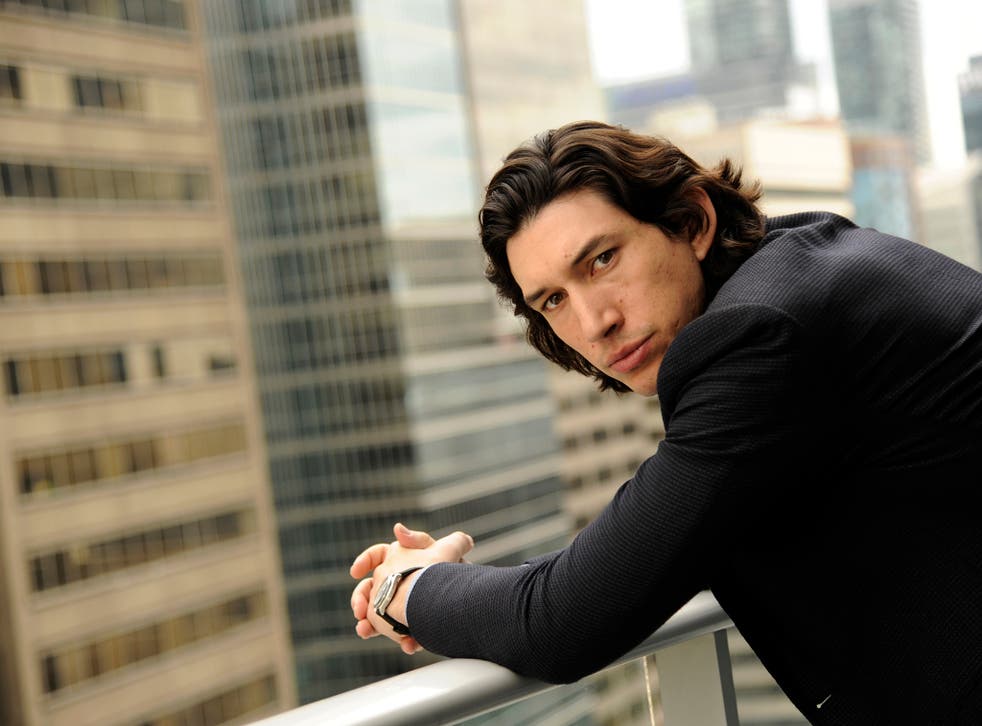 It wasn't just Lena Dunham who became an overnight sensation with the arrival of her hit TV show Girls.
She also discovered Adam Driver, the 6ft 3in brooding actor who plays her on-screen boyfriend on the show. He unashamedly used Dunham for his sexual fantasies, and his brutal honesty about the nature of their relationship was delivered so charismatically that it was hard not to be on his side. He is the Yin to Dunham's Yang. Indeed the show dawdled in the second season when for periods he was absent.
It's Driver that has gone on to have the most successful movie career of the troupe. Not since Ryan Gosling's turn in Drive has an actor made such an immediate impression on so many.
It almost never was. He initially turned down the role in Girls before Dunham coaxed him into taking it, and even while it was being shot he was blissfully unaware of the life-changing nature of the show. "Working on Girls opened up a lot of opportunity for me," he says. "It's like a dream job. It's a dream. It seemed like a project we were working on in our friend's basement for the first season. We forgot that people would watch it on TV. So that's like a very jarring thing to suddenly realise that strangers know about you making this weird art thing with your friends when you were all naked!"
Some of those "strangers" were directing legends who are now battling to get him to star in their movies. And that was even before he had picked up the best actor prize at the Venice Film Festival for his turn as a husband trying to cope with his wife's strange dietary habits in Hungry Hearts.
It's the culmination of what has been a wonderful couple of years for the 30 year old. Last summer he married long-time girlfriend Joanne Tucker, and just as his personal life entered a new phase his acting career blossomed; 2014 started with the release of the Coen brothers' Inside Llewyn Davis, in which he had a small part as a musician. He had a bigger supporting role, playing a magazine photographer, in John Curran's Australian outback drama Tracks. More recently, he's moved into A-list territory with the announcements that he is to play a leading role in the latest Star Wars film, and has been signed up by Martin Scorsese to star in his adaptation of Shusaku Endo's novel Silence, about priests voyaging to Japan in the 17th century.
Yet it's the three roles that are about to hit our cinema screens that demonstrate that he's more than just the sincere, charismatic goofball he played in Girls. Although his charming wild-card persona makes him the best thing in the ensemble comedy This is Where I Leave You, alongside Tina Fey and Jason Bateman, his standout leading-man roles come in While We're Young, Noah Baumbach's follow up to Frances Ha, and his award-winning turn in Hungry Hearts, in which he even manages to sing in Italian with aplomb.
Driver and his co-star, the brilliant Italian actress Alba Rohrwacher, could have picked up the best actor and actress prizes in Venice for the opening scene alone. It's a one-shot take of the couple meeting in the toilet in the basement of a Chinese restaurant in New York that lasts more than eight minutes. "I feel like we were very lucky," says Driver, who underplays every achievement with a well-mannered modesty. "The three of us in the room felt very private. The director set up an environment where none of us felt embarrassed, everyone was free to fail. Immediately everyone was pretty vulnerable.
"Because someone is so good acting across from you, it makes it easier for you to do your job," he tells me. "Clearly. That's an obvious thing. I was just lucky to find someone who is willing to go to the bottom with you, it makes you want to go as deep as possible in as short a time as possible."
Not that Alba was always nice to him. To my ears, his Italian sounded endearing, but he says, "Alba was very ruthless about how bad my Italian was. Plus it was some weird dialect. Neapolitan."
Despite him being a relative newcomer, the whole production of the film revolved around his availability. He was handed the script by his agent and immediately fell in love with the story of a man whose relationship comes apart after his wife has a baby. While the opening scene could come from a romantic screwball comedy, the rest plays out as a psychological horror with more than a hint of Rosemary's Baby. His one condition for doing the film was that they had to shoot during the month-long gap between While We're Young and Star Wars. That was fine, except it was just six weeks away. Production went into overdrive. "Normally I would think and rethink and obsess about details, but because of the time and money, and even when we were shooting it, running out of time became an issue, that it led to a lot of things being just impulses and first takes, and things like that."
He is a natural. Audiences are in for a treat when Baumbach's While We're Young, which debuted at the Toronto film festival, arrives on our shores next year. In it he plays a student who makes a successful film based on a chance encounter that he has with an old friend on Facebook. His success comes much to the consternation and bafflement of his university professor, played by Ben Stiller. It's a performance in which Driver makes use of his inimitable ability to be confident at one moment and completely vulnerable the next.
And yet his life could have been so different. The actor joined the military in the aftermath of 9/11. "I was in a small town in Indiana and I was interested in acting in high school but really not convinced you could make a living doing that. I was unemployed – so there was a sense of patriotism. I was 18 at the time, had no opportunities so the military is always hiring and I went into the Marine Corps and when everything was taken away, I was suddenly very clear what I wanted to do when I got out."
That came sooner than he expected. He broke his sternum in a mountain-bike accident three months before he was due to be deployed in Iraq. He took painkillers in an effort to prove he was fit, but made the injury worse, leading to him receiving an honourable discharge. So it was that he went to Juilliard while his friends went to Iraq.
He still has a link to the marines. He runs Arts in the Military, an organisation that puts on theatre productions for serviceman. And now he's getting to play intergalactic warfare on screen. He's under orders to be coy about what exactly he will be doing in Star Wars, but it's known that he'll be a baddie. He says being in the new chapter could be a double-edged light sabre: "It wasn't a childhood dream because it didn't seem realistic. The prequels – I didn't even know you could do that. It's not something you dream about because it just doesn't seem possible. I was interested in it immediately, but it wasn't without much thought that I took the role. You don't want to be bad."
When Scorsese came calling there was no such hesitation, but still a lot of fear, "It's surreal," says Driver. "He's the top of the pyramid of film-makers. I grew up watching his movies and just to talk with him or work with him like that on something, you can't even imagine. It's so exciting. Like with Stars Wars, you just jump in and hope you don't suck." Given Driver's track record there is very little chance of that.
'Hungry Hearts' is screened at the London Film Festival and will be out next year. 'This Is Where I Leave You' is released on 24 October
Register for free to continue reading
Registration is a free and easy way to support our truly independent journalism
By registering, you will also enjoy limited access to Premium articles, exclusive newsletters, commenting, and virtual events with our leading journalists
Already have an account? sign in
Join our new commenting forum
Join thought-provoking conversations, follow other Independent readers and see their replies