Adam Peaty: Britain's first Rio gold medallist who used to be scared of water
The 21-year-old would scream whenever he was put in the bath as a child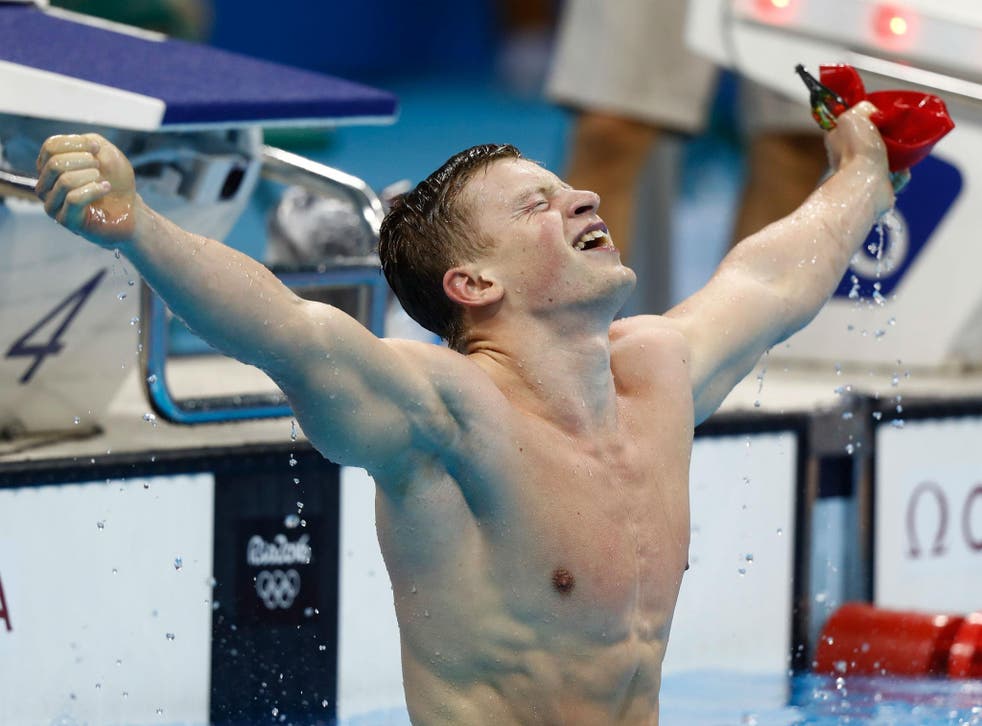 Adam Peaty has brought Team GB its first gold medal after winning the 100-metre breaststroke, a remarkable achievement for a man who used to be scared of water.
After setting a new world record in his heat, spectators were sure to expect a performance of champions in the finals and they were not disappointed. The 21-year-old went on to break his own world record he had set just a day before, winning Britain's first male swimming gold in 28 years.
Despite his young age, Peaty claimed victory over former Olympic champion Cameron van der Burgh who took silver, and the US' Cody Miller who won bronze, with a lead of more than 1.5 seconds.
After the race, Peaty couldn't contain his joy, thanking his coach and family and telling the BBC he "did it for his country".
Who is the swimming champion who used to be afraid of water, loves Grime music and has a grandmother who has earned herself the hashtag #OlympicNan?
He was scared of water
Peaty was born and raised in Uttoxeter, Staffordshire where he still lives with his parents.
His mother Caroline has said her son was "petrified" of water when he was younger, so much so that he would scream whenever she put him in the bath.
"He was petrified – he didn't even like having a bath or a shower," she told the Radio Times. "From the time he could stand, Adam would never sit down in the bath."
When she wanted Peaty to start swimming lessons, she asked a friend to take him because "it was breaking my heart to see him scream".
According to Caroline, despite his monumental achievements in the pool, he still isn't keen on going in the sea.
"He still doesn't like the sea and if he goes in he likes to have shoes and wear a knee-length swimsuit. He can't stand seaweed," she said.
His Grandma is becoming an internet sensation
Peaty's grandmother, 74, has found fans across the world for her sweet and encouraging messages of support on Twitter and has received the nickname #OlympicNan.
Prior to her grandson's win on Sunday evening she wished him luck, writing: "This is what all that hard training been for (sic). Good luck my grandson, I will be roaring for you," alongside a number of swimmer, Union Jack and lucky clover emojis. She has now acquired over 5,000 followers and some of her tweets have been liked over 2,000 times.
Rio 2016 Olympics - in pictures

Show all 74
His mother had never been on a flight until Rio
As you would expect, the Olympian's parents were poolside to watch their son storm to victory on Sunday.
While Peaty's swimming may have taken him to various locations around the world, his mother Caroline's trip to Rio was her first time on a plane.
Earlier this month, she told the Radio Times: "I've never flown before, never been further than France. I've always taken my leave around Adam's races in this country and I love to watch him, but this is going to be a shock."
He's a fan of Grime
Last month, Peaty revealed the music to get him in the zone ahead of the race is Grime.
"I mostly listen to Grime. I like [Birmingham-based Grime artist] Jaykae a lot," he told the Guardian. "I like the dark undertow of grime and it gets me aggressive. You need that aggression.
"Grime reminds me that swimming is very gladiatorial. The roar of the crowd when you come out for a final is like nothing else," he said.
Aside from Grime, Peaty listens to House, Classical and Rap music with a particular penchant for Dr Dre and NWA. Music aside, his downtime also consists of playing computer games, watching television and taking his dog Monty for a walk. At home, he has also imposed a "no talking about swimming" rule, his mother says.
Swimming
Peaty's Oympic achievements are the cherry on top of an already medal-filled cake. The Glasgow 2014 Commonwealth Games were the first occasion Peaty, then 19, beat his idol the 2012 Olympic champion van der Burgh to win the gold.
"I'd never even swum once before against Cameron," he told the Guardian after his Commonwealth win. "It would definitely be right to call him my idol then. He was Olympic champion and the world record holder. So it was an honour to race him, to be near him really. It was a little intimidating but I had nothing to lose. I just swam my heart out and came away with gold."
Last year, Peaty became the world champion winning the breaststroke gold at the World Swimming Championships in Russia.
Peaty will return to the pool for the 4 x 100-metre relay heats on Friday.
Join our new commenting forum
Join thought-provoking conversations, follow other Independent readers and see their replies