Alistair Carmichael: 'The UK as a whole is greater than the sum of its parts'
Meet the man who doesn't want to go down in history as the country's last Scottish Secretary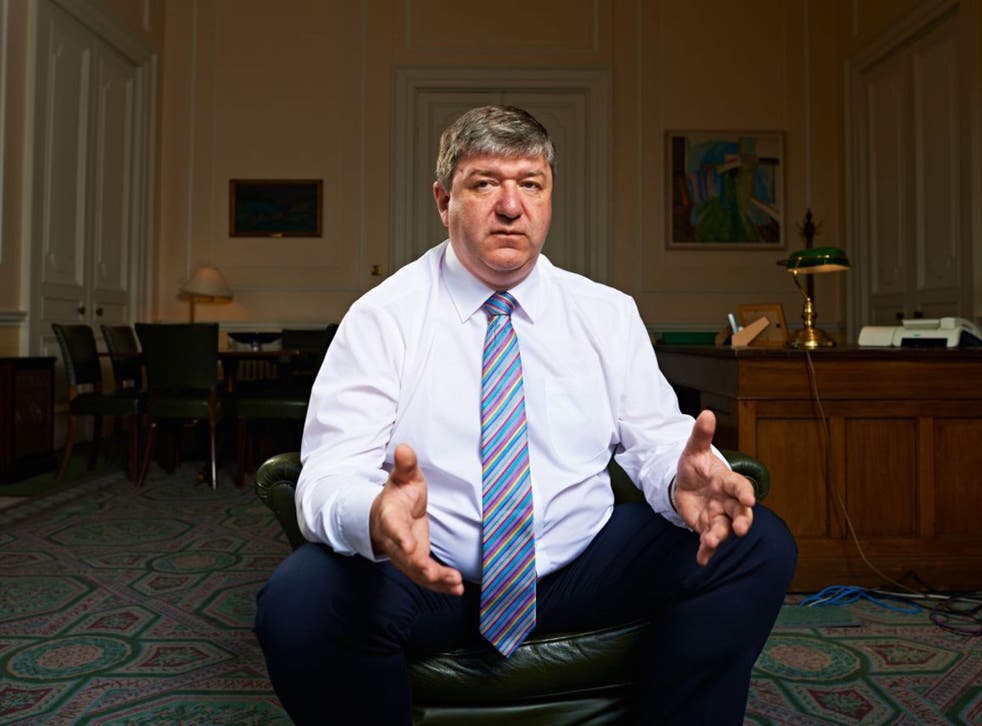 Standing on a balcony shrouded in grapevines said to have grown from cuttings taken by Henry VIII's court, Alistair Carmichael looks down over Horse Guards Parade. "It's a fantastic view," he smiles, before returning to one of the grand, cavernous rooms that are the hallmark of the opulent Scottish Office on Whitehall. Shame, then, that Mr Carmichael risks being the final occupant of this office, the Scottish Secretary who lost Scotland.
Two months before the independence referendum, this son of hill farmers from Islay – "the Queen of the Hebrides" – says with a chuckle: "If we lose, it will be my fault. If we win, there will be a queue of people ready to share the plaudits. That's how politics works."
Previously a deputy chief whip in the coalition, Mr Carmichael replaced his friend Michael Moore as Scottish Secretary in October, as the Government looked for more of a political bruiser to take on the Scottish Nationalist Party. He once reduced a roomful of political journalists to tears of laughter when he told the story of how Chris Huhne, the former Energy secretary, refused to return from a summit in Cancun for a vote. "It did prompt one of the Liberal Democrat whips' team to come out with the observation that Chris Huhne was the man who had put the T into Cancun."
But there are rumblings that Mr Carmichael is perhaps a little too aggressive, accusing the SNP of "fantasy economics". "Me?" he says with a laugh, relaxed, with his suit jacket off. "I don't want to be in the position on the 19th of September [the day after the vote] or later, if Scotland has voted Yes, of people turning around and saying: 'What's this? We can't have a currency union? Why didn't you tell me?'"
Video: Alistair Carmichael talks about UK economy earlier this year
The pro-Union Better Together campaign, of which he is one of the leaders, stands accused of running a relentlessly negative campaign. It disputes SNP claims that Scotland would be able to keep the pound, its share of university research funding and its contracts to build warships on the Clyde, and that it would secure almost immediate EU membership. "If it was just one of those elements they were saying we would keep while still walking away from the United Kingdom, it might not look so incredible," says the 49-year-old. He adds that the SNP's 18-month timetable from a Yes vote to secession is not realistic and is "strategically inept", as there would not be time for full negotiations.
Accusing the SNP of "not being straight with the people of Scotland", Mr Carmichael, whose wife Kate is from Bath, is concentrating on what a No vote could do to the rest of the UK. Last week, economists at Morgan Stanley concluded that sterling would lose 10 per cent of its value if Scotland goes it alone. Debt as a percentage of the UK's gross domestic product could rise from 78 per cent to 86 per cent should Edinburgh and Westminster fail to reach a deal on how to share that financial burden.
The SNP has seized on research from the University of Glasgow, where Mr Carmichael briefly studied, that Scotland would, at a stroke, become the 14th richest country on earth.
"Both sides lose," argues Mr Carmichael, who was a hotelier and then a lawyer before becoming an MP. "It's clichéd to say it, but it's true that the United Kingdom as a whole is greater than the sum of its constituent parts." His argument infuriates the SNP, which points to Scotland's North Sea oil and gas reserves, financial services industry and whisky exports as evidence that the country could support itself.
But Angus Robertson, Mr Carmichael's main parliamentary opponent as the SNP's leader at Westminster says: "A democratic, independent Scotland is a win-win for Scotland and the rest of the UK. Powers of independence will ensure greater economic success and social justice north of the border. This will have a positive knock-on effect for the rest of the UK."
He also points out that, as recently as 2007, the Scottish Secretary wanted to abolish the job he now holds, replacing the office with a Department for Nations and Regions.
A clash between this pair would make for a formidable broadcast debate. Instead, Alistair Darling, leader of Better Together, will take on Alex Salmond, Scotland's First Minister, on television early next month.
Scottish Independence: For and against

Show all 24
Surprisingly, given that the coalition boasts it came to power to sort out the Labour government's economic mess, Mr Carmichael praises Mr Darling for his work as chancellor during the financial crisis. "The thing about Alistair is that he's comfortable in his own skin. Is he going to do all the bluff and bluster that you will see from Alec Salmond? I very much hope not."
The No campaign is still leading in the polls, 41 per cent to 32 per cent according to one survey last week, but a quarter of voters are still undecided. However, he believes that even a No vote will require more devolution for Scotland, and he is planning a conference in October to discuss how this would happen.
The referendum has kick-started what he believes is likely to be a long process of establishing either an English parliament or regional parliaments, while Westminster would remain home to politicians considering UK issues of defence, foreign affairs and currency. "We are now, I think, heading towards a federal United Kingdom."
In a rosier scenario for Mr Carmichael, he could go down as the Scottish Secretary who saved the Union – but it looks as though he won't get much of a reward. Speculation is rife that Jo Swinson, MP for East Dunbartonshire, could replace him after the vote to mastermind the transfer of more powers to Edinburgh.
But many Liberal Democrats have a much greater role in mind for Mr Carmichael: to succeed Nick Clegg as party leader after next year's general election, in which the party could lose nearly half of its seats. He insists that they will be disappointed. "It's not an attractive job, I have to say."
Join our new commenting forum
Join thought-provoking conversations, follow other Independent readers and see their replies