Amal Clooney wins the day as UN rules former Maldives president was unlawfully jailed
Mohamed Nasheed has served six months of a 13-year sentence after a court found him guilty of terrorism
Simon Usborne
Monday 05 October 2015 21:57 Comments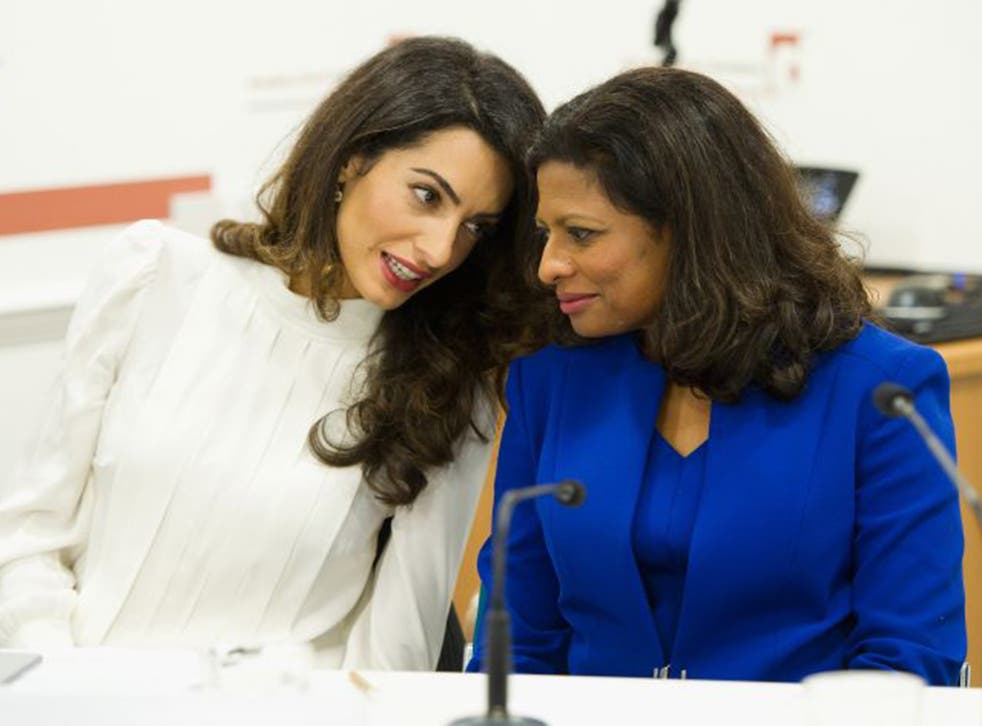 The wife of the former "Island President" Mohamed Nasheed has called for his immediate release after the UN ruled against the legal efforts of Cherie Booth and found that his detention in a Maldives jail was unlawful and politically motivated.
Laila Ali joined her husband's legal team, led by Amal Clooney and Geoffrey Robertson QC, to urge the international community to impose sanctions on the Indian Ocean nation to pressure its government to release hundreds of alleged political prisoners.
Mr Nasheed, once feted by world leaders and compared to Nelson Mandela, has served six months of a 13-year sentence after a court found him guilty of terrorism for ordering the arrest of a senior judge when he was president three years ago. The UN Working Group on Arbitrary Detention ruled that Mr Nasheed had not been given a fair trial.
"Today is an extraordinary day for me, my husband and my family," Ms Ali said at Ms Clooney's chambers in central London. She and Mr Nasheed, 48, have been married for 21 years and have two daughters. "We are extremely grateful for this decision."
The ruling, which the Maldives government immediately rejected, marks the end of a high-profile battle over the fate of former journalist Mr Nasheed and the paradise nation he led to global prominence after its first democratic elections in 2008.
The current President, Abdulla Yameen, whose half-brother Maumoon Gayoom repeatedly imprisoned Mr Nasheed during his 30-year rule, employed Ms Booth QC and her legal firm Omnia Strategy to lead the government's response to the UN.
"It would be worth the people of the Maldives knowing how much Cherie Blair was paid in order to lose this case so extraordinarily," Jared Gesner said. The American human rights lawyer is part of Mr Nasheed's counsel, which is working pro bono.
"In their case it's rising fee levels," joked Mr Robertson, who works at the same chambers as Ms Clooney, in a wry reference to the sea levels which threaten to consume the Maldives.
Mr Nasheed had thrust the nation into the global climate change debate before he resigned in 2012 in an alleged coup. He lost disputed elections to President Yameen the next year. Mr Nasheed's opposition Maldivian Democratic Party had criticised Omnia for its political involvement after the firm had described its role only "to advise on legislative reform to improve transparency and accountability". The value of the contract was not disclosed and has now ended, the Maldivian attorney general's office said.
The UN group of independent experts in international law has now rejected Omnia's submissions. But the firm has defended its work. "The former President was accused of committing a very serious criminal offence," a spokesman said. "In any modern democracy, such an offence should be treated with the utmost seriousness."
Mr Genser, who travelled to the Maldives with Ms Clooney last month, said focus has shifted to calls for travel bans and sanctions against Maldivian government officials. David Cameron has already called for Mr Nasheed's release, while Sir Richard Branson has called for a tourism boycott.
Ms Clooney said more than Mr Nasheed's freedom was at stake in a country challenged by gang violence and religious conservatism. She arrived in the capital, Malé, days after a member of Mr Nasheed's domestic legal team was stabbed in the head. No one has been arrested.
"This trial and conviction are emblematic of a bigger crisis where the noose around free speech is tightening and a fledgling democracy has entered a darker period of repression," Ms Clooney said, calling for freedom for an estimated 1,700 people facing politically motivated charges.
Ms Ali was confident that her husband would soon be released from his island jail, where she said he remains in good spirits. "I'm quite sure he won't be there for too long," she told The Independent.
Register for free to continue reading
Registration is a free and easy way to support our truly independent journalism
By registering, you will also enjoy limited access to Premium articles, exclusive newsletters, commenting, and virtual events with our leading journalists
Already have an account? sign in
Join our new commenting forum
Join thought-provoking conversations, follow other Independent readers and see their replies