America Ferrera interview: How Ugly Betty became more than just a pretty face
Since the hit comedy that made her name, the star has turned producer too and led the fight for stronger roles for Latino actresses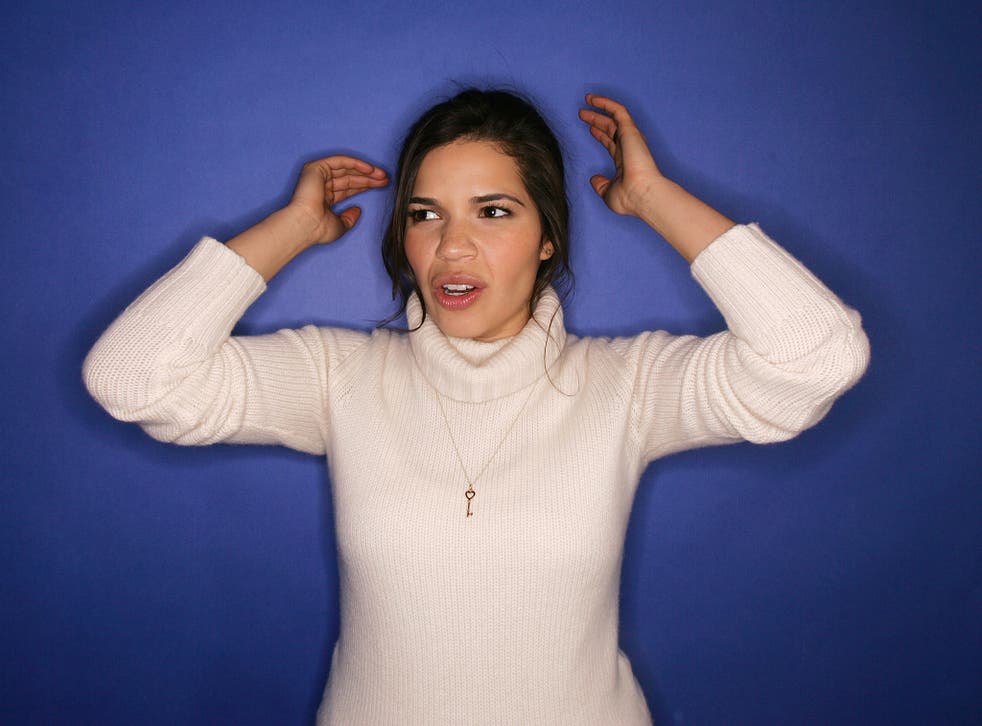 When hit TV series Ugly Betty aired its final episode four years ago, its star, America Ferrera, did two things: she planned her wedding to college sweetheart Ryan Piers Williams and she set up her own production company.
As Betty Suarez, she won a Golden Globe and numerous awards for her break-out role in Ugly Betty's retelling of the Ugly Duckling fairy tale, but she soon realised that strong roles for Latin women didn't come around very often.
Growing up in Los Angeles, the youngest in a family of six, she worshipped her mother, a Hilton Hotels executive also named America Ferrera.
Just seven years old when her parents divorced and her father returned to Honduras, she took inspiration from her mother, watching her juggle a career with single-parenthood.
"I think it's incredibly important to not feel like you are the exception; to be surrounded by other strong women and to be able to express your desires to accomplish and to have ambition," she says. "My parents were immigrants and my mother quickly became a single mother in my childhood. She had to be strong, there was no option for her to survive and to raise her children and to see us succeed and give us what she wanted to give us."
But she doesn't view her own childhood as unique: "I think most of us grow up watching women taking the reins in their households and being the matriarch. Its just about going out into the world and translating that into the roles that women are meant to fulfil in the world. I think it becomes less of a struggle when you have the role models and support system that says its OK for you be ambitious," says the actress, who is in no hurry to start her own family, living in New York with her writer/director husband and enjoying their child-free years to work on their own co-projects including their recent independent movie X/Y, which premiered this month at the Edinburgh International Film Festival.
It is written and directed by Williams, whom she first met a decade earlier when he cast her in a student play at USC [University of Southern California]. The couple also collaborated on The Dry Land in 2010, a drama about a US soldier returning from abroad and struggling to identify with his old life in Texas.
"I work very well with my husband. He came up with the idea of X/Y and wrote and directed it, I produced it and we both act in it. It's a very intimate character-driven New York drama based on a lot of moments we have seen in our lives and the lives of our friends, so its a very personal film," says Ferrera, who co-stars with pals Amber Tamblyn and Common.
"Being married is definitely an emotional stabiliser. We've been together a long time so, in a way, we kind of grew up together."
Another influential woman in her life was the late Mexican actress Lupe Ontiveros, with whom she became close while making her big screen debut in indie hit Real Women Have Curves 14 years ago, while Ferrera was still in high school. Born in the US to Mexican immigrants, Ontiveros once estimated she had played a maid more than 150 times in her career
"I was in the right place at the right time at the beginning of my career, especially getting to work with Lupe. She gave me an immediate context for my place in the journey of Latinos in the media," she recalls.
"The only reason someone like me could step in and play characters who are more than just the maid was because of actors like Lupe who came before me, whose careers were very limited by stereotypes.
"Hopefully I have played my part in moving us forward so the next generation has even fewer limitations. I always try and transcend those labels," says the actress who played a tough cop in David Ayer's End of Watch, a bride in comedy Our Family Wedding and Carmen in tween buddy movie, The Sisterhood of the Traveling Pants.
Reprising her voice-work today as gutsy Viking girl on How to Train Your Dragon 2, her animated screen alter-ego, Astrid, is blue eyed blonde who bears little resemblance to Ferrera.
"Physically we don't look alike but I totally relate to Astrid in the sense that I'm very competitive too. I love relaying that message to girls that its OK to be ambitious and set your sights high." She relishes portraying powerful women, "because that's what girls are interested in. Women are doers. They are equals."
Adding to her canon of strong women, earlier this year she portrayed Helen Chavez, the wife of California labour organiser Cesar Chavez, in a biopic of the civil rights activist.
"It was daunting because it was the first time I've played a real person who is still alive. Helen barely exists in history books so it was wonderful to bring her story to life and show how she lived the struggle alongside her husband and made the most personal sacrifices for this movement, in terms of raising eight kids, mostly on her own because Cesar was always gone organising."
When Ferrera turned 30 in April, she didn't go rushing for the Botox.
"I think for women the roles get deeper, more complex and less superficial as they age. I wouldn't ever want to start going backwards. I feel I've earned it and I'm owning it.
"Every year I feel like I'm a little more the person I want to be than the year before. When I was a kid, 30 seemed like a big number and I imagined that 30 would be this time I really knew who I was and it would all get easier, like 'then I'll be a woman!'. And I do feel that way a little bit. I feel a lot more comfortable with who I am and have let go of a lot of those rules we put on ourselves like I have to do this by this age and that by that age."
Despite being an outgoing kid who loved acting in school plays, confidence is something she still struggles with, and was struck by a fear of public singing prior to making her London stage debut in 2011, starring as Roxie Hart in the musical Chicago. "For some reason I developed this fear of singing and I love singing but, out of nowhere, all of a sudden I couldn't sing in front of people any more; I was just too scared. So I decided to confront that fear. It took a lot of work and I forced myself to do singing auditions and perform in front of people.
"When I auditioned for Chicago that was all about confronting my fear and trying to take it back. I'd always had a dream of doing theatre in the West End and living and working in London but, at the same time, a deep and intense fear of it. I thought if I just took the challenge and threw myself in, I'd have no choice but to get over it and it worked to some extent. I didn't want fear to limit me from doing the things I really love."
When first cast in Ugly Betty, she was just one semester shy of completing a degree in peace and conflict resolution from USC, during which time she spent a semester abroad in Northern Ireland. As a student she wasn't interested in studying drama. "Education was such a big part of my upbringing and it was the one given that I was going to college and there is no excuse for not getting an education," says the actress, who finally graduated last year. Destined to become politically curious, Ferrera's first day at senior high school was September 11, 2001. "That event on 9/11 really made me realise how little I knew about the world and I wanted an education outside of my small upbringing."
She's indebted to Ugly Betty for making her a household name – even if the eponymous role called for her to wear braces, despite the fact she has never needed them in real life. "I wore a retainer but I never wore braces – people just assumed the braces were mine. But what I kept from Betty was my friends because the cast is my family and they were all at my wedding and we've all been to each other's hospital rooms when babies were born and graduations and weddings and birthday parties and life moments."
But, her post-Betty life has brought new experiences, including recording her How to Train Your Dragon 2 voice part in the sound booth alongside Kit Harington. "I had no idea who he was. It was only after we'd finished that I begun watching Game of Thrones, and said to myself, 'Oh my God, that was Jon Snow!' Next time I saw him I totally geeked out."
'How to Train Your Dragon 2' opens on 11 July
Register for free to continue reading
Registration is a free and easy way to support our truly independent journalism
By registering, you will also enjoy limited access to Premium articles, exclusive newsletters, commenting, and virtual events with our leading journalists
Already have an account? sign in
Register for free to continue reading
Registration is a free and easy way to support our truly independent journalism
By registering, you will also enjoy limited access to Premium articles, exclusive newsletters, commenting, and virtual events with our leading journalists
Already have an account? sign in
Join our new commenting forum
Join thought-provoking conversations, follow other Independent readers and see their replies