Andreja Pejic says she doesn't only want to be defined by her gender: 'One day. I would like to be just another girl'
'Working that way made me famous and gave me a career but it wasn't what I would have chosen,' says Pejic
Maya Oppenheim
Wednesday 30 March 2016 13:52 Comments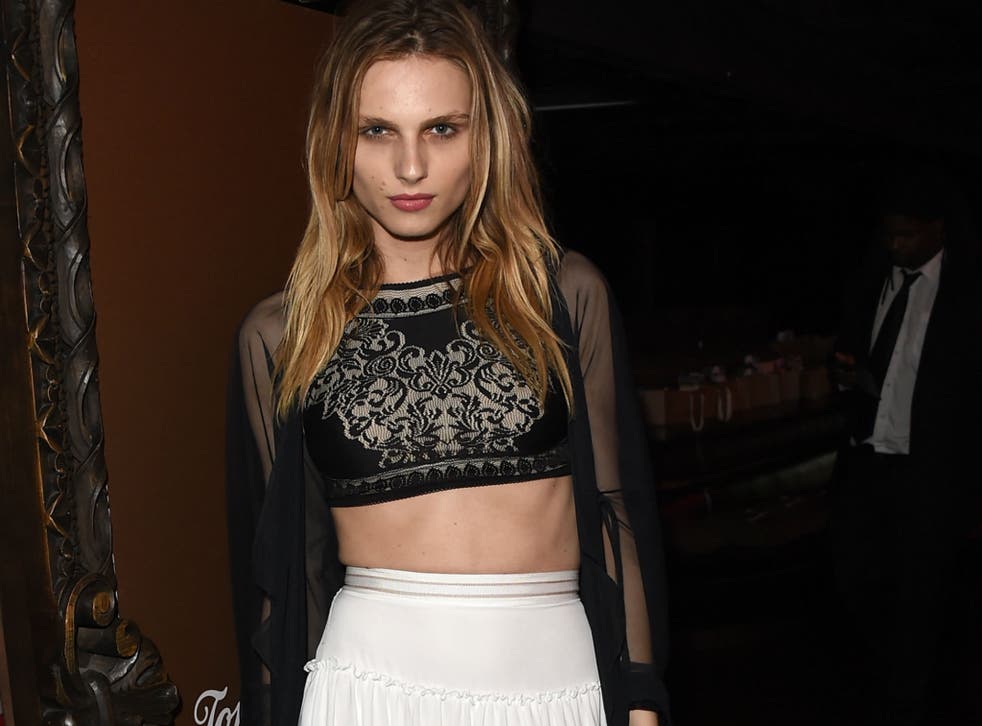 Andreja Pejic has insisted she doesn't only want to be defined by her gender - saying, "One day, I would like to be just another girl".
In an interview with the Evening Standard, the iconic transgender model says, "Other women don't go around saying 'Wow, I'm female'. They have room in their lives for other things. That's my goal", and later adds: "One day, I would like to be just another girl."
Pejic, who was formally known as Andrej, underwent gender reassignment surgery in January 2014.
But the Australian model has been "out" to her family and friends as transgender since she was a teenager, reportedly taking hormone blockers to delay puberty. "It was a time that was really great on so many levels and also really difficult for me," she told the paper.
Andreja Pejic: Career in pictures

Show all 16
Pejic's route into modelling began the day she was scouted serving Happy Meals at McDonald's on the cusp of her 17th birthday. Before long, Pejic had become one of the world's first androgynous male models. Living "in between genders", the native Bosnian walked both the men's and women's shows for Jean-Paul Gaultier in 2011.
Seven years on from that fateful day in McDonalds and the now 24-year-old's meteoric ascent into 'modeldum' has been punctuated by a series of successes. Just last year, Pejic became the first openly transgender model to be profiled by Vogue in its May 2015 issue.
In many ways, it was Pejic's male modelling which initially catapulted her to stardom. "Working that way made me famous and gave me a career but it wasn't what I would have chosen," she says. At the time, her name was included among lists of male models in top agencies across the world. In 2011, she ranked No. 18 on the Top 50 Male Models list on models.com.
The model has frequently spoken forthrightly about her transgender identity. Just months after her surgery, she spoke to People about her history. "I want to share my story with the world because I think I have a social responsibility. I hope that by being open about this, it becomes less of an issue." Recalling her childhood, Pejic said, "I always dreamt of being a girl. One of my earliest memories is spinning around in my mom's skirt trying to look like a ballerina."
Born in Bosnia and Herzegovina, Pejic and her family fled to Serbia in the midst of the Bosnian war while she was a child, finally arriving in Australia when she was eight. Signed to Storm Models in 2010, the model has gone from strength to strength.
Register for free to continue reading
Registration is a free and easy way to support our truly independent journalism
By registering, you will also enjoy limited access to Premium articles, exclusive newsletters, commenting, and virtual events with our leading journalists
Already have an account? sign in
Join our new commenting forum
Join thought-provoking conversations, follow other Independent readers and see their replies