Andrew Davies, profile: Undisputed tsar of sexed-up classics behind 'War and Peace'
His 'War and Peace' is just the latest in a long line of critic and  viewer-pleasing reworks of 19th-century novels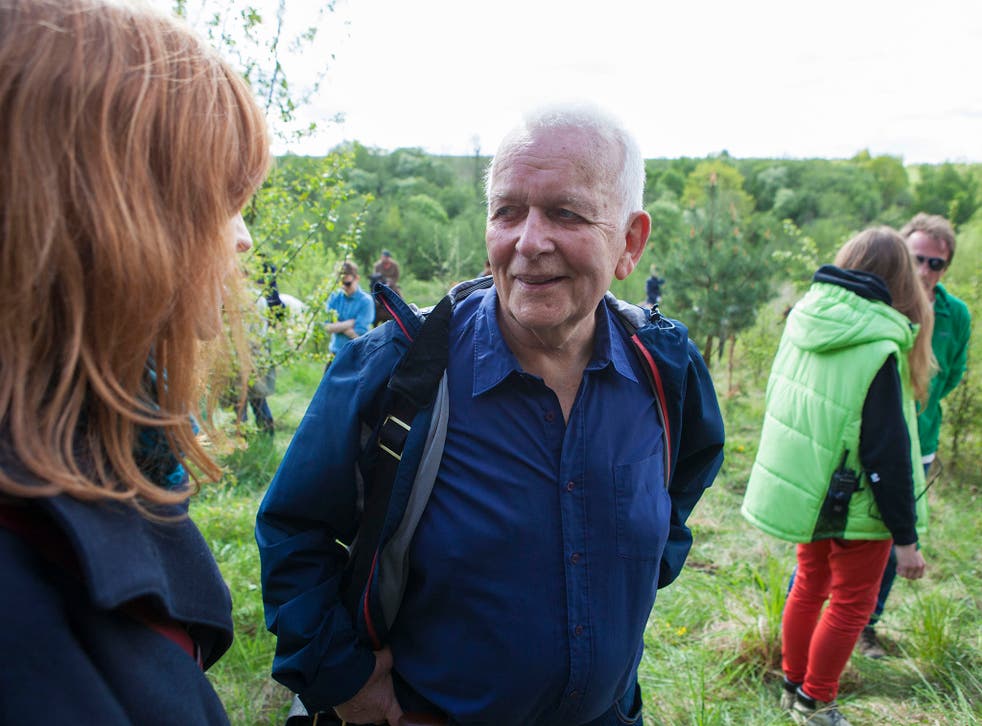 There is a wonderfully ironic piece of advice that Andrew Davies gave during a mini masterclass on TV adaptation for BBC2's arts programme The Late Show back in the early 1990s. "Avoid the classics," Davies warned sternly. "You're on a hiding to nothing adapting one of the classics because everybody believes they know what the real book is like." If a writer does find him or herself in the unfortunate situation of having to adapt a classic, his advice was "enjoy it, take the money and get ready to face the critical flak because there is going to be a lot of it".
A little over two decades later, with Middlemarch, Pride and Prejudice, Vanity Fair, Daniel Deronda, The Way We Live Now and, most recently, War and Peace among his many classic adaptations, Davies, 79, is long since established as the go-to man for any producer looking for a writer to make bulky 19th-century novels palatable to a mass TV audience.
Davies still uses the same tactics. In recent days, certain newspapers have reported the "shock" that British viewers felt when confronted with "full frontal male nudity" in War and Peace. The manufactured controversy over the actor Oscar Pearce "baring all" while walking out of the sea echoes the extreme media commotion when Colin Firth's brooding, saturnine Mr Darcy took off his shirt in the much-cherished Davies-scripted 1995 version of Pride and Prejudice.
Nigel Stafford-Clark, who has produced two Trollopes and a Dickens with Davies, believes that the writer is always happy to fuel such controversies. "The thing about Andrew is that he is always true to the subject but it doesn't hurt if you can find something within that which will give people something to talk about," said Stafford-Clark. "He has understood that controversy helps sell a show and, in the end, you want people to watch these things."
Davies's working method is still similar to what it was in the 1990s. He is irreverent toward the original, fearless in his choices (he has no compunction about killing off characters or changing major plot points) and he always leavens the mix with plenty of humour. Give him a 19th-century novel and he is never distracted by the bonnets and top hats and general surfeit of period detail that can bog down lesser writers.
His interests are more primal: he looks to Darwin and The Selfish Gene. Davies has described Pride and Prejudice as "the first Darwinian novel". He suggests that it is driven by "sex, money and class".
Any Davies adaptation will foreground these three key elements. That is why they are so pleasurable for so many viewers. They have cultural integrity and snob appeal but they are sexed up too and often attract new audiences who wouldn't go near the books. As the producer David M Thompson put it, he has a unique ability to "turn the apparently unadaptable into riveting television".
One of Davies's achievements is his longevity. His work still feels very contemporary. It has a zestful, youthful quality that belies his own age. Many fans of his version of War and Peace would be startled to learn that he first started writing for the BBC back in the 1960s.
Born in Cardiff on 20 September 1936, Davies was brought up in Wales. His early literary ambition, as he told one newspaper, was to emulate Dylan Thomas and to "go to London, get drunk a lot and have loose women".
He identified closely with the "Rimbaud of Cwmdonkin Drive", as Thomas used to be nicknamed. Like Thomas, he had a father who was a teacher. (His mother was also a teacher.) He even went on his summer holidays to some of the same places as the writer. He started writing radio plays because that was what Thomas had done with Under Milk Wood. At first, he didn't get very far. As Davies recalled in one interview, his father told him when he was 21 that if he didn't have a novel published by the time he was 30, he "might as well pack it in". He took the advice to heart and contemplated giving up on the writing, but his father protested, telling him that at least he had a television play.
Dylan Thomas died at 39. Davies, at the same age, was barely getting into his stride. He had graduated with an English degree from University College, London, in 1957. For much of the following three decades, he combined his writing with teaching in schools and at Warwick University; he became a full-time writer only in 1987. The man who brought sex into BBC costume drama was already in his twenties at the time of the Lady Chatterley trial in 1960, when Penguin Books was prosecuted under the Obscene Publications Act for publishing D H Lawrence's Lady Chatterley's Lover.
"Like so many others, for me, reading D H Lawrence had a major impact on my early sex life," Davies acknowledged, when he wrote a 2006 drama about the court case.
Perhaps surprisingly, Davies hasn't adapted any of Lawrence's novels for the screen. (Perhaps the sex is so foregrounded in Lawrence's work that there wouldn't be much scope for Davies to tease it out. It comes as a surprise to see Darcy without a shirt but the same would not be the case for Mellors the gamekeeper.) Nor (outside his Bridget Jones adaptations and a recent stab at The Three Musketeers) has Davies written often for cinema. One film he did work on was Julian Jarrold's underrated 2008 big-screen version of Brideshead Revisited. He shared a credit on the film with Jeremy Brock, who has perceptive remarks to make about Davies's skill in adapting the Evelyn Waugh novel. "I had the privilege of collaborating close up with his script and was able to see first hand how confidently and economically he bore down on a massive novel, Brideshead being one of the great classics," he recalled. "I saw how innovative he is and, crucially, how unreverent he is of a novel's provenance. I think that is one of his great gifts – he is unafraid. All of us screenwriters when faced with a novel like Brideshead Revisited feel a slight tremor, particularly when that novel has become one of the iconic TV series of its time."
Davies is a far better known figure than most of the directors and producers with whom he has collaborated. In a sense, he is the "star" of these adaptations. His work in boiling down and spicing up voluminous 19th-century novels matches anything done by the actors.
"There is no such thing as the original. Any adaptation of the original, like any interpretation, is a reading of the original," Davies told The Late Show back in the 1990s. It's an instructive remarks that reminds us both that an adaptation is a kind of performance and that hints at his background as a teacher and academic. He has often "taught" the novels he is adapting and knows what makes them work. In interviews, he can sometimes sound like a character who has slipped out of a David Lodge or Malcolm Bradbury novel.
Those who work with him hold him in affection as well as esteem. "I think Andrew is the master of classical adaptations," said Stafford-Clark. "He moves very serenely across the surface like a swan – but like a swan, he is paddling hard. He is also great fun. He has a great sense of humour. He's a wonderful gossip – he is very indiscreet. Lunch with Andrew is always a pleasure. He can be grumpy when he is working but he is never grand."
Many credit Davies with inventing the modern version of the classical adaptation in the mid-1990s with his version of Middlemarch. The wonder is that, in 2016, he is as prolific as ever and still clearly at the top of his game.
Andrews Davies: A life in brief
Born: 20 September 1936, Cardiff.
Family: Parents were both teachers. Married to Diana Huntley since 1960; they have two children.
Education: Whitchurch Grammar School, Cardiff, and a BA in English from University College, London in 1957.
Career: Combined play and radio writing with being a teacher until 1987. Notable titles include TV adaptations of House of Cards (1990 and 2013), Pride and Prejudice (1995), War and Peace (2016). Winner of three Baftas.
Register for free to continue reading
Registration is a free and easy way to support our truly independent journalism
By registering, you will also enjoy limited access to Premium articles, exclusive newsletters, commenting, and virtual events with our leading journalists
Already have an account? sign in
Register for free to continue reading
Registration is a free and easy way to support our truly independent journalism
By registering, you will also enjoy limited access to Premium articles, exclusive newsletters, commenting, and virtual events with our leading journalists
Already have an account? sign in
Join our new commenting forum
Join thought-provoking conversations, follow other Independent readers and see their replies