Andy Hamilton: Have I Got News for You and QI regular to 'descend upon your dinner party' in crowd-funding campaign
The comedian promises to entertain guests in a surprise appearance for a fee of £500, ato raise funds for his first novel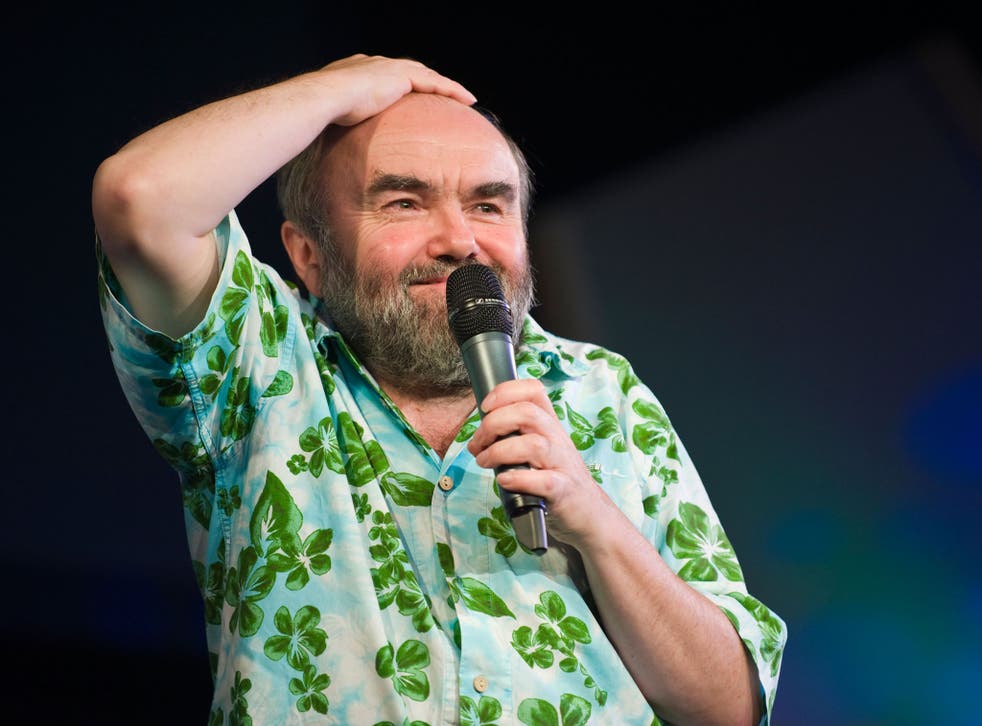 Does the polite conversation at your dinner party lack the satirical bite of Have I Got News for You? Would the chat be enlivened by the intellectual one-upmanship of QI? Andy Hamilton, the comedy writer and panel-show regular, is offering to crash your soirée and entertain guests – for a fee.
Hamilton, whose television hits include Drop the Dead Donkey, Ballot Monkeys and Outnumbered, is a frequent guest on panel shows ranging from The News Quiz to I'm Sorry I Haven't a Clue. In a high-risk move, he is set to bring his mastery of topical gags and improvised retorts direct to his audience. "I will descend upon your dinner party and eat your food," said the writer, who promises to entertain guests, whatever the topic. He is asking hosts for a £500 pledge in return for his surprise appearance, as part of a crowd-funding campaign for his first novel, The Star Witness.
A frequent foil to Ian Hislop and Paul Merton on Have I Got News…, Hamilton will, if prompted, reveal what really goes on behind the scenes; are celebrity guests shown the questions in advance, for example?
"A pop star on a panel show gets exhaustively prepped with jokes," Hamilton admitted. "I'd be a little insulted if they tried to prep me. I go in with half-a-dozen good jokes from that week's news in my head and spin off what other guests are saying once the show starts."
Rather than accept an advance from a traditional publisher, Hamilton is working with Unbound, a literary crowd-funding website which allows readers to support their favourite authors directly.
"It's a very 18th-century idea, that you reach out to patrons," Hamilton told Media Masters, a podcast interview series with leading broadcasting figures.
"It's using new technology to get in touch with your natural audience. It's a form of advance sales which takes out the big risk element, which is 'what if I lose money if the production of the book is more than I take in receipts?'. It's a much more adventurous and forward-thinking method of publishing." So far five people have taken Hamilton up on the dinner party invitation. The writer's only caveat is that they must be within striking distance of his Wimbledon home, with a south-west London postcode.
Comedians say the most controversial things

Show all 11
Those who pledge £800 will receive the handwritten manuscript of Hamilton's Radio 4 series Old Harry's Game, complete with coffee stains, the writer's crossings out and margin notes, as well as tickets to the launch party for The Star Witness. The sliding scale of rewards starts with an e-book edition with the sponsor's name in the back of the tome in return for a £10 pledge.
The novel, about a TV-soap star's descent into disgrace and his attempts to recover his dignity, appears timely. "The irony is I started work on it seven years ago, before we had the procession of disgraced actors and national treasures we have now, so it feels very topical," Hamilton said. Fans who feel the dinner-party fee is too steep can still meet their hero. He will hire a room above a pub and deliver "an evening of showbiz gossip (some of it almost certainly true)", for those who pledge £75.
Hamilton will answer questions on his writing, life in television and "absolutely anything else you want to ask" him with the proviso: "No questions on algebra, please."
Join our new commenting forum
Join thought-provoking conversations, follow other Independent readers and see their replies