Angel Haze interview: Lesbians, marriage, rap and depression – inside the mind of hip-hop's irrepressible female artist
The rapper, who appears at Glastonbury this weekend, discusses love, loneliness and dying young
Ella Alexander
Friday 27 June 2014 11:45 Comments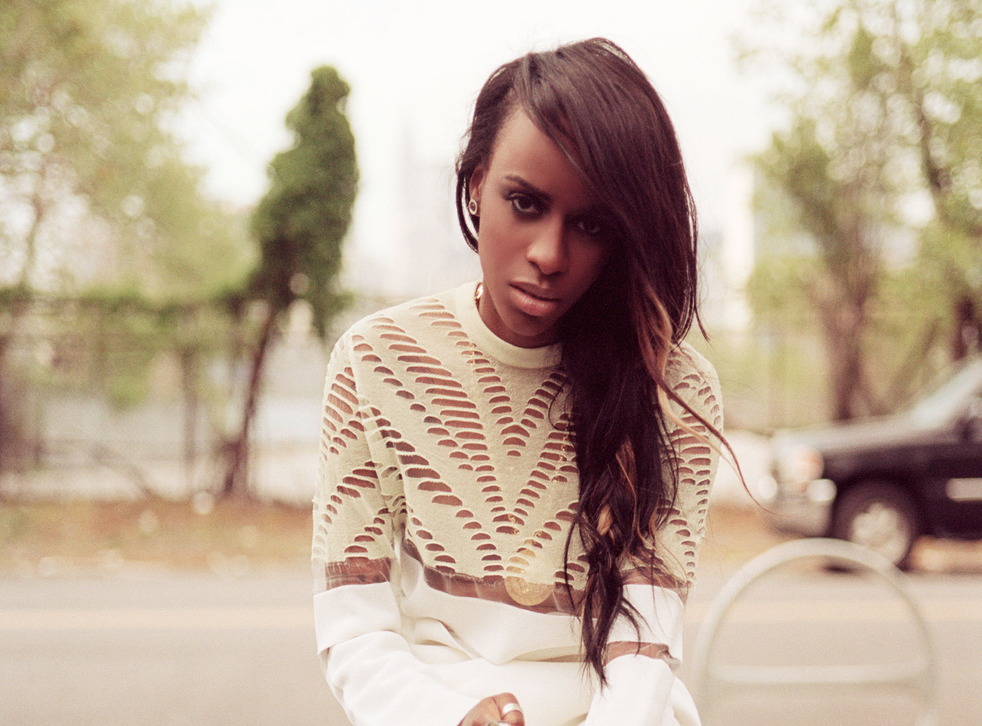 Rap isn't an easy arena to conquer as a woman, but Angel Haze seems to have managed it as easily as most people get on a bus.
Her music is honest, brutal and strong and has earned her a place on Glastonbury's legendary Pyramid Stage and Wireless this year, the latter during which she'll support Kanye West.
Haze's ascent to stardom hasn't been an easy ride. Her troubled childhood is well documented; she grew up in a cult-like family and was sexually abused from the age of seven, relaying her experience in her eye-wateringly candid version of "Cleanin' Out My Closet". Although she is no longer in contact with her family, she has become one of the biggest emerging names in contemporary rap and rightly so.
Endearingly pessimistic, reassuringly realistic and refreshingly open, she is remains true to herself despite having been thrown a host of bitter lemons during the course of her life. She dresses like she's going to a funeral, describes herself as pansexual ("Love isn't defined by gender"), and has an impressive array of tattoos, just because she "likes the pain".
Here, she discusses her views on why Kanye West's self-belief isn't all that bad (actually, we should back his prophet comments), what it takes to be a great rapper (you don't need to have had a difficult life experiences) and the unprecedented media attention she's received since she started dating Ireland Baldwin.
Independent: How does it feel to be supporting Kanye?
Angel Haze: "To be on the same stage as one of my favourite artists is just insane. I admire his honesty, his brashness may be hard for some people to deal with, but it's always real and it comes from a place that you know he's completely passionate about. It's inspiring to see someone who is true to who they are."
I: Last week, Kanye said he thought of himself as a prophet - what's your take on his more controversial statements of self-belief?
A: "I would agree that he's a prophet. A prophet isn't someone who just speaks the word of whatever religion they believe in. Anyone can be a prophet. I don't think any of things he refers to himself as are outlandish; people just take them that way because they're just not used to people being that confident; with people who just say, 'This is who I am.' I worship him."
I: Not all hip-hop is women-friendly. How do you deal with that?
A: "It sucks, it's part of the culture - it's about money, cash, bros and hoes. That's how it goes. It doesn't directly apply to me. I think, 'I've got no luck with these bitches either, bro.' It gives people a negative view of rap. I have friends who don't listen to rap because of it. I have a friend who says, 'No rap before 2pm' because before then he's not angry enough. Not all hip-hop is bad, there's a variety out there and you have to be open-minded."
I: Do you consider yourself a feminist?
A: "Sometimes. When I see a woman under fire just for being a woman, when a woman is told she can't do something because she's a woman… That's dumb to me. That's when I become the most radical feminist you'll ever see, I'm willing to chew of the limbs of you and your family just to regain equality. Other than that I'm more of a narcissist, things I care about as an individual, rather than groups-orientated things."
I: Last time we met you were looking to meet someone and now you're dating Ireland Baldwin…
A: "It's going well. It depends on what you mean by meeting someone, there can be multiple someones. We met during New York Fashion Week - I knew her cousin really well. We ended up hanging out and becoming friends for a few months, then…"
I: Do you think you've received more attention through dating a girl rather than a boy?
A: "It's weird, it hasn't worked that way. I don't know if there's like some confirm or deny thing with the way relationships work in the media, but everyone just calls us best friends, best friends for life, like we're just friends hanging out. It's funny. It's rad in some way, it sucks in others."
I: In what way is it negative?
A: "There are still certain limitations for women. If we were two guys, it'd be insane, negatively insane with the attention. With us, it's all being very positive. The media are like, 'Oh they're so cute, they're best friends'. An interracial gay couple, I mean that's just weird for America right now. We f**k and friends don't f**k. I have never f**ked one of my friends. Once I see you in that way, it doesn't happen. But we f**k and it's crazy and that's weird to say because I think about it in terms of an audience reading it and them thinking, 'What the hell?' But it happens."
I: Has being with Ireland changed your outlook on life?
A: "Definitely, when you find it love it definitely amends your perspective on certain things. I was dating a guy I really liked about a year ago and being around him and realising so many things about myself totally made me hate the traditional ideas of what a relationship should be, of what romance should be. You go out and you're searching for this utopian feeling, butterflies, that thing where you can't stop thinking about them. It doesn't have to be so overwhelming."
I: Can you imagine ever getting married?
A: "I don't know if I ever would because I'm afraid of commitment. Who wants to be married anyway? As soon as you do it, you have to start worrying about the divorce and paying alimony. You can save a lot of money and just say you're married and just be someone's girlfriend for the rest of your life. It's limited; I think people want it because they can't have it. Being married is just being in a relationship."
I: Would you ever rap about being gay?
A: "No I wouldn't, I like to make all my work ambiguous so that people can relate to it. If all my songs were about how in love I am with a girl… There are no key words, no pronouns."
I: Do you think of yourself as political?
A: "No, I have never voted in my life. When you vote, I think you then don't have the right to complain. I suppose I'd vote if there was something raised that directly affected me, like if they said, 'Let's bring back slavery.' I'd probably say no to that as fast I could."
I: What makes you angry?
A: "You have to do almost everything in the world that I hate to make me angry, I don't get angry easily. I can always simplify what people do because I think, 'It can't affect me because this is what they want.' I get sad a lot and that's easier than being angry."
I: What makes you sad?
A: "Loneliness, I don't have any family. I feel like an episode of The Lost Boys or something. I have no parents, no anything. I've got a little sister but I can't see her because my mum has her, which means basically I don't have a little sister. There's me, then there's the rest of the world. Sometimes I think, 'What the hell?' You've got to be pretty self-aware for that shit otherwise you get swallowed in depression."
I: Have you suffered from depression?
A: "Definitely, I've been sad enough to be crazy, to cry and do shit that no one should ever do."
I: How did that change?
A: "The act of struggle. I try to remind myself that people have had it worse. And also having no ties doesn't mean you're not real or that you're any less of a person."
I: Is there any scope for reconciliation with your mother?
A: "I'm only able to be painfully honest, but I genuinely think there's no hope in that area. I try to be upbeat about it, but I'm also a realist. If life continues to go the way it has done for the past 20 years of my life, then it's a given that we won't. History repeats itself. It bums me out not being able to see my sister. I don't know anything about the location, anything with regards to my family."
I: Which female musicians do you admire?
A: "Adele, Tracy Chapman, Lana Del Rey - their writing and their artistry is amazing. Whitney Houston, Billie Holliday, Yolanda Adams. It feels like passion every time you hear them. I love Nicki Minaj and Iggy, one of my friends, too. There's a uniqueness to all of them."
I: Lana Del Rey recently said she wished she was dead already and that it is glamorous when artists die young. Do you agree or disagree?
A: "I wish I was dead already too, that's the truth. I don't think it's very glamorous, I think it's painful to be in that headspace. Those artists feel trapped, so trapped that they have to take their own lives to get away from the demons. Most of those artists are making great music and you want them to go on forever and it all comes down to personal lifestyle. I don't why Lana would wish she was dead because I don't know her as a person, but to me that would suck because it would mean no new albums."
Register for free to continue reading
Registration is a free and easy way to support our truly independent journalism
By registering, you will also enjoy limited access to Premium articles, exclusive newsletters, commenting, and virtual events with our leading journalists
Already have an account? sign in
Join our new commenting forum
Join thought-provoking conversations, follow other Independent readers and see their replies