Anne Woods: Winner of the women's world gurning title at the Egremont Crab Fair in Cumbria a record 28 times
Woods first started gurning in 1977 after being put forward by her family as a practical joke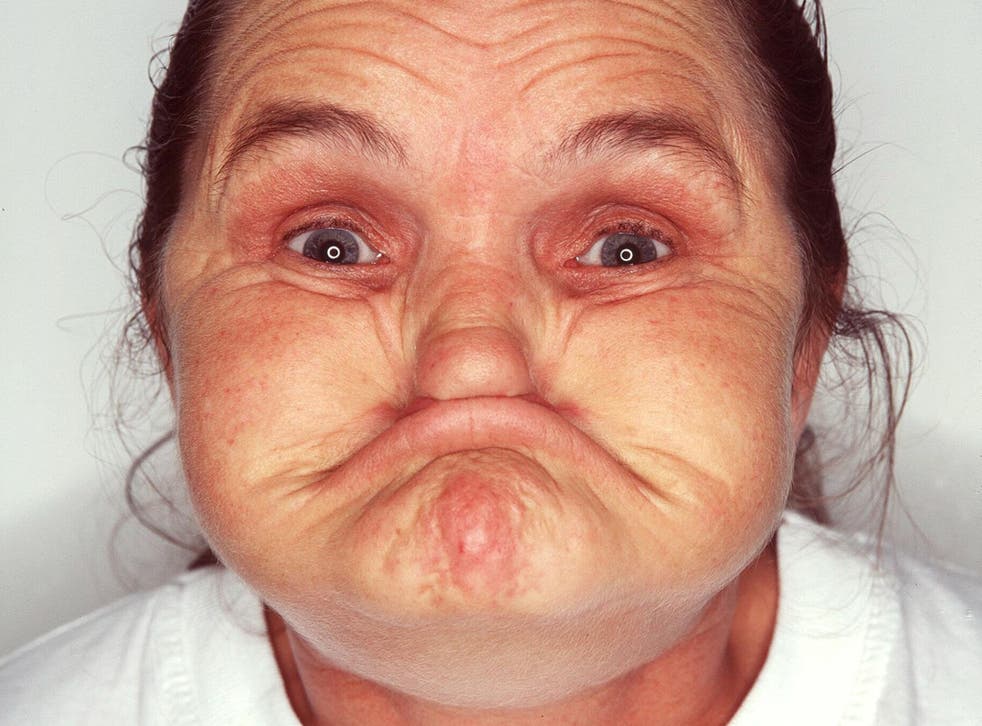 Anne Woods was 28 times the winner of the Women's World Gurning Championship, a competition which entails pulling the most grotesque, contorted face possible while holding one's head through a horse halter. The contest takes place annually in September at Egremont, Cumbria, as part of the town's Crab Fair. The fair can trace its origins as far back as 1267, when crab apples were given to the townsfolk by the Lord of the Manor.
A native of Egremont, born in 1947, Woods first started gurning in 1977 after being put forward by her family as a practical joke. Despite feeling nervous, she was named the winner. "It was great", she recalled, "It was a real surprise." Since her debut she had missed only one Crab Fair, when she was pregnant with her daughter, Brenda. By the fair of 2010 she had won the world title 27 times. But that event had taken its toll on her health: following a four-minute-long intensive gurning session she collapsed outside the hall and was rushed to hospital.
After many years of seeking recognition for her achievements, her world record was finally ratified by the Guinness Book of Records in November 2010. "It feels absolutely wonderful to have been accepted", she said, "But this is not before time – I've won the competition 27 times now... I am considering retiring, but I know what I'm like. Come next year's competition I'll be itching to get on stage again... Whatever happens, I doubt my record will be broken." True to her word, Woods did return, and went on to win one further championship.
Gurning has become something of curiosity abroad, where it is regarded as another example of British eccentricity. In his book True Brits: A tour of 21st century Britain in all its shin-kicking, bog-snorkelling and cheese-rolling glory, the American author, JR Daeschner, notes, "Gold-medal gurners train like Olympic champions, experimenting with different faces until they hit on a suitably ugly mug..."
Elaine Woodburn, Leader of Copeland Borough Council and ward councillor for Egremont, told me, "Anne was well-known both locally and internationally for her unique ability to pull the ugliest face in the infamous World Gurning Championship. She won an unbeatable 28 times – such was her sense of humour that she always entered the gurning arena to the tune of 'You're Gorgeous'. Anne had decided to retire but the crowds, and the stage where she was Queen, were too big a draw. She wore the 'Ugliest Woman in the World' badge with pride and helped put Egremont on the map. Anne was simply Mrs Gurn and the competition will not be the same without her. But I'm sure she will be looking down, pulling a face, saying 'Beat that!'"
MARCUS WILLIAMSON
Anne Woods, women's world gurning champion: born Egremont, Cumbria 5 December 1947; married Alex Woods; died Egremont 29 March 2015.
Register for free to continue reading
Registration is a free and easy way to support our truly independent journalism
By registering, you will also enjoy limited access to Premium articles, exclusive newsletters, commenting, and virtual events with our leading journalists
Already have an account? sign in
Register for free to continue reading
Registration is a free and easy way to support our truly independent journalism
By registering, you will also enjoy limited access to Premium articles, exclusive newsletters, commenting, and virtual events with our leading journalists
Already have an account? sign in
Join our new commenting forum
Join thought-provoking conversations, follow other Independent readers and see their replies