Antony Hegarty: First transgender person to be nominated for an Oscar in 30 years
Known for her hypnotising high pitched voice, Hegarty has become a leading proponent for trans rights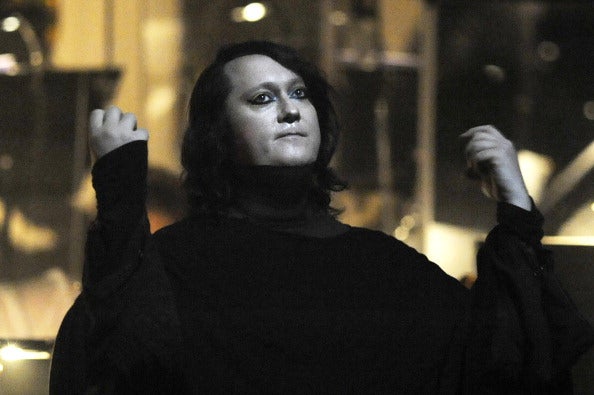 The Oscars might have come under repeated fire for its lack of racial and sexual diversity but there is one nominee who goes against the grain.
Antony Hegarty is the first trans person to be nominated for an Oscar in 30 years.
The vocalist of Antony & The Johnsons has recently received a nomination for Best Original Song for "Manta Ray" which features in the documentary Racing Extinction.
Hegarty is the first trans person to be nominated for an award since composer Angela Morley received a nomination back in the 70s.
While Caitlyn Jenner campaigned for trans actress Mya Taylor to win an Oscar for her performance in Tangerine, she sadly missed out.
Although a number of actors have won Oscars for playing transgender characters - take Jared Leto's performance as a trans woman in Dallas Buyers Club or Eddie Redmayne's role in The Danish Girl - it is still virtually unheard for trans artists to be nominated.
Known for her beguilingly high pitched voice, soot-black hair and towering 6ft 4 physique, Hegarty has become a force to reckoned with.
Early years
Born in Chichester in England in 1971, Hegarty moved around a great deal as a child. First off, she moved to Amsterdam, the place where she was happiest. "That's when my life turned from black and white to colour," she told The Guardian. Later, the musician moved to San Francisco with the whole family in tow. Raised as a catholic, Hegarty initially espoused religion before deciding at the tender age of 13 that if she was indeed sent to hell as she imagined, she "would go kicking and screaming and do what the hell I wanted".
It wasn't until 1990 that Hegarty finally decided to make the move to Manhattan to embark on university. It was here that she really found herself. Roaming the streets of downtown New York in a black satin slip, she plastered the words "f**k off" on her forehead for all to see.
Musical career
Hegarty went on to establish a performance art collective with fellow musician and close friend DJ Johanna Constantine in New York's Lower East Side. The avant-garde drag theatre troupe known as Blacklips included an eclectic range of downtown musicians, dancers, painters and film-makers.
By 2000, Hegarty had released her debut album titled Antony and the Johnsons. But it wasn't until I Am a Bird Now that Hegarty finally established herself. Featuring guest performances by the likes of Lou Reed, Rufus Wainwright and Boy George, the 2005 album defied expectations and went on to win a Mercury Prize. Dubbed the Album of the Year by Mojo magazine, the band toured North America, Europe, Australia, even reaching the depths of South America.
Today I am a boy
"For Today I am a Boy" is undoubtedly one of Hegarty's most famous songs. Tracing the trajectory of a young boy longing to grow up to be a woman, it includes the esteemed lyrics "One day I'll grow up, I'll be a beautiful girl. But for today I am a child, for today I am a boy". Speaking to The Independent in an interview back in 2012, she explains it was "a song that was quite embarrassing for me to perform". Despite this, Hegarty says she, "enjoyed the challenge of moving through that shame and seeing if it could expand and have resonance for other people."
People news in pictures
Show all 18
Spokesperson for transgender rights
While Hegarty has become a vocal spokesperson for trans people, she has always remained wary of speaking on behalf of the whole community or homogenising varying experiences. In her own words, "I am speaking out about my experiences but I can't speak for anyone else. Especially because my situation is ambiguous because I haven't transitioned from male to female".
"My experience as a transgender person has been to become comfortable expressing my sense of difference within the identity of being trans. For a lot of people, that's not their experience at all. They don't want to be trans, they want to be the opposite sex," she added. "I have so much love for those people because their condition is very real. It's almost like a sacred condition. Kids experiencing that are in a sacred crisis. They have all these gifts that boys and girls don't have."
She has been vocal about the fact she would like someone transgender to play her in a film of her life, and once said: "I am sick of how the movie industry has interesting gay or transgendered people played by heterosexuals. It feels like another kind of minstrel show to me".
Proponent of transfeminism
Hegarty is the co-founder of Future Feminist Foundation, a New-York based collective of artists, who are united by their desire for a move away from patriarchal power relations. In their own words, they support "a shift towards more feminine systems of governance, a shift away from patriarchy and a reorganisation of our society and our civilisations".
Join our commenting forum
Join thought-provoking conversations, follow other Independent readers and see their replies