Ashley Graham: The size 16 model calling for an end to 'plus size' labels
'Why do we want to be put in a different category than all the other types of models?'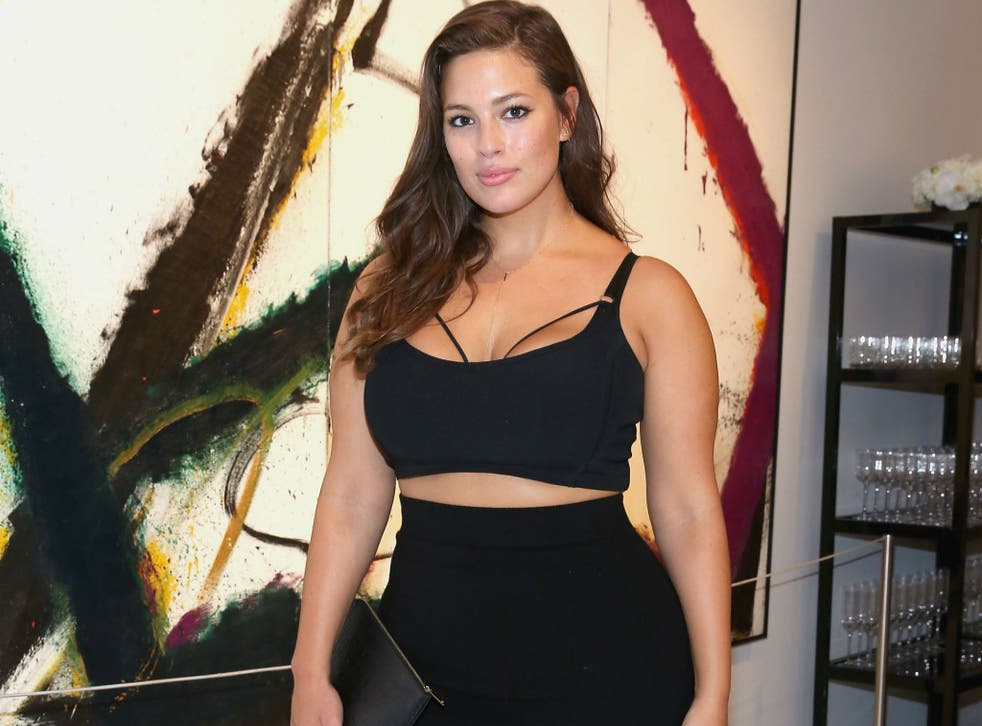 This year has been an exciting one so far for the models storming to the forefront of major fashion campaigns who challenge beliefs that only slim bodies are healthy.
Days after Barbie Ferreira's un-retouched advert for American Eagle Outfitters was unveiled, Ashley Graham has been announced as the face of fitness brand Addition Elle's spring 2016 activewear range.
Who is she?
Graham, 28, is a US size 12/UK size 16 model, designer and body positive activist.
She is signed to IMG Models.
She gave a TED Talk that went viral
If you aren't familiar with Graham's modelling campaigns, you may remember her from a talk she gave in 2016 titled, "Plus Size? More Like My Size".
In it, Graham described her experiences within the fashion industry over the last 15 years and shared the empowering sentences she tells herself while looking in the mirror each morning.
"You are bold, you are brilliant, and you are beautiful. There is no other woman like you. You are capable. Back fat? I see you popping over my bra today, but that's alright. I'm going to choose to love you. And thick thighs? You are just so sexy you can't stop rubbing each other. That's alright. I'm going to keep you. And cellulite, I have not forgotten about you. I'm going to choose to love you even though you want to take over my whole bottom half. You're a part of me and I love you."
Graham also criticised the decision to label anyone over a US size eight 'plus' and called for the industry to start looking past the plus size model paradigms.
She is more than a model
After Graham was left without a modelling agency when four dropped their plus size divisions altogether, she decided to launch a lingerie line designed for women with figures resembling her own. This became an incredibly successful venture and that, combined with her body positivity campaign, set Graham apart from other models. Appearances in Sports Illustrated, Vogue, Elle and other major magazines soon followed and she now has an Instagram following of almost one million.
Her body positivity campaign continues to inspire others
"People really pour their hearts out to me because they really feel like they are living this whole thing out with me," she told Details last year. "They're living out this whole body-diversity, 'love the skin you're in' [movement]. And I've been hating the skin I'm in for so long. Finally there's someone talking about the jiggle, the cellulite, the rolls, and it feels like they're like me."
She doesn't want to be categorised by 'plus size' labels
Graham supports the Plus is Equal campaign, which calls for the plus-size women who make up 67 per cent of the US to be equally represented in the media and fashion industry.
"When it comes to the word 'plus-size', I've been called a plus-size model for the past sixteen years," she told Shape. "I hear it, sometimes I say it - it's a slip of the tongue. But at the end of the day, it's a label. You can say, 'Yes it's a negative thing' or 'maybe it's not a negative thing'...but why would we want to be labelled something? Why do we want to be put in a different category than all the other types of models? No one says 'skinny model', so am I wrong for not wanting a label? I don't think so."
Graham has also criticised the fashion industry's propensity to sexualise her and other curvier women.
"Curvy bodies have always been the sexier bodies in fashion. Any model who is strictly a lingerie model, she has fuller breasts and fuller hips. Girls who are much thinner, who might be a size zero with no T&A, are not the Victoria's Secret model. And it just goes to show that a curvier body is considered sexier."
Register for free to continue reading
Registration is a free and easy way to support our truly independent journalism
By registering, you will also enjoy limited access to Premium articles, exclusive newsletters, commenting, and virtual events with our leading journalists
Already have an account? sign in
Register for free to continue reading
Registration is a free and easy way to support our truly independent journalism
By registering, you will also enjoy limited access to Premium articles, exclusive newsletters, commenting, and virtual events with our leading journalists
Already have an account? sign in
Join our new commenting forum
Join thought-provoking conversations, follow other Independent readers and see their replies