Aubrey Morris: Actor with a quirky, disquieting demeanour who was best known for A Clockwork Orange and The Wicker Man
Morris brought menace, wit, oleaginous charm, and sometimes all three at once, to nearly 200 appearances on television and film
Friday 24 July 2015 00:10 Comments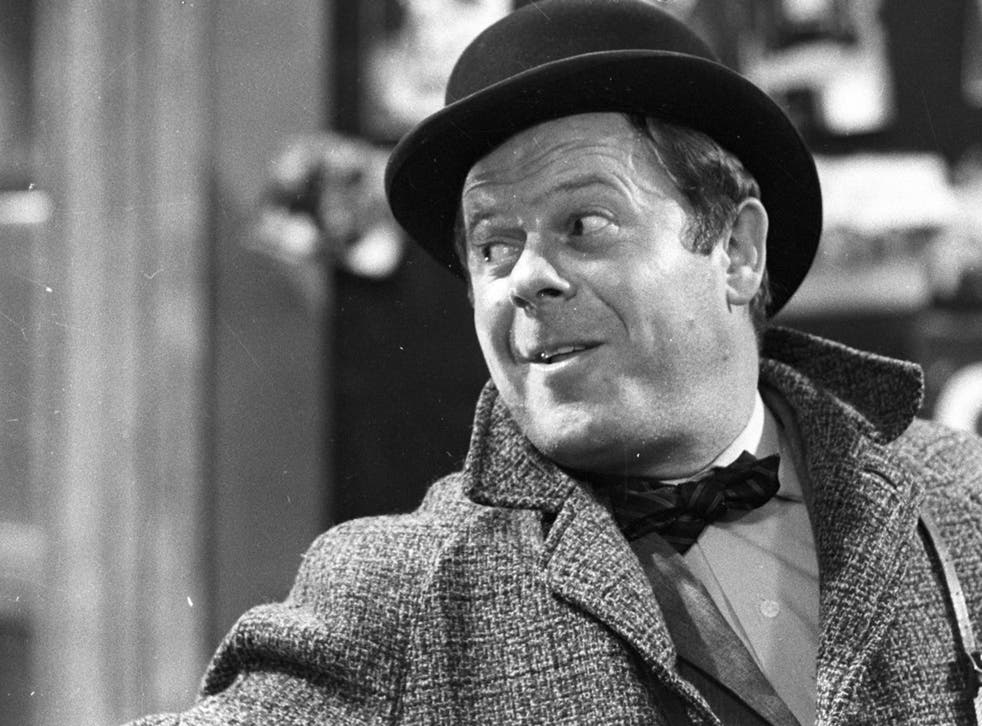 Jeremy Brett once introduced the character actor Aubrey Morris to Noël Coward as "the finest small-part player in London". A past master at odious toadies and seedy shysters, after 20 years on the stage this quirky, disquieting figure drifted away from the theatre in the mid-1960s to triumphantly bring menace, wit, oleaginous charm, and sometimes all three at once, to nearly 200 appearances on television and film.
One of his elder brothers, the late Wolfe Morris, who also enjoyed a prolific career on stage and screen, was once described by that fine playwright Bernard Kops as "one of a generation of very strong, very intense Jewish actors". Aubrey was equally distinctive, but had a different style. Camp and bizarre, he reached his peak at precisely the right time to revel in the carnival of eccentric television and film that flourished in Britain in the 1960s and '70s.
His colourful guises ranged from the Town Crier in one of the best episodes of The Prisoner (its star, Patrick MacGoohan, also wrote a part for him in a never-made film version) to the chuckling gravedigger in The Wicker Man (1973) and the pervy probation officer, Mr Deltoid, giving a near-naked Malcolm MacDowell a dressing-down in A Clockwork Orange (1971).
Born in Portsmouth in 1926, Aubrey Steinberg (he and his brother adopted the stage name Morris in tribute to their father, Morry) was one of nine children. His family was from Kiev, but fled to Britain in 1890 to escape the pogroms.
His father appeared on stage in Jewish vaudeville halls in the East End before going into trade, but the First World War left him severely wounded and unable to return to work; Morris's mother, a talented amateur mezzo-soprano, nursed him, with the help of her children, for the rest of his life. Two of the daughters became dancers, while Aubrey attended Portsmouth Municipal College before winning the Leverhulme scholarship to Rada.
He made his professional debut as the Clown in a production of The Winter's Tale at the Open Air Theatre, Regent's Park in 1944. After touring the production, he then joined the company at Rugby Repertory Theatre to appear in The Pickwick Papers. He drew good notices for his role in Fly Away, Peter at the King's Theatre, Hammersmith in 1947, and in 1949 played the unmannerly student John Thorpe in Northanger Abbey at the Little Theatre, Southport.
The New Torch Theatre Club in Knightsbridge was one of the more adventurous venues in those pre-Look Back in Anger days, and Morris was very welcome there in quirky plays such as My Name is Wilde (1952) and the same year, Blue Armour by Parnell Bradbury, a piece, amazingly, about cancer and orgonomy, the study of Wilhelm Reich's "orgone energy".
He then joined the company at the Old Vic, headed at that point by Tyrone Guthrie, and as well as a succession of grooms and clowns, would surely have found the sinister echo in the part of Seyton when he played it to Paul Rogers' Macbeth and Coral Browne's Lady Macbeth in 1956. The company also included Richard Burton, who played Henry V in 1955, with Morris as bawdy-but-bold Bardolph (the production also ran on Broadway); Morris was also the jubilant Le Beau in Robert Helpmann's 1955 production of As You Like It.
After leaving the Old Vic, he demonstrated his comic prowess in Figures of Fun (Oxford Playhouse, 1957) and alongside Alan Badel in The Public Prosecutor at the Arts Theatre Club the same year, and was a strong comic presence as Justice Silence in Orson Welles' adaptation of Henry IV and Henry V, Chimes at Midnight, at the Gaiety, Dublin in 1960.
The same year, shortly before the television and film work took over, he starred on Broadway in Joan Littlewood's production of Brendan Behan's IRA-themed play The Hostage. He later returned to the stage in Alan Bennett's farce Habeas Corpus (Watford Palace, 1980), and as a comically panicking headmaster in a revival of The Happiest Days of Your Life at the Theatre Royal, Plymouth in 1983.
For television, he made a vivid, tragic impression as a make-up artist desperate to be liked in the moving "Afternoon of a Nymph" for Armchair Theatre (ABC, 1962), and at the other end of the spectrum was the personification of pure evil in "Micky Man", for the Theatre 625 strand (BBC, 1967), playing the malevolent boss of a department store who conducts a campaign of deception, bullying and humiliation on a fragile, innocent employee (Richard Pearson). The brutal ending sees Morris discover that an exquisitely dressed window dummy in the forlorn man's room is his imaginary wife, which he then destroys with ferocious relish.
He was father to Ian McShane's romantic Prime Minister in ATV's laudable Disraeli (1978), guested on practically everything on the merry-go-round of Z Cars, The Champions, The Avengers and all the other favourites of the day, and had a rare leading role in the series City Beneath the Sea (1962), one of many appearances he made in children's drama, a genre his impish, meddlesome air was ideally suited to.
As well as the aforementioned, film highlights included the adaptation of Behan's A Quare Fellow (1962) and Woody Allen's Love and Death in 1985. Morris moved to America the following year and was as busy as ever guesting in television series; a poignant late appearance was as a dying actor in HBO's Deadwood (2006). It was proof yet again of that old adage: there are no small parts, only small actors.
SIMON FARQUHAR
Aubrey Jack Steinberg (Aubrey Morris), actor: born Portsmouth 1 June 1926; died Los Angeles 15 July 2015.
Register for free to continue reading
Registration is a free and easy way to support our truly independent journalism
By registering, you will also enjoy limited access to Premium articles, exclusive newsletters, commenting, and virtual events with our leading journalists
Already have an account? sign in
Join our new commenting forum
Join thought-provoking conversations, follow other Independent readers and see their replies