Augusta Chiwy: Nurse who tended to the wounded amid the carnage of the Battle of the Bulge and was tracked down 60 years later
The Belgian king awarded the Order of the Crown and the US government gave its Civilian Award for Humanitarian Service to Chiwy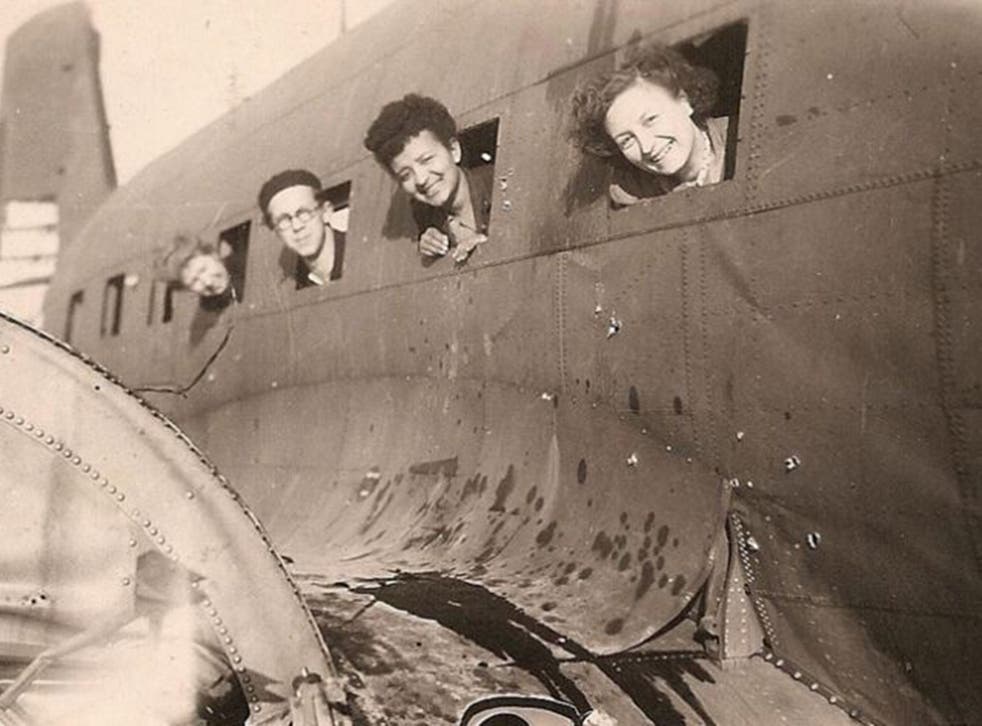 For decades, stories circulated among veterans and historians about an African nurse who had tended to wounded and dying American soldiers in Belgium during the Battle of the Bulge, the bloody campaign through the Ardennes in the winter of 1944-1945, the last major German offensive of the Second World War.
Band of Brothers, the 2001 TV war drama based on Stephen Ambrose's bestselling book, referred to a nurse from Congo, but no such nurse was identified and celebrated until nearly seven decades after the war, when the Belgian king awarded the Order of the Crown and the US government gave its Civilian Award for Humanitarian Service to Augusta Chiwy.
Chiwy cared for hundreds of men during the Battle of the Bulge, named for the ultimately unsuccessful German penetration of Allied lines. As a volunteer nurse, amid unremitting shelling and in sub-zero temperatures, with inadequate food and little rest, Chiwy helped rescue the injured, dressing their wounds, bathing them and boiling snow for water. On Christmas Eve she nearly died when a bomb hit her makeshift aid station in the besieged town of Bastogne. "A black face in all that white snow was a pretty easy target," she once said. "Those Germans must be terrible marksmen."
Augusta Marie Chiwy was born in 1921 in Mubavu, an East African village which is now in Burundi. Her father was a Belgian veterinarian, her mother African. Chiwy moved to Belgium as a girl, trained as a nurse in the city of Leuven and arrived in Bastogne to spend the holidays with her father just as the Germans launched their attack through the Ardennes forest in eastern Belgium on 16 December 1944. It would be one of the costliest engagements of the War, with more than 90,000 Allied and more than 100,000 German casualties.
Bastogne, located at a major road junction, was surrounded during the battle. Chiwy joined the skeletal and beleaguered medical operation there led by a US Army physician, Jack Prior. "He told me that he had no one left," Chiwy recalled, "that his ambulance driver had been killed."
D-Day landings 70th anniversary: 20 facts about 'Operation Overlord'

Show all 20
For much of her life, Chiwy spoke little about the carnage she witnessed. Her story was documented in large part by Martin King, a Scottish historian who with Michael Collins wrote the book Voices of the Bulge: Untold Stories From Veterans of the Battle of the Bulge. Prior recounted his wartime service in a written account that has been published online. He recalled the contributions of two nurses – one, a Belgian named Renee Lemaire, and another he identified as "a native of the Belgian Congo."
He wrote: "They played different roles among the dying. Renee shrank away from the fresh, gory trauma, while the Congo girl was always in the thick of the splinting, dressing, and haemorrhage control. Renee preferred to circulate among the litter patients, sponging, feeding them, and distributing the few medications we had (sulfa pills and plasma). The presence of these two girls was a morale factor of the highest order."
Some white soldiers reacted negatively to the idea of a black woman providing intimate care. One man, King said, suffered from severe frostbite and asked Prior not to allow Chiwy to touch him. "Fine," Prior replied. "Die, then."
On Christmas Eve, Chiwy and Prior were invited to step out of their aid station. "A bottle of champagne was opened," Chiwy recalled. "A glass was passed around. And I do not know whether he finished filling the glass, but we heard something coming screaming towards us. And then a big bang! And all of the windows were blown out." A bomb had hit the aid station, killing 30 of the around 100 wounded soldiers, and Lemaire. Years later, Prior collected her remains and gathered them in a white parachute that Lemaire had hoped to make into a wedding dress.
After the bombing, Chiwy followed Prior to another clinic, where she continued nursing until mid-January 1945, when Prior and his unit moved out of Bastogne. She worked as a nurse for some years after the war.
King, who is a son, husband and father of nurses, said he was intrigued by the reference in Band of Brothers to the African battlefield aide. After an 18-month search, he located Chiwy in a Belgian retirement community. She became the subject of a biography by King, The Forgotten Nurse (2011), and the 2014 documentary Searching for Augusta. "What I did was very normal," Chiwy said when she was honoured in 2011. "I would have done it for anyone. We are all children of God."
Prior became a pathologist in Syracuse, New York; his daughter Anne Stringer, recalled how he had told his children about an African nurse who had so valiantly assisted him. "He said that he would never forget her courage," said Stringer, who travelled to Belgium in recent years to meet Chiwy. "She was only 23."
Prior died in 2007. Until then, he and his former nurse exchanged greetings at Christmas – the annual anniversary of their survival at Bastogne. He kept her letters in a trunk along with a bayonet and wartime mail from his mother. Along with her letters, Chiwy always sent Belgian chocolates.
EMILY LANGER
Augusta Marie Chiwy, nurse: born Mubavu (now in Burundi) 3 June 1921; married Jacques Cornet (deceased; one daughter, one son); died Brussels 23 August 2015.
© The Washington Post
Join our new commenting forum
Join thought-provoking conversations, follow other Independent readers and see their replies