Avril Lavigne gives emotional interview about struggle to be diagnosed with Lyme disease: 'Doctors tell you you're crazy'
Singer is recovering after contacting bacterial infection while on tour
Heather Saul
Wednesday 01 July 2015 16:07 Comments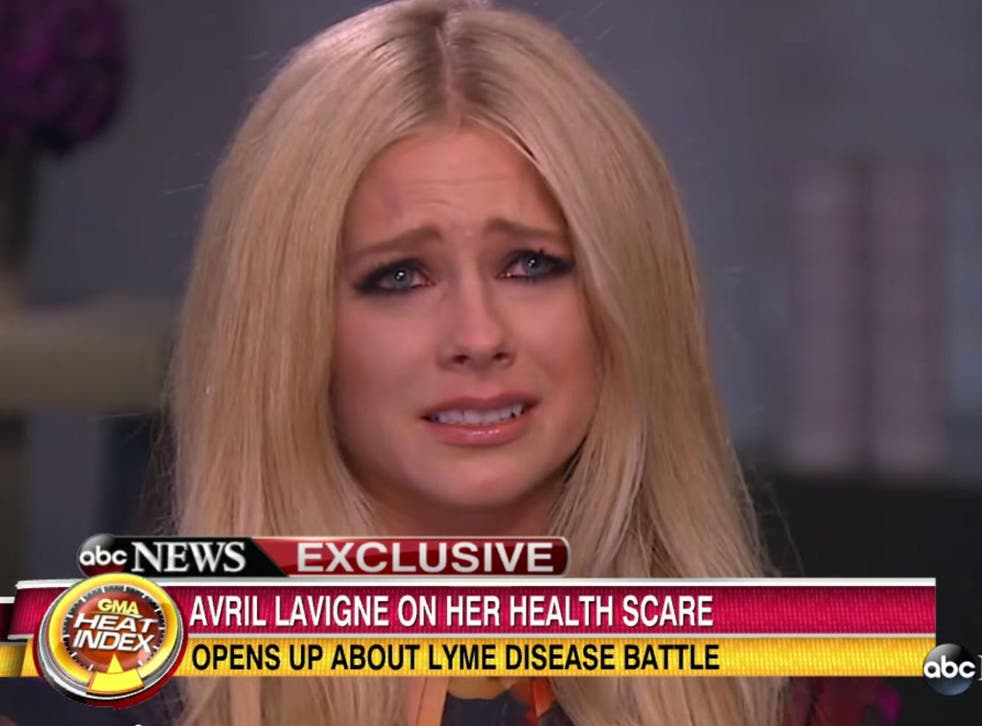 Avril Lavigne has spoken candidly about her struggle with Lyme disease after being struck by the debilitating illness on tour.
Lavigne, 30, was forced to put her career on hold when she was hit with flu-like symptoms such as fevers and tiredness in October last year, making her illness difficult to diagnose.
A number of blood tests and swabs returned inconclusive, leading doctors to suggest chronic fatigue and depression as the cause of her symptoms.
The Sk8er Boi singer became emotional as she recalled becoming bedridden for months before doctors correctly diagnosed her in an interview with ABC News.
"I was seeing every specialist and literally the top doctors, and … they would pull up their computer and be like, 'Chronic fatigue syndrome?' Or, 'Why don't you try to get out of bed, Avril, and just go play the piano?'
"I started going to other doctors and specifically telling them and asking, 'I have Lyme disease. I know I do. Can you check me?' Then I finally figured out, 'Find a Lyme specialist'."
Lyme disease is a bacterial infection contracted from infected ticks. The disease, caught by approximately 300,000 people in the US each year, affects the skin, joints, heart and nervous system.
Lavigne is now half-way through a treatment programme that includes antibiotics and bed-rest. She is expected to make a full recovery.
"I think for me it's like a second shot at life," she said. "I want to go out there and truly do what I love, so I'm excited for life after this."
Register for free to continue reading
Registration is a free and easy way to support our truly independent journalism
By registering, you will also enjoy limited access to Premium articles, exclusive newsletters, commenting, and virtual events with our leading journalists
Already have an account? sign in
Join our new commenting forum
Join thought-provoking conversations, follow other Independent readers and see their replies