Aydian Dowling, the first transgender model to cover Gay Times magazine
Dowling is believed to be the first trans man to cover an international gay magazine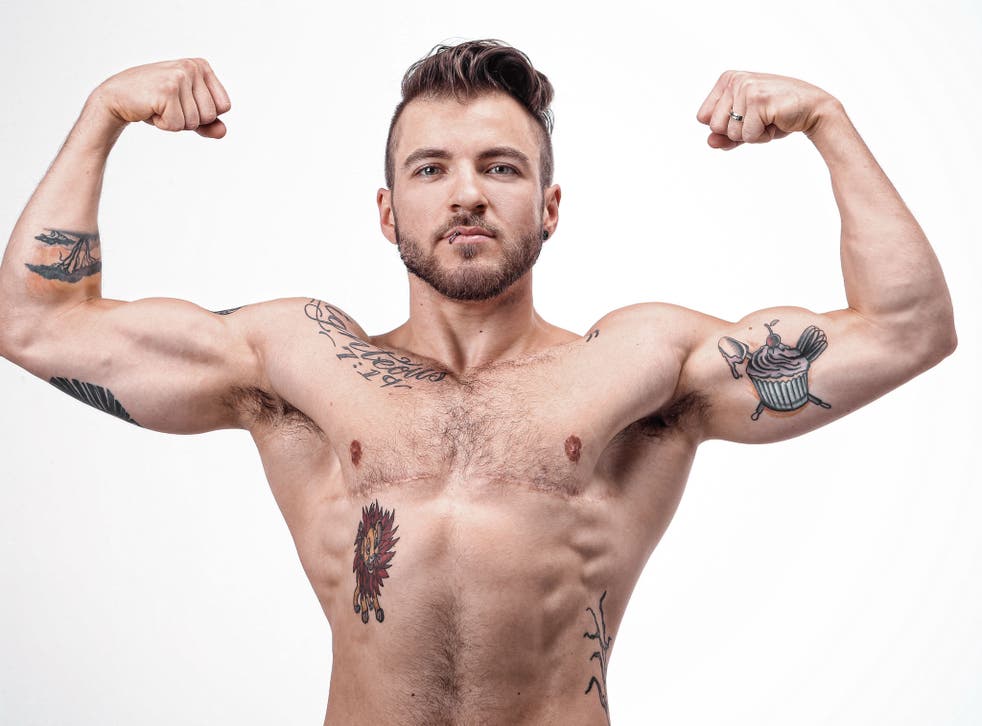 Who is Aydian Dowling?
Dowling is a 27-year-old trans body builder, activist and vlogger from New York.
He was at the centre of a campaign backed by thousands to get him on the cover of Men's Health magazine as part of a competition in 2015. He didn't quite win, and was instead included along with other men on the a special edition cover, so Gay Times decided to give him the cover he missed out on.
Editor Darren Scott believes Dowling is the first ever trans man to be featured on the cover of a gay magazine internationally.
Mr Scott told The Independent: "Aydian's story has interested me ever since I saw he was in the running to be a cover star for Men's Health – everyone was talking about him. So I'm delighted, and honoured, that he agreed to tell his story to GT, and that he's the first trans man on the cover of not only our magazine, but that he's the first trans man on the cover of an international gay magazine. It's not just the fact that Aydian looks fantastic – I wish I had his drive to work out – but that his story is so interesting, and so beautifully told. It's a touching story and I'm so glad we're able to help get his message out there properly."
The pioneers of LGBT rights in 2015

Show all 6
You may already recognise him
Dowling's campaign to get him on the cover of Men's Health went viral and he has appeared on programmes such as The Ellen Show. He recorded his transition from day one on his YouTube channel and has a strong social media following, amassing close to 100,000 followers on Instagram.
The first time he was identified by a stranger as male was a defining moment for him
He told GT: "A woman behind a counter of a 7-Eleven said, 'I can serve you over here, sir.' It was the first time a complete stranger was seeing the real me, and I was living off that high for quite a while. It was like all my Christmases had come at once, like I was living on cloud nine. That must've been the best damn stick of gum I've ever bought."
His 'top' surgery was his first ever operation
"It was the first time I was going to be 'put under' and go through any kind of surgery in my life, and that alone was terrifying. But the joy and feeling of being able to identify more with my body weighed much heavier than anything else."
You can read more about Dowling by downloading the digital issue of Gay Times here.
Register for free to continue reading
Registration is a free and easy way to support our truly independent journalism
By registering, you will also enjoy limited access to Premium articles, exclusive newsletters, commenting, and virtual events with our leading journalists
Already have an account? sign in
Register for free to continue reading
Registration is a free and easy way to support our truly independent journalism
By registering, you will also enjoy limited access to Premium articles, exclusive newsletters, commenting, and virtual events with our leading journalists
Already have an account? sign in
Join our new commenting forum
Join thought-provoking conversations, follow other Independent readers and see their replies