'Ban Donald Trump' petition passes half a million as Republican hopeful calls for death penalty for all cop killers
Trump's ratings have soared after a week of increasingly controversial rhetoric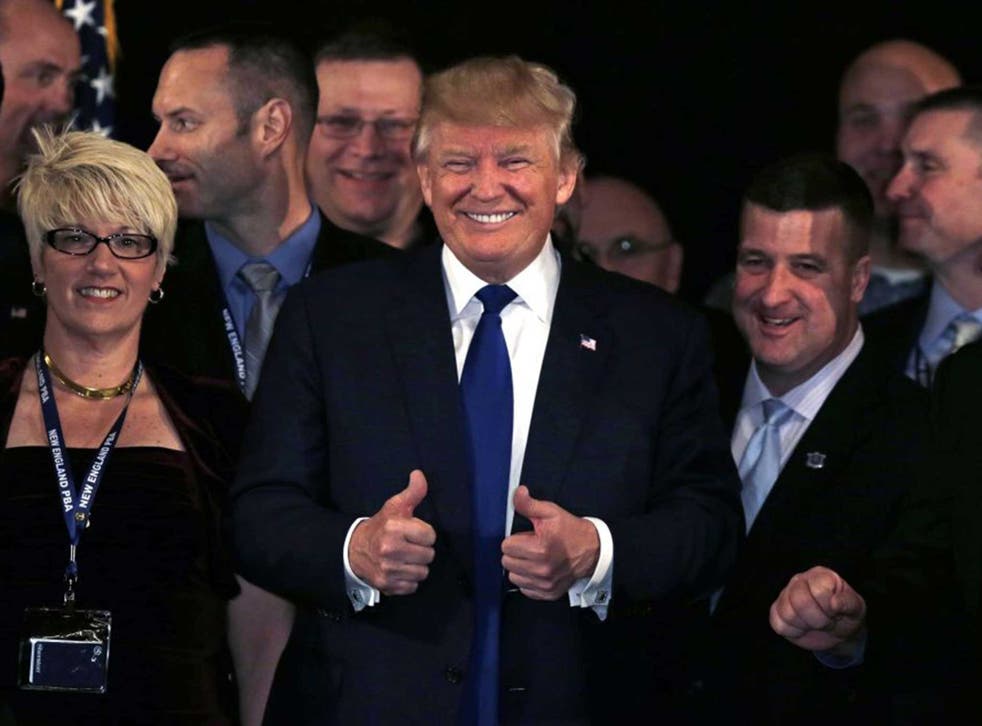 Donald Trump has claimed he will sign an executive order mandating the death penalty for all convicted cop killers, as a petition to deny him entry to the UK becomes the most signed on parliament's website.
It follows a week of controversial rhetoric from the Republican presidential hopeful.
On Monday, the billionaire claimed as president he would order a "complete shutdown" of all Muslim immigration to the US, sparking a week-long row that has dominated media coverage and seen Trump recover in the polls, having fallen behind Ted Cruz in an earlier Monmouth poll.
Following up on his remarks, Trump said parts of London and Paris were "so radicalised" police officers were virtually unable to enter – earning withering denials from the Metropolitan police and British politicians.
A petition launched in response became the most signed currently hosted on the Parliament website, with just over half a million signatures as of 5am this morning.
Accepting the endorsement of the New England Police Benevolent Association, a local police union representing more than 4,000 officials, Trump issued his latest legally-murky commandment on Thursday night.
Donald Trump's most controversial quotes

Show all 14
"One of the first things I do, in terms of executive order if I win, will be to sign a strong, strong statement that will go out to the country -- out to the world -- that anybody killing a policeman, policewoman, a police officer -- anybody killing a police officer, the death penalty. It's going to happen, OK?"
Harrison Ford on Donald Trump
As with so many of Trump's recent policies, it remains unclear how legally possible this would be - 19 US states have outlawed the death penalty.
Register for free to continue reading
Registration is a free and easy way to support our truly independent journalism
By registering, you will also enjoy limited access to Premium articles, exclusive newsletters, commenting, and virtual events with our leading journalists
Already have an account? sign in
Register for free to continue reading
Registration is a free and easy way to support our truly independent journalism
By registering, you will also enjoy limited access to Premium articles, exclusive newsletters, commenting, and virtual events with our leading journalists
Already have an account? sign in
Join our new commenting forum
Join thought-provoking conversations, follow other Independent readers and see their replies