Band Aid 30: Bob Geldof interview cut after singer swears in response to suggestion Band Aid singers dodge taxes
All proceeds of the new version of "Do They Knows It's Christmas" go to Ebola relief efforts
Ella Alexander
Monday 17 November 2014 15:39 Comments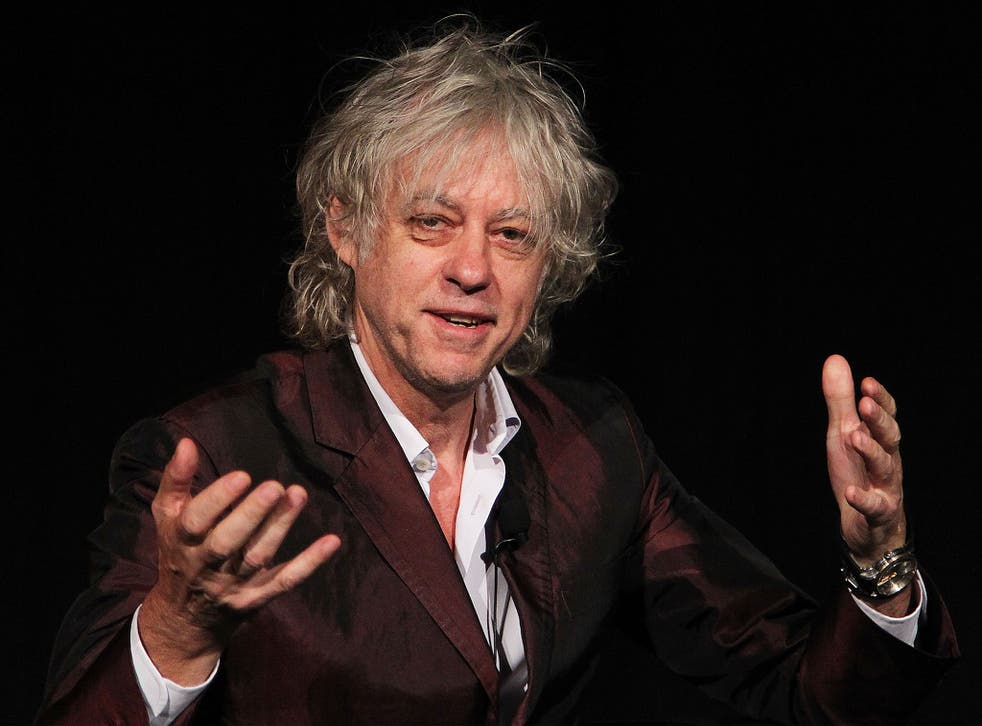 Bob Geldof's interview with Sky News was terminated prematurely this morning, after it was suggested that the Band Aid singers don't pay their taxes properly.
The Boomtown Rats frontman replied to interviewer Jayne Secker "colourfully".
The Band Aid 30 Ebola charity single and 30th anniversary edition of "Do They Know It's Christmas" features Ed Sheeran, One Direction, Rita Ora, Clean Bandit, Sinead O'Connor, Seal, Sam Smith, Roger Taylor, Jessie Ware, Olly Murs, Chris Martin, Bono, Bastille, Elbow, Paloma Faith and Angelique Kidjo.
"There's a lot of people who say there's a lot of wealthy people in that room. If they all pay their taxes in the right way we wouldn't need these fundraisers singles – what would you say to that?" asked Secker.
"I think they're total b*****ks," Geldof responded.
In pictures: Band Aid 30 artists arrive to record

Show all 16
First released in 1984, has been modified to include references to how Ebola can be transmitted through contact with infected loved ones. All proceeds go to the Ebola relief efforts.
"That's pretty colourful language. If you could not use anymore we'd appreciate it," laughed the presenter before asking him to comment on remarks made by journalist Ian Birrell, a former deputy editor of The Independent, who, with Damon Albarn, co-founded the Africa Express – a collective of musicians from around the world who tour.
Secker reads out an extract from an Observer interview with Birrell: "This trite song will raise a comparative pittance, ignores Africans and has a logo implying the virus struck the entire continent. Patronising and perpetuating myths again. Band Aid should have learned its lessons and stayed silent."
"Perhaps less colourfully," adds Secker, "what would be your response to this?"
"Complete load of b*****ks," said Geldof again, suppressing a smile. The channel then mute his words, before Secker interjects:
"I'm afraid we'll have to apologise for that language again and we'll leave it," she said, ending the interviewing as the singer looks bemused. "Thank you for joining us Bob Geldof."
The track raised more than £1 million "within four or five minutes", according to Geldof, who said the response had been "extraordinary".
Damon Albarn was among those to criticise the song, who suggested the project was patronising.
"Our perspective and our idea of what helps and our idea what's wrong and right are not necessarily shared by other cultures," Albarn told Channel 4 News.
"There are problems with our idea of charity, especially these things that suddenly balloon out of nothing and then create a media frenzy where some of that essential communication is lost and it starts to feel like it's a process where if you give money you solve the problem, and really sometimes giving money creates another problem."
Register for free to continue reading
Registration is a free and easy way to support our truly independent journalism
By registering, you will also enjoy limited access to Premium articles, exclusive newsletters, commenting, and virtual events with our leading journalists
Already have an account? sign in
Join our new commenting forum
Join thought-provoking conversations, follow other Independent readers and see their replies