Barack Obama drinks beer over breakfast with Angela Merkel - but was it alcoholic?
'It was a very fine beer. I wish I was staying,' the President mused
Lizzie Dearden
Monday 08 June 2015 11:48 Comments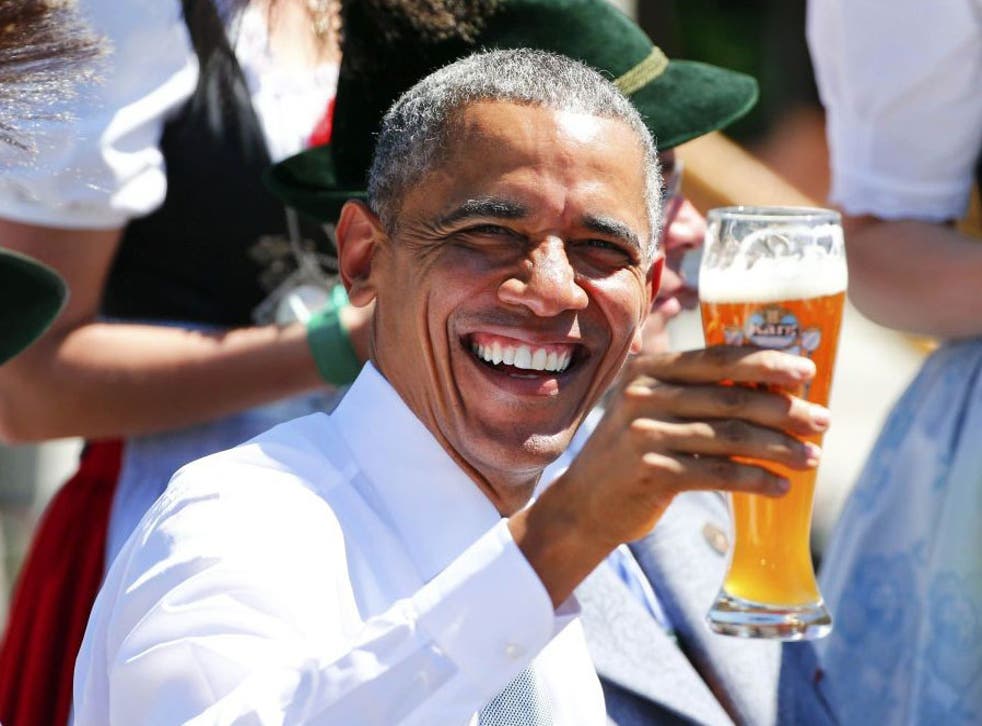 Surrounded by men wearing lederhosen and washing sausages down with German beer, Barack Obama looked surprisingly at ease enjoying a Bavarian breakfast.
Angela Merkel treated the US President to local specialities including Weisswurst and pretzels in the Alpine village of Kruen on Sunday ahead of the G7 summit.
They ate with traditionally-dressed locals on on a long bench in the sunshine, as alphorns played in the background.
Photographs of Mr Obama seeing away a half-litre of beer at 11am after a trans-Atlantic flight quickly triggered speculation over whether it was alcoholic.
A local farmer told reporters he had in fact drunk non-alcoholic beer at the breakfast, the Telegraph reported.
But Victoria Schubert, from the brewery that made it, said the President and Ms Merkel were drinking the real thing, as is customary for a traditional Bavarian breakfast.
"They were certainly not drinking alcohol-free beer," she added, according to the Guardian. "It was 5 per cent proof, with an original gravity of 11 per cent, and like all German beer it was brewed according to 500-year-old purity laws."
The Karg brewery, based in Murnau in Bavaria, does not advertise a non-alcoholic beer on its website and it has temporarily renamed its speciality wheat beer "Summit Weissbier" in honour of the G7.
As speculation continued over what Mr Obama was drinking on Sunday, the White House press secretary stepped in.
Josh Earnest said he was unsure what kind of beer the President had been served, but said he was confident "he did not order a non-alcoholic beer. Even after an overnight flight on a Sunday morning".
Whatever he was drinking, he certainly enjoyed it. "It was a very fine beer. I wish I was staying," the President told curious reporters.
He spoke warmly of his country's relationship with Germany in a speech watched by hundreds of men in feather-plumed hats and women in corseted "dirndl" dresses in the picture-perfect village.
"I have to admit that I forgot to bring my lederhosen but I'm going to see if I can buy some while I'm here," he joked, saying that he hoped the G7 summit would coincide with Munich's famous Octoberfest festival.
"But then again, there's never a bad day for a beer and a weisswurst and I can't think of a better place to come to celebrate the enduring friendship between the German and the American people."
A proper Weisswurst Fruhstuck (breakfast) includes boiled sausages with sweet mustard, freshly-baked pretzels and wheat beer.
The white sausages, which you eat by taking the filling out and discarding the skin, are traditionally made early in the morning and not consumed after midday. A local saying dictates that they must not hear the church bells chime at noon.
Intense security checks ahead of Mr Obama's arrival had reportedly seen secret service agents test food and X-ray the sausages and meatloaf.
After breakfast, he and Ms Merkel then headed off to Schloss Elmau for talks on issues including the Ukraine crisis, climate change and extremism.
The two leaders' relationship had been tested by claims that America's NSA intelligence agency had tapped the German Chancellor's mobile phone during the Edward Snowden leaks.
Additional reporting by Reuters and AP
Register for free to continue reading
Registration is a free and easy way to support our truly independent journalism
By registering, you will also enjoy limited access to Premium articles, exclusive newsletters, commenting, and virtual events with our leading journalists
Already have an account? sign in
Join our new commenting forum
Join thought-provoking conversations, follow other Independent readers and see their replies