BBC weather presenter, Rachel Mackley, faints live on air during forecast
Dozens of concerned viewers wrote to the BBC after the incident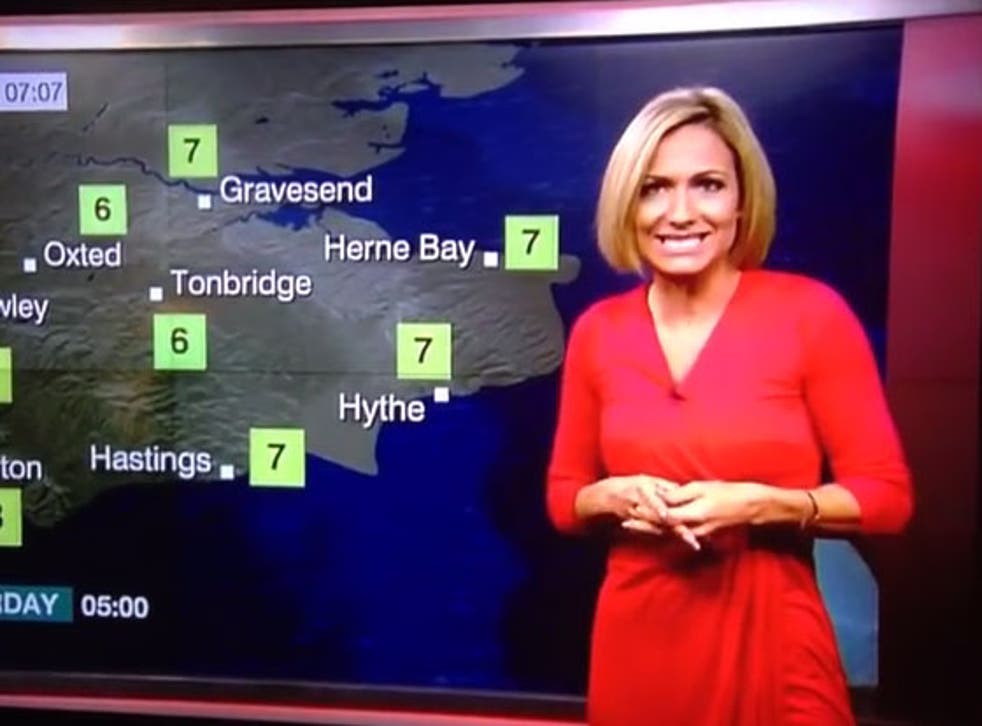 A BBC weather presenter sparked concerns from viewers after she fainted during a live weather forecast.
Rachel Mackley, who has presented the weather on the BBC's South East Today since 2011, interrupted her forecast unexpectedly on Friday, telling viewer's "I'm so sorry, I'm going to faint", before stumbling backwards and off the set.
The cameras quickly cut away from the 33-year-old to fellow presenters Polly Evans and Robert Smith who both appeared shocked and concerned.
Following the incident Mr Smith can be heard saying to staff: "Quick, quick chaps, if we could sort Rachel out there."
While Ms Evans said: "We just need to have a check on Rachael over there."
Dozens of concerned viewers wrote to the BBC after the incident, with many praising Ms Mackley's professionalism.
Jonathon Queally tweeted: "Poor Rachel. My heart goes out to her. You all handled it very professionally under the circumstances. Hope she's OK."
Martin Round tweeted: "I hope [Rachel Mackley] is OK on [BBC South East]. Still the professional!"
After the incident the official account for BBC South East tweeted: "Just to let you know our weather presenter Rachel is up on her feet and will be absolutely fine. Thank you for all the kind messages."
Ms Mackley's BBC colleagues confirmed the presenter was shocked, but recovering.
BBC sports reporter Claire Cottingham said: "Just spoken to Rachel Mackley and she's doing OK. Scary moment on South East Today but she's doing alright."
Mr Smith said: "Scary moment, but she'll be fine," while Ms Evans said: "She's doing ok […] a bit shaken - but good now."
Register for free to continue reading
Registration is a free and easy way to support our truly independent journalism
By registering, you will also enjoy limited access to Premium articles, exclusive newsletters, commenting, and virtual events with our leading journalists
Already have an account? sign in
Register for free to continue reading
Registration is a free and easy way to support our truly independent journalism
By registering, you will also enjoy limited access to Premium articles, exclusive newsletters, commenting, and virtual events with our leading journalists
Already have an account? sign in
Join our new commenting forum
Join thought-provoking conversations, follow other Independent readers and see their replies