Benedict Cumberbatch held back by posh background, his Harrow drama teacher claims
Martin Tyrell referring to current row over privilege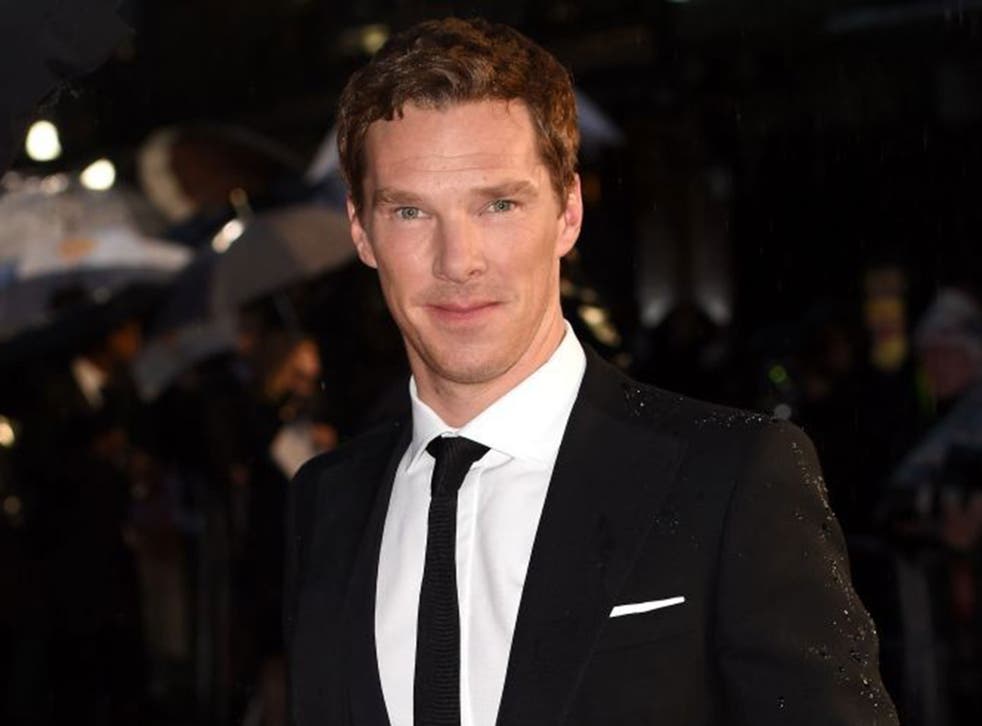 Benedict Cumberbatch's privileged background was actually detrimental to his acting ambitions, the Oscar nominee's drama teacher at Harrow public school has claimed.
Martin Tyrell, who first spotted his the actor's star quality as a 13-year-old at the £34,590-a-year school, said Cumberbatch was held back by his education, since it limited the range of potential roles he could expect to play.
Tyrell's remarks further inflamed the row over concerns, raised by leading figures such as Dame Julie Walters, that a career in acting has increasingly become the preserve of the wealthy.
Explaining how a public school background works against aspiring actors, Mr Tyrell told Radio Times: "I feel that they are being limited [from playing certain parts] by critics and audiences as a result of what their parents did for them at the age of 13. And that seems to me very unfair."
Mr Tyrell said: "I don't think anyone ever bought an education at Harrow in order for their son to become an actor."
He accepted that anyone who comes from a family that can afford Harrow's annual fees could afford to enter a trade where they can find themselves unemployed for months on end. But he added: "Going to a major independent school is of no importance or value or help at all."
Cumberbatch's Oscar nomination, alongside that of Eddie Redmayne, who went to Eton College, alma mater of Wolf Hall star Damian Lewis, Tom Hiddleston and Dominic West, prompted a wider debate, led by Shadow Culture minister Chris Bryant, who said he feared that British culture was being "dominated" by public school actors and musicians.
Dame Julie Walters said actors from working-class backgrounds were being squeezed out. "People like me wouldn't have been able to go to college today. I could because I got a full grant. I don't know how you get into it now," she said.
But Mr Tyrell's comments echo those of old Harrovian singer James Blunt, who in his exchange over widening access to the arts with Mr Bryant, said: "No one at school had any knowledge or contacts in the music business, and I was expected to become a soldier or a lawyer or perhaps a stockbroker."
The many faces of Benedict Cumberbatch

Show all 12
The drama teacher said of the young Cumberbatch: "Even as a 13-year old, he was obviously an outstanding actor - a combination of intuition and intellect. It's probably once in a lifetime that you find a boy actor as magnificent as this."
The future Sherlock star once auditioned "very early on for the part of a saucy French maid in a farce. It was a small part, involving a feather duster for about 10 minutes, but even then in rehearsal he was strikingly mature."
Cumberbatch knew from aged 16 that he wanted to become a professional actor. Mr Tyrell said: "I don't think I had to speak or work with him in any way when I was directing him. I felt like I was working with a fellow professional rather than a schoolboy."
The future film star could easily have been an artist though. "He was also a tremendous artist, he painted some magnificent portraits. In fact, I think the artist side of him impressed some people even more than his acting," his former teacher said.
Actors at war over class
Benedict Cumberbatch
Roles: The Imitation Game, Hamlet
School: Harrow
"I'm definitely middle class, I think. I know others would argue but I'm not upper class. Upper class to me means you are either born into wealth or you're royalty. Okay, maybe I'm upper middle class."
Eddie Redmayne
Roles: The Theory Of Everything, King Richard II
School: Eton College
"I was at school and university with Tom Hiddleston. When we go to Los Angeles we would stay on friends' floors and as a group of Brits we would stick together and help each other with auditions."
Julie Walters
Roles: Educating Rita, Billy Elliott
School: Holly Lodge Grammar School for Girls, Smethwick
"Working class kids aren't represented. Working class life is not referred to. It's really sad. I think it means we're going to get loads more middle class drama. It will be middle class people playing working-class people, like it used to be."
Dame Judie Dench
Roles: Shakespeare In Love, Philomena
School: Mount School, independent, York
"Anyone who's in the theatre gets letters countless times a week asking for help to get through drama school. You can do so much, but you can't do an endless thing. It is very expensive. In a civilised country, there's money for both theatre and hospitals."
Join our new commenting forum
Join thought-provoking conversations, follow other Independent readers and see their replies