Billy Casper: Golfer who won prolifically but who became unfairly overshadowed by 'The Big Three' of his generation
Casper won 51 tournaments, putting him at No 7 on the career list behind Sam Snead, Tiger Woods, Nicklaus, Ben Hogan, Arnold Palmer and Byron Nelson
Thursday 12 February 2015 01:00 Comments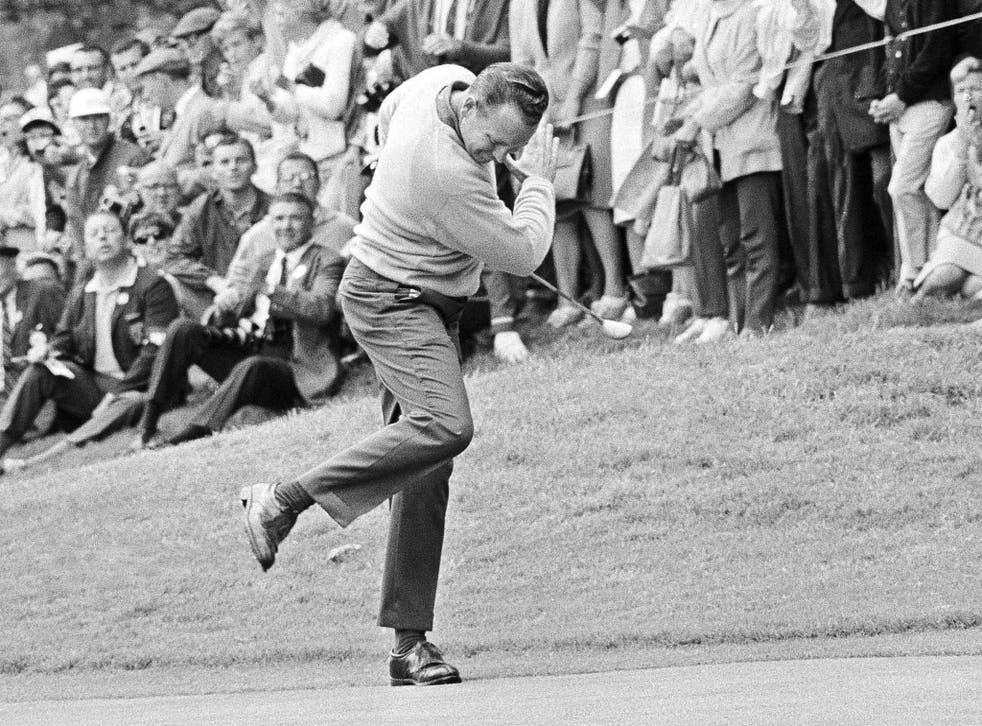 Billy Casper was one of the most prolific winners on the PGA Tour but was overshadowed at the height of his career by the "Big Three" of Jack Nicklaus, Arnold Palmer and Gary Player. "I think it is fair to say that Billy was probably underrated by those who didn't play against him," Nicklaus said when Casper's death from a heart attack was announced. "Those who did compete against him knew how special he was." Between 1962 and 1970, Casper and Nicklaus won 33 times on the PGA Tour, while Palmer won 30 times.
Casper won 51 tournaments in all, putting him at No 7 on the career list behind Sam Snead, Tiger Woods, Nicklaus, Ben Hogan, Arnold Palmer and Byron Nelson. His three major championships include the 1966 US Open, one of golf's most remarkable comebacks.
He rallied from a seven-shot deficit on the back nine at Olympic Club in San Francisco to draw level with Palmer, and beat him in an 18-hole play-off. He also won the 1959 US Open at Winged Foot and the 1970 Masters.
Casper was a genius with the short game, considered one of the best putters in golf. "I have said many times that during my career, when I looked up at a leaderboard, I wasn't just looking to see where a Palmer or a Player or a Lee Trevino was," said Nicklaus. "I was also checking to see where Billy Casper was. Billy had tremendous confidence. He just believed in himself. You knew when you played against Billy Casper, Billy would not beat himself."
Casper won his first PGA Tour event in 1956, and won at least once each season for 16 straight years, a streak only surpassed by Nicklaus and Palmer at 17. More than golf, though, Casper was devoted to his family. He had 11 children, six of them adopted, and he is survived by 71 grandchildren and great-grandchildren. He became a Mormon just as his career was taking off.
"Someone asked Billy how he wanted to remembered," Nickaus recalled, "and he said, 'I want to be remembered for how I loved my fellow man.' " In 1992 Casper founded the Billy Casper Youth Foundation and for more than 20 years hosted an annual event in San Diego that raised more than $3 million for children.
He was born in 1931 in San Diego and began to caddie at San Diego Country Club. "I had a lot of inner confidence," he recalled. "I had such a tie with my eyes and my hands. I could look at a telephone pole 40 yards away, take out a 7-iron and hit it 10 times in a row. I had something special. And somehow, I really understood the game, all without having a lot of guidance."
Casper won the PGA Tour money title twice and was player of the year in 1966 and 1970. He won the Vardon Trophy for the lowest scoring average five times and still holds the American record in the Ryder Cup for most points. He played on eight teams and was the captain when a tie at Royal Birkdale in 1969 allowed the US to retain the trophy.
DOUG FERGUSON
William Earl Casper, Jr, golfer: born San Diego 24 June 1931; married 1952 Shirley (11 children); died Springville, Utah 7 February 2015.
Register for free to continue reading
Registration is a free and easy way to support our truly independent journalism
By registering, you will also enjoy limited access to Premium articles, exclusive newsletters, commenting, and virtual events with our leading journalists
Already have an account? sign in
Join our new commenting forum
Join thought-provoking conversations, follow other Independent readers and see their replies