Bloody Sunday 50th anniversary: Colin Powell says 'dark vein' of intolerance still exists in Republican party
Powell said America was still searching for a 'more perfect union'
Kiran Moodley
Monday 09 March 2015 13:05 Comments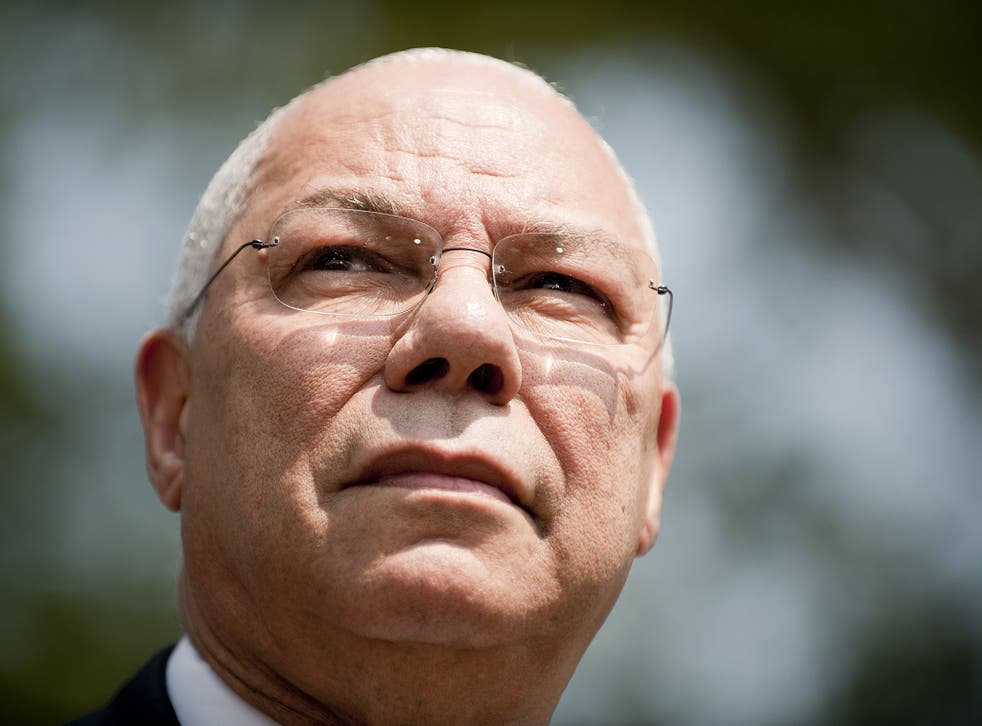 Former US Secretary of State Colin Powell has said the Republican party still has a "dark vein of intolerance" in a television interview discussing race relations in America 50 years on from the events of Bloody Sunday.
On Saturday, President Barack Obama visited Selma, Alabama to commemorate the famous march that led to the 1965 Voting Rights Act. Obama, the country's first black president, said the civil rights movement still had some way to go: "Fifty years from Bloody Sunday, our march is not yet finished, but we're getting closer."
Powell appeared on ABC's "This Week" on Sunday and was asked by host George Stephanopoulos about his comments from 2013 when he said there was a "dark vein of intolerance" in the Republican party, suggesting that some members of the GOP looked down on minorities.
He specifically mentioned former Alaska Governor Sarah Palin's comments in the aftermath of the US embassy attack in Benghazi, Libya, accusing the former Vice Presidential nominee of using "racial-era" slave terms.
He told Stephanopoulos that he still saw a "dark vein of intolerance" in the party and beyond.
"I still see it in the Republican party and I still see it in other parts of our country," Powell said. "You don't have to be Republican to be touched by this dark vein. America is still going through this transformation from where we were just 50 or 60 years ago. You have to remember it was only about 60 or 70 years ago that we still had poll taxes, that we still had literacy tests in order to vote, that the voting places were only open two days a month for African Americans."
He echoed the comments of President Obama (who Powell voted for in 2008 rather than the Republican John McCain), arguing that there had been "enormous progress" in US race relations, noting that he had become the first black Secretary of State, while the presence of Obama and Eric Holder in Selma at the weekend showed the huge strides made in the past 50 years.
Dan Budnik's images of the Selma march

Show all 7
Stephanopoulos also asked Powell about a recent report from the US Justice Department that revealed systematic discrimination against African Americans by the Ferguson police department in Missouri, where the black teenager Michael Brown was fatally shot by white police officer Darren Wilson in August 2014.
Powell said he was shocked by the report but not completely surprised: "I know these things have existed in other parts of our country. This shouldn't have been that great a surprise to any of us. But it's not throughout the country."
On March 7, 1965, 600 peaceful civil rights activists walked across the Edmund Pettus Bridge in Selma to begin a march to Montgomery to protest the lack of voting rights for African Americans in Alabama and other states in the Deep South. They were attacked by state troopers and police, who hit them with batons, chased them on horses and sprayed them with tear gas.
The shocking scenes were broadcast on US TV, creating a wave of disgust and shame that led to the President Lyndon B Johnson signing the landmark Voting Rights Act later that year.
Register for free to continue reading
Registration is a free and easy way to support our truly independent journalism
By registering, you will also enjoy limited access to Premium articles, exclusive newsletters, commenting, and virtual events with our leading journalists
Already have an account? sign in
Join our new commenting forum
Join thought-provoking conversations, follow other Independent readers and see their replies