Boutros Boutros-Ghali dead: Former UN Secretary General dies aged 93
Boutros-Ghali served five memorable years in the UN's top role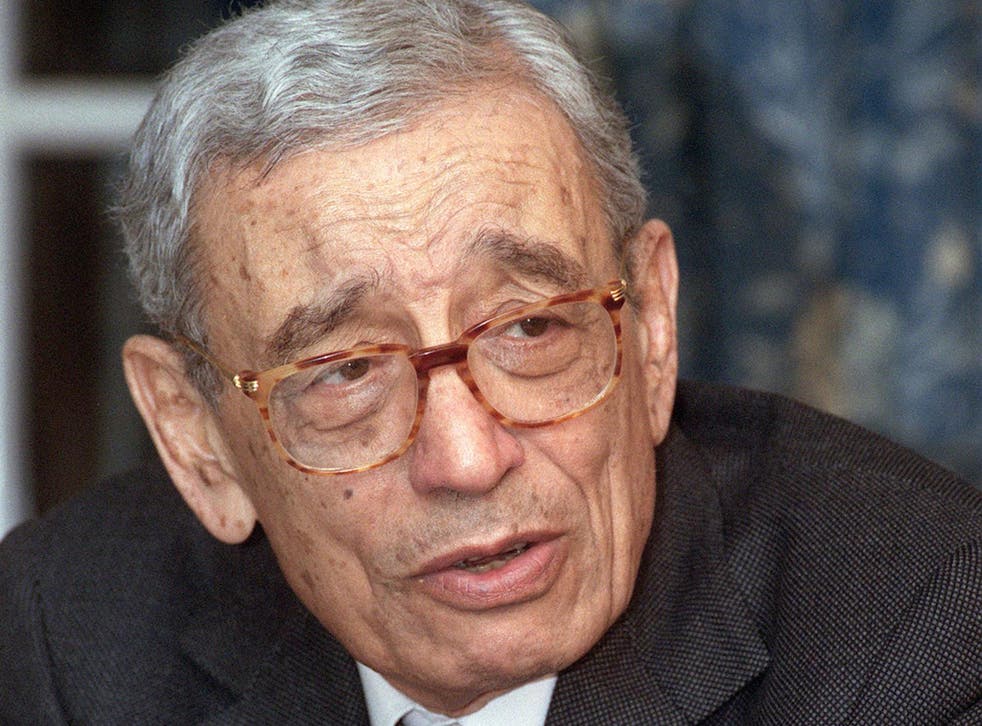 Boutros Boutros-Ghali, the former UN Secretary General, has died aged 93.
He passed away at a Cairo hospital on Tuesday after being admitted with a broken pelvis, according to a report by Egypt's state news agency. His death was confirmed by the UN Security Council this afternoon.
Venezuela's UN Ambassador Rafael Ramirez, the current council president, announced his passing at the start of a meeting on Yemen's humanitarian crisis and asked the fifteen members to rise for a moment of silence.
Notable deaths in 2016

Show all 42
Boutros-Ghali was born in Egypt in 1922 in a privileged Coptic Christian family; his grandfather was the former Egyptian prime minister. He graduated from Cairo University in 1946, going on to study at the Sorbonne in France and at Columbia in New York.
He began his career as a professor of international law in Cairo before being appointed as deputy foreign minister. He later became the sixth secretary-general of the United Nations, serving from January 1992 to December 1996. He was the first Arab to be appointed to the UN's highest position.
Boutros-Ghali served as secretary-general during a turbulent post-Cold War period, after the collapse of the Soviet Union and during crisis in Africa, the Middle East and the former Yugoslavia. His controversial tenure was marked by clashes with the United States which saw him only serve one five-year term in the UN's top role.
Within this role, Boutros-Ghali helped organise a huge UN relief operation in Somalia during the famine. He was criticised for the UN's lack of action during the 1994 Rwandan Genocide and for not pushing hard enough for UN intervention to end Angola's civil war in the 1990s.
Boutros-Ghali was remembered for going against convention and walking into crowds of protesters, once telling Reuters: "I am used to fundamentalists in Egypt arguing with me."
He was famously interviewed by Sacha Baron Cohen's fictional character Ali G, and proved a good-natured interviewee, even taking a moment to explain why "Disneyland" was not a member of the United Nations.
Additional reporting by Reuters
Join our new commenting forum
Join thought-provoking conversations, follow other Independent readers and see their replies