Brian Williams: NBC anchorman suspended for six months over Iraq War claims
Williams apologised last week for saying he was in a helicopter that was hit by a grenade while covering the conflict in 2003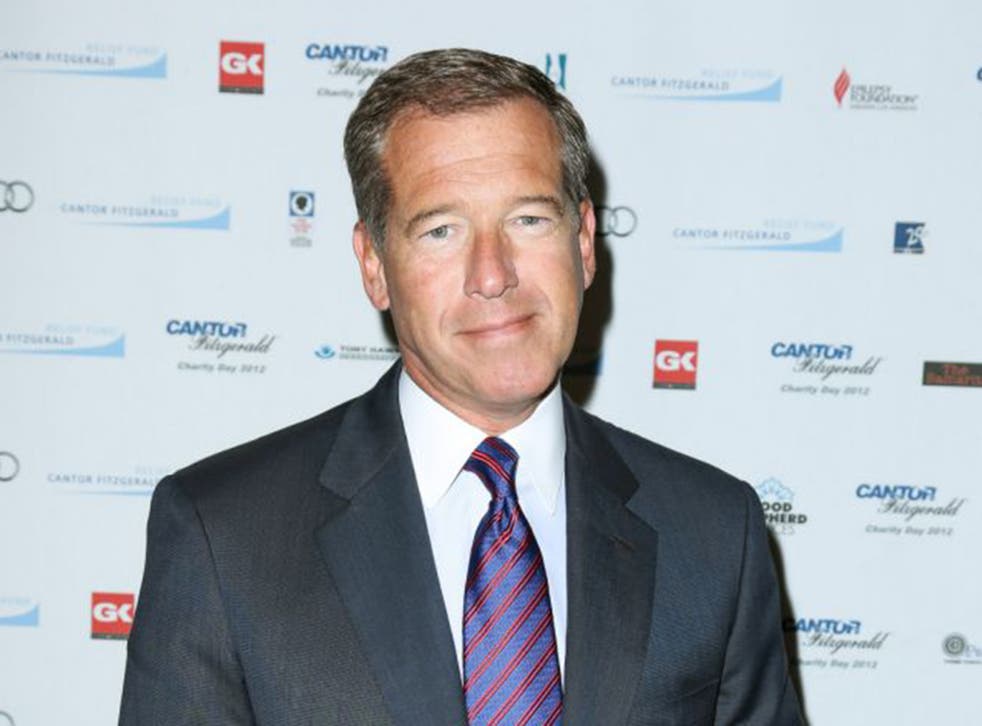 Until barely two weeks ago one of the most respected faces of television news in America, Brian Williams of NBC on Tuesday night found himself summarily suspended without pay by his network for six months - a harsh punishment for misleading the public about his experiences covering the Iraq War.
The announcement was made first in a memo to staff at New York headquarters by the President of NBC News, Deborah Turness, who arrived in the post from Britain 18 months ago and in the last several days has been grappling with the biggest – but not the only – crisis of her short tenure.
On the evening news of 30 January, Mr Williams, she said, had "misrepresented events" that occurred when he was flying over Iraq in 2003 and had similarly erred in relating the same events on other occasions outside of NBC. "This was wrong and completely inappropriate for someone in Brian's position," Mr Turness continued.
The offending segment saw Mr Williams appearing at a special tribute at ice hockey game for a retired military officer, who, he attested, had helped save his life when a Chinook helicopter he was traveling in was hit by a rocket propelled grenade and forced down. But the Stars and Stripes newspaper later cited witnesses saying while one helicopter was forced down that day, Mr Williams was not in it.
Brian Williams Misremembers memes

Show all 6
And instant furore was ignited and last Saturday Mr Williams announced he was suspending himself from his news reading duties for the next "several days" presumably in the hope it would die down. That was then derided by commentators who asked why the sinner got to choose the manner of his punishment.
That in turn put Mr Turness, formally a news editor at what was then ITN News, under tremendous pressure as well as the corporate owners of NBC, Comcast, and its CEO, Stephen Burke. It intensified as other reports of Mr Williams exaggerating personal encounters while reporting, including during the Katrina Hurricane tragedy, also began to surface, something Ms Turness also referenced.
"In addition, we have concerns about comments that occurred outside NBC News while Brian was talking about his experiences in the field," she wrote, going on: "Brian has a responsibility to be truthful and to uphold the high standards of the news division at all times."
The affair especially irked Comcast, which has seen NBC lose its top slots both in the breakfast show category and in the Sunday morning political programme ratings. Backsliding by the network that has cost it millions in revenue.
"By his actions, Brian has jeopardized the trust millions of Americans place in NBC News," Mr Burke offered in his own statement. "His actions are inexcusable and this suspension is severe and appropriate."
For now, it seems the door is open for the anchor to return in half a year from now, but many in the industry will be left wondering if that will ever happen. He had only signed a new five-year contract with his network last December. It was worth $10 million a year.
Register for free to continue reading
Registration is a free and easy way to support our truly independent journalism
By registering, you will also enjoy limited access to Premium articles, exclusive newsletters, commenting, and virtual events with our leading journalists
Already have an account? sign in
Register for free to continue reading
Registration is a free and easy way to support our truly independent journalism
By registering, you will also enjoy limited access to Premium articles, exclusive newsletters, commenting, and virtual events with our leading journalists
Already have an account? sign in
Join our new commenting forum
Join thought-provoking conversations, follow other Independent readers and see their replies