Bruce Jenner's 'Interview of the year': Suicidal thoughts, rejection by family members and new wardrobe
Speaking to Diane Sawyer on ABC, Jenner said that finally, at the age of 65, he would be able to live life as himself
Jamie Campbell
Saturday 25 April 2015 12:35 Comments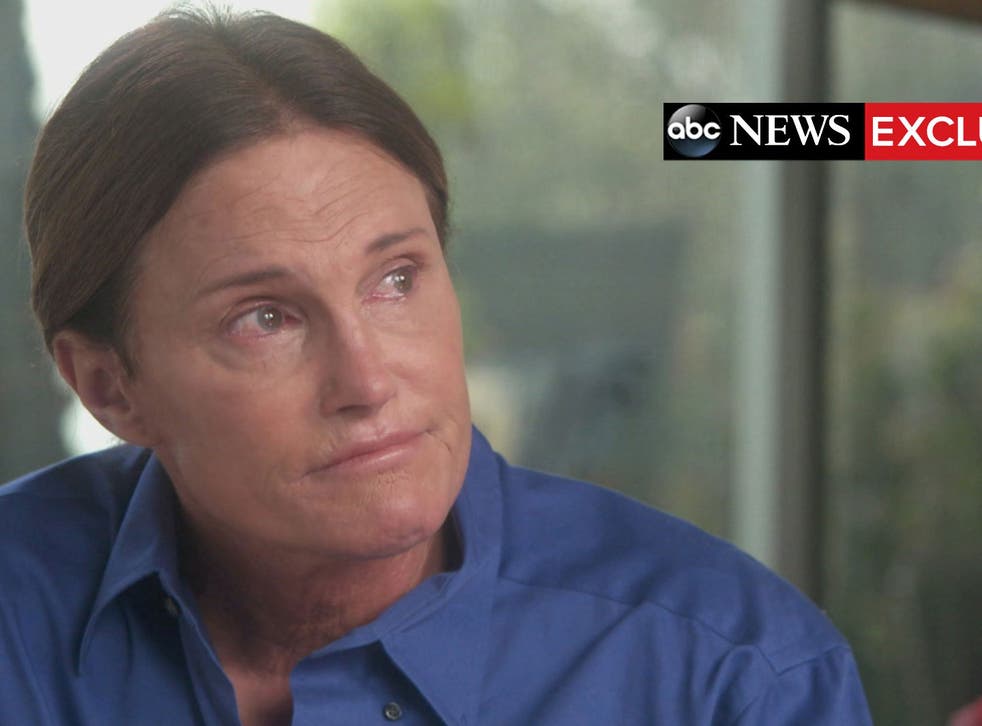 Bruce Jenner's so-called interview of the year did not disappoint as the Olympic gold medallist revealed that gender issues had led him to contemplate suicide, that he might still be with ex-wife Kris had she taken his gender reassignment surgery better and that the advice of Kanye West had helped step-daughter Kim Kardashian come to terms with his situation.
Speaking to Diane Sawyer, who has previously conducted blockbuster interviews with Robert Downey Jr, Michael Jackson and even Saddam Hussein, Jenner, with long flowing hair, nail varnish and wearing a dark blue shirt, said that his tale had been the real story of the long-running Keeping up with the Kardashians show, but the one he wasn't allowed to tell.
"The only real true story of the family was the one that I was hiding and nobody knew it. The one thing that could make a difference to people's lives was in my soul and I couldn't share it," he said, speaking to Sawyer in the Malibu house he has purchased since his divorce with ex-wife Kris.
Jenner, who won a gold medal in the 1976 Olympic decathlon, said that they might still be together had she taken the news of his impending gender reassignment surgery more supportively or if she had allowed him to go to therapy during their marriage.
"It's not just something you can take an aspirin for," he said.
During the interview though, Kris showed her support for her ex-husband, tweeting: "Not only was I able to call him my husband for 25 years and father of my children, I am now able to call him my hero."
He said that his daughter Kim had once walked in on him wearing a dress a number of years ago, but the issue was never touched upon again.
But Jenner told of how her husband Kanye West had encouraged her to talk to him about it, telling his wife that people are nothing "if they can't be true to themselves."
Kim soon came to him with some advice on what clothes to wear and said: "Girl, you gotta rock it!"
During the interview Jenner showed Sawyer his new "glam room" and showed off a lacey black dress that Kim had helped him pick out.
However not all of the Kardashian daughter have taken the news of Bruce's sex change so well. He said that daughter Khloe in particular was struggling to come to terms with the situation but admitted that it was "tough on all the girls, I understand that and wouldn't rush the issue."
Kardashian/Jenner Love magazine takeover

Show all 6
Son Brandon, who was also briefly interviewed during the two-hour ABC programme, said that he also "wasn't taking it perfectly." He added that: "When I see my dad as a woman for the first time it might be a bit shocking at first."
His mother Diane was more supportive saying that she was prouder of him now than she had been when he had won his Olympic medal. Jenner said that he wishes his father William was still around to see the interview.
In terms of sexuality he says that he is now asexual but sexuality was "totally different" to his issues with gender.
The interview took a darker turn when he said that failure to come to terms with himself had led to suicidal thought, saying: "The easiest thing would be to go into a room, get a gun and bang, go to another place.
"But then I thought no, I want to see how this story ends."
He said that he was happy that his story was finally being told: "What I'm doing is going to do some good and we are going to change the world, we are going to make a difference. If the Kardashian show gave me that foot to go and do something then I'm happy with that."
Register for free to continue reading
Registration is a free and easy way to support our truly independent journalism
By registering, you will also enjoy limited access to Premium articles, exclusive newsletters, commenting, and virtual events with our leading journalists
Already have an account? sign in
Join our new commenting forum
Join thought-provoking conversations, follow other Independent readers and see their replies