Carrie Fisher dead: Ten of the best quotes from the Star Wars actress
Iconic actress suffered heart attack on a flight to LA  
Tuesday 27 December 2016 20:29 Comments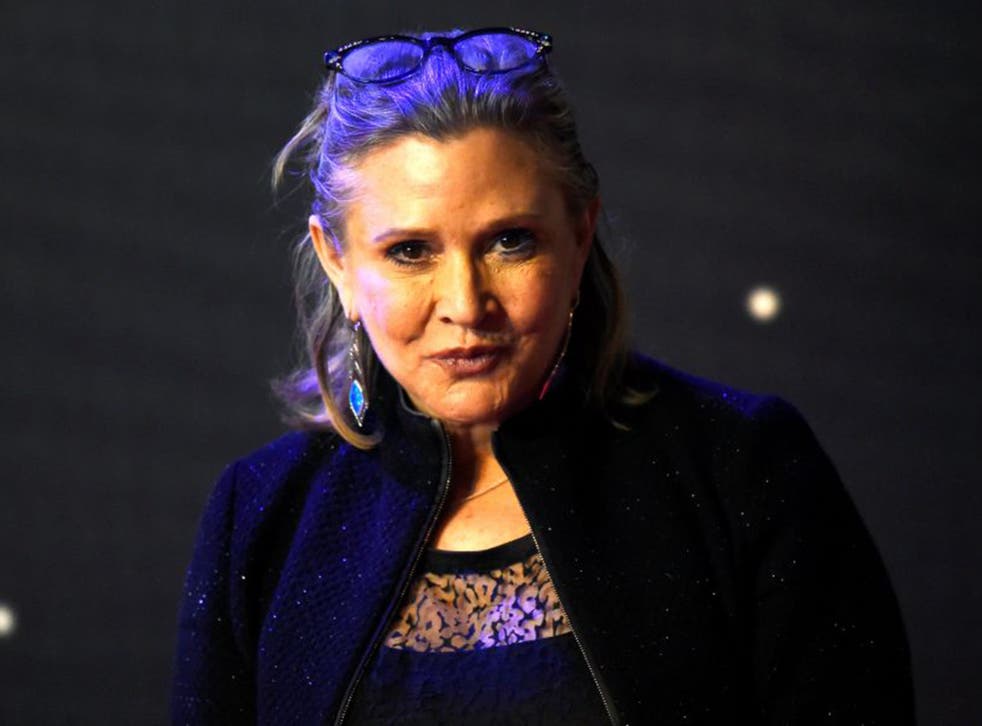 Carrie Fisher, who played Princess Leia in the Star Wars films, has died at the age of 60.
The iconic actress suffered a heart attack on a flight to Los Angeles from London, where she had been promoting her memoir, The Princess Diarist, based on diaries she kept in the late 1970s.
After winning fame for her role in Star Wars, she became a noted writer and raconteur, speaking openly about problems with drugs and her mental health. Here are some of Fisher's most notable quotes:
On playing Princess Leia in Star Wars as a teenager
"I thought: it'll be fun to do. I'm 19! Who doesn't want to have fun at 19? I'll go hang out with a bunch of robots for a few months and then return to my life and try to figure out what I want to do when I grow up."
"Leia follows me like a vague smell."
"People are still asking me if I knew Star Wars was going to be that big of a hit. Yes, we all knew. The only one who didn't know was George."
On suffering mental illness
"I'm very sane about how crazy I am."
"So when I was 24, someone suggested to me that I was bipolar, and I thought that was ridiculous. I just thought he was trying to get out of treating me. But he was also responding to the chaotic nature of my life."
"I am mentally ill. I can say that. I am not ashamed of that. I survived that, I'm still surviving it, but bring it on. Better me than you."
"I went to a doctor and told him I felt normal on acid, that I was a light bulb in a world of moths. That is what the manic state is like."
On having famous parents
"I am truly a product of Hollywood in-breeding. When two celebrities mate, someone like me is the result."
On suffering from addiction
"Drugs made me feel more normal."
On struggling with depression
"The world of manic depression is a world of bad judgement calls."
Carrie Fisher in Rolling Stone (1983)

Show all 9
The news of Fisher's death was released by family spokesman Simon Halls in a statement.
"It is with a very deep sadness that Billie Lourd confirms that her beloved mother Carrie Fisher passed away at 8:55 this morning," it said.
"She was loved by the world and she will be missed profoundly," Lourd said. "Our entire family thanks you for your thoughts and prayers."
Register for free to continue reading
Registration is a free and easy way to support our truly independent journalism
By registering, you will also enjoy limited access to Premium articles, exclusive newsletters, commenting, and virtual events with our leading journalists
Already have an account? sign in
Join our new commenting forum
Join thought-provoking conversations, follow other Independent readers and see their replies