Cate Blanchett in Carol: The most ridiculous questions actress has been asked about playing a lesbian
The obsession over an actress performing lesbian love scenes shows no sign of abating 
Heather Saul
Thursday 19 November 2015 13:07 Comments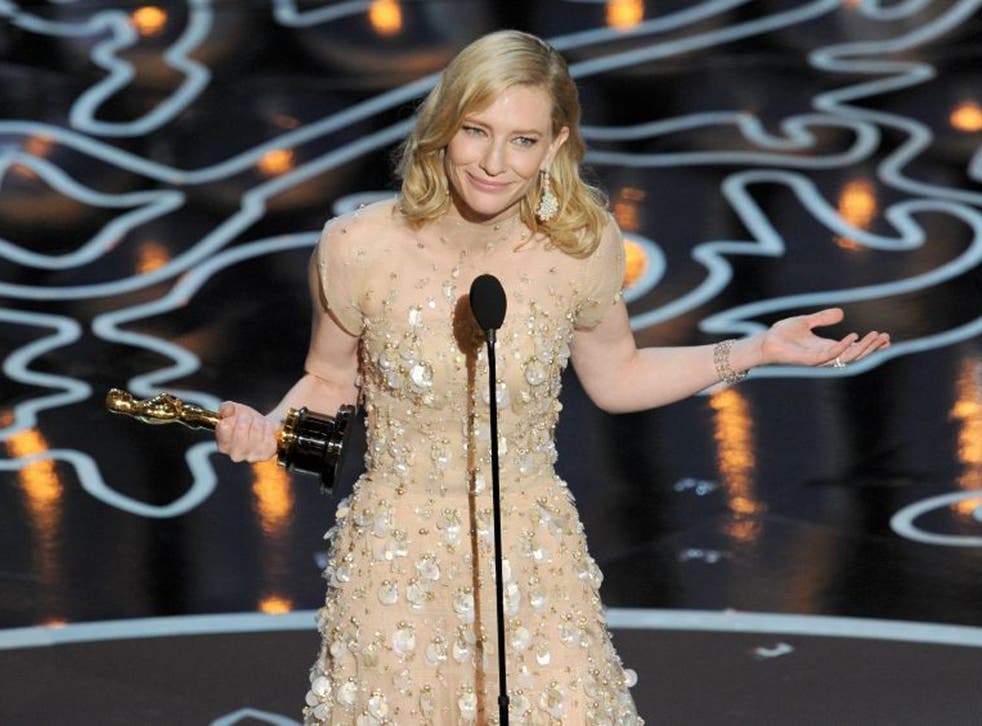 Ever since it was announced that Cate Blanchett would play a bisexual woman in the forthcoming film Carol almost every interview has revolved around, or at least touched upon, the concept of Blanchett acting out a same-sex relationship.
Blanchett and her co-star Rooney Mara have been lauded by critics for their portrayal of the love blossoming between an older and younger woman. Yet the lesbian themes - and the logistics of demonstrating this love on camera - continue to be a point of fixation.
The Academy-Award winning actress famously takes no prisoners during interviews. As the world continues to obsess upon and fetishise her role as a lesbian, here are some of her best responses to being asked about sex with the same sex.
"What was the most helpful direction Todd gave you on doing the love scenes?"
"Here! Do it like this!
"People focus on that stuff. I don't think they would focus on it if I was a man or if it was another scene."
"Tricky subject. And you go, huh, of course that was going on probably."
Blanchett, who speaking to Jimmy Kimmel, responded: "Yes Jimmy, girls have been having sex with girls and boys have been having sex with boys for a long, long time."
"What I love so much about this film is the love story between the two of you and how it didn't feel like it as a homosexual love story; it felt very heterosexual, if I may, so could you talk about…"
Blanchett interjected: "It's normal."
"Um, what was it like doing the big lesbian sex scene in Carol then?"
"People do ask about the sex scene a lot. It's inevitable they do. But once I felt comfortable that it was absolutely necessary, then I knew it would be a thing of beauty, like the rest of the film. And it's always the suspension which is more erotic than the realisation anyway. In a way, when you get to take your clothes off it's a blessed relief.
"There's this assumption, particularly in film, that you cannot connect to something unless it's directly related to your own experience. Maybe I should have posed with my hand on Rooney's bottom? To give them something to photograph?"
"Is this your first turn as a lesbian?"
Blanchett responded: "On film — or in real life? and was subsequently 'pressed' on whether she has ever entered into a same-sex relationship in real life. Blanchett replied by saying she had had relationships with women "many times" and the tongue-in-cheek answer was wrongly read as an admission of bisexuality and taken out of context.
She later clarified her comments to The Guardian. "From memory, the conversation ran: 'Have you had relationships with women?' And I said: 'Yes, many times. Do you mean have I had sexual relationships with women? Then the answer is no.' But that obviously didn't make it. But in 2015, the point should be: who cares? Call me old fashioned but I thought one's job as an actor was not to present one's boring, small, microscopic universe but to make a psychological connection to another character's experiences. My own life is of no interest to anyone else. Or maybe it is. But I certainly have no interest in putting my own thoughts and opinions out there."
Landmark LGBT TV moments

Show all 10
In her forthcoming interview with W Magazine, Blanchett made her thoughts on the hype surrounding this film clear.
"Art is supposed to be a provocation, not an education. In 2015, the point should be: Who cares if I had lesbian relationships or not? Call me old-fashioned, but I've always thought that my job as an actor was to raise and expand the audience's sense of the universe."
Register for free to continue reading
Registration is a free and easy way to support our truly independent journalism
By registering, you will also enjoy limited access to Premium articles, exclusive newsletters, commenting, and virtual events with our leading journalists
Already have an account? sign in
Join our new commenting forum
Join thought-provoking conversations, follow other Independent readers and see their replies