Chantal Joffe interview: 'I paint to think'
In the past fashion inspired Joffe (pictured centre), but recently she has moved more towards her family and friends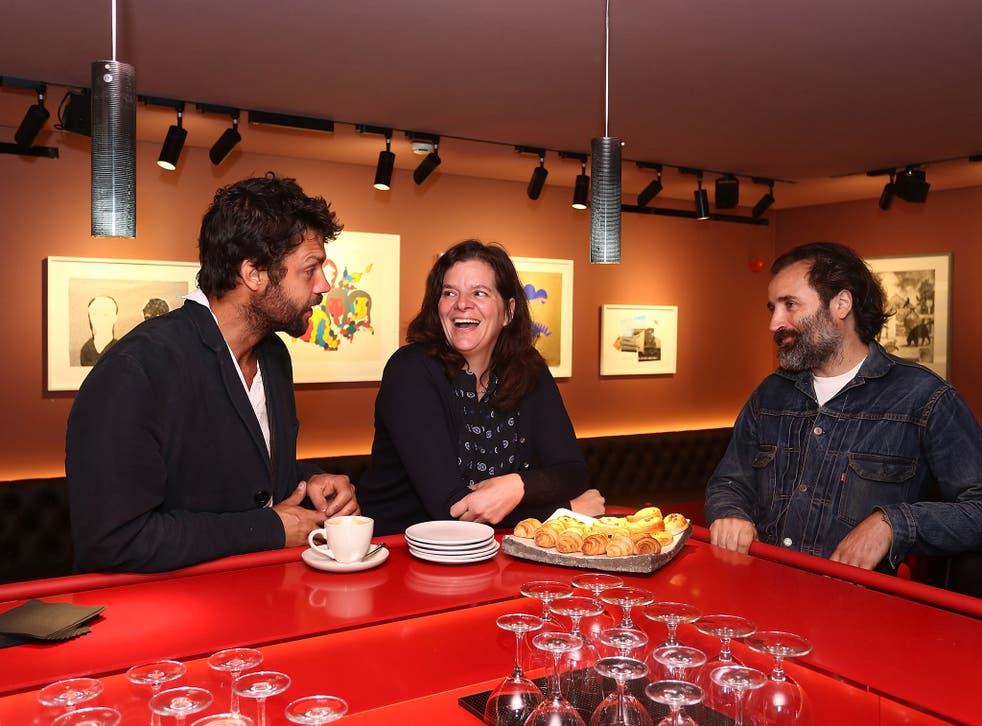 Chantal Joffe has been in her current studio in a secluded courtyard, close to her gallery in Islington, for 10 years.
She likes it as "it is a space within a space". It is small and rectangular, although she points out the marks on the floor of a removed wall indicating that it was until recently half the size. It's amazing, considering the large scale of her paintings. The studio has the familiar smell of paint and turps, and is cosy: a place to curl up and gossip.
Joffe says "I paint to think" and often makes oil-based sketches as a way into a subject. She has been doing a series of self-portraits often containing her daughter Esme, now aged 10. She points at a recent one of herself, naked and saggy, her daughter in a pink nightie, looking impudent. "She told me that she does not want to be naked anymore." She, however, does not mind the earliest works of her, often naked, being cuddled. Nor does Joffe's partner, painter Dan Coombes, who she shows me a sketch of. "Someone asked who was the pregnant man?" She laughs. "He is a good-looking guy, but he is an artist so he understands".
In the past fashion inspired Joffe, or at least photographs of models torn from magazines, but recently she has moved more towards her family and friends. A suite of paintings of her teenage niece, Moll, forms the centrepiece of her forthcoming show in a prestigious foundation in Italy.
It is herself though who is currently central here in the studio. I ask about motherhood informing her work, in light of recent comments about how motherhood inhibits the work of female artists. "How could that be?" she asks. "My work got larger and richer. I was aware of the changes to my body – those stretch marks – but also the general signs of ageing." She shows me a picture of herself in reading glasses, reclining: "That looks like my father – my nose in profile is just like him."
Joffe was born in St Albans, a small town in Vermont in the US, in 1969, although her family moved to England when she was 13 years old. She went to high school in London but it was when she went to do her foundation studies at Camberwell College of Arts that she became totally happy, "discovering Soutine, and all that paint". She is still working through her heroes; she points at a canvas inspired, she tells me, by Paula Modersohn-Becker, and I immediately see the connections in the pink and green tones of the flesh.
Recently she has been told she has to move out of her beloved studio. "I cried when they told me." She is moving about 20 feet away, at right angles in the same courtyard, but "the view will be different". She leaves me in order to pick up her daughter from school. She is coming back tomorrow to "make paintings like it is the last day on earth".
Chantal Joffe: Ritratto di Donne at Collezione Maramotti, Reggio Emilia, Italy (collezionemaramotti.org) tomorrow to 12 April. Chantal Joffe's work will be on view at Victoria Miro's stand at Frieze Art Fair (friezelondon.com) 15 to 18 October
Join our new commenting forum
Join thought-provoking conversations, follow other Independent readers and see their replies