Charles Bronson changes name to Charles Salvador: 'The old me dried up'
The infamous prisoner says his name change reflects a new peaceful life approach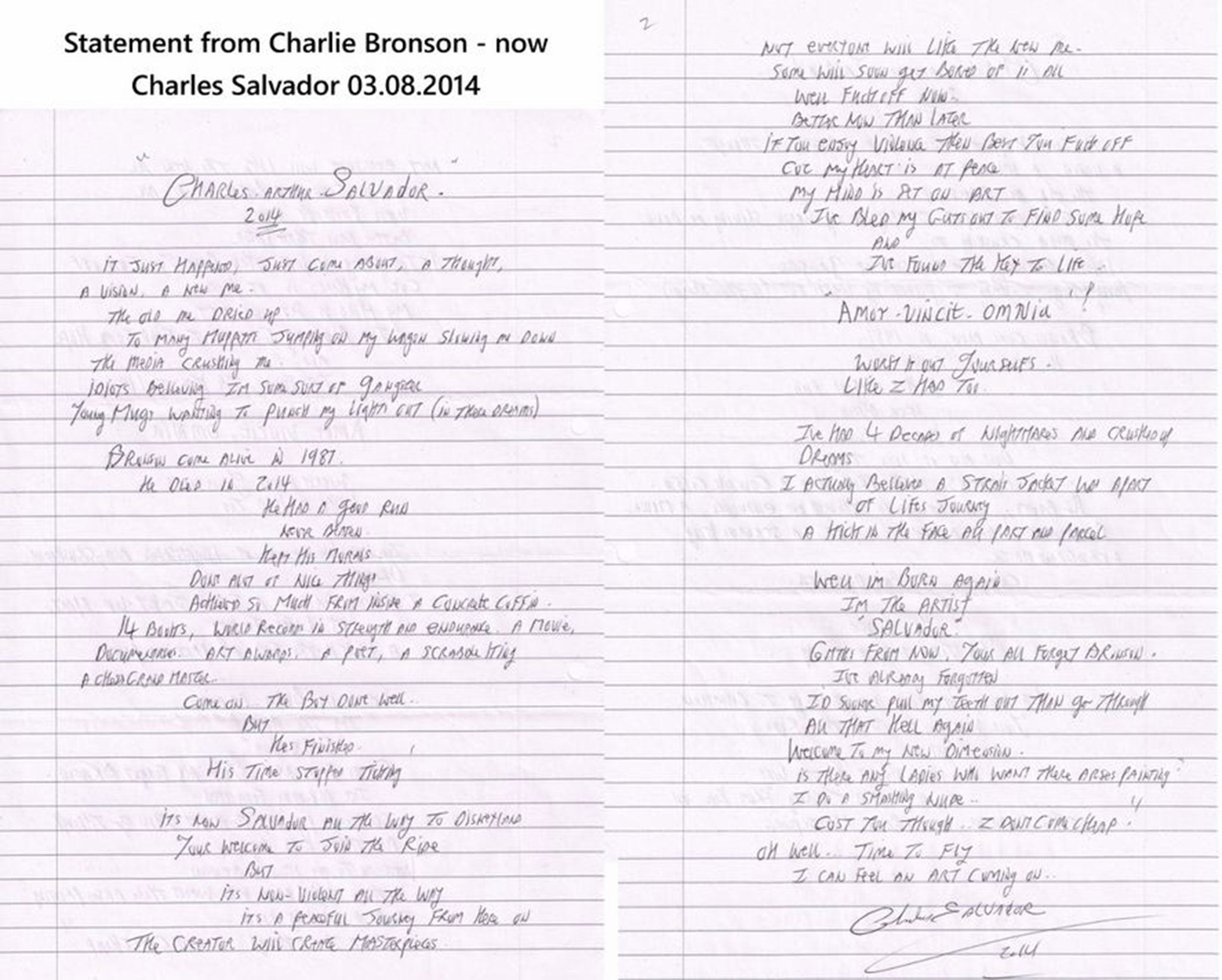 Charles Bronson has changed his name to Charles Salvador in tribute to the late artist.
The high-profile prisoner – who is currently serving a life sentence for robbery and kidnap at Full Sutton Prison in York – wrote a hand-written statement published on his website explaining his decision. The change will be made official via Deed Poll.
"It just happened, just come about, a thought, a vision, a new me," he wrote.
"The old me dried up."
"Bronson came alive in 1987. He died in 2014.
"He had a good run. Never beaten. Kept his morals.... Come on, the boy done well. But he's finished. His time stopped ticking.
"It's now Salvador all the way to Disneyland. Your [sic] welcome to join the ride."
Often dubbed "Britain's most violent prisoner", Bronson has become known for his artwork created while incarcerated. In June, he sold his surrealist paintings to raise money to buy his mother a holiday.
Bronson, real name Michael Peterson, has built a reputation for his violence both in and out of prison.
He was first incarcerated in 1974 after robbing a post office, but his violent behaviour has seen him kept in isolation for most of his sentence.
In 1999, he was given life for holding a prison art teacher hostage for 44 hours for criticising some of his sketches.
He says that his name change signifies a calmer approach to life.
"It's non-violent all the way," he wrote. "It's a peaceful journey from here on. The creator will create masterpieces."
"If you enjoy violence then f**k off," he continues. "Coz [sic] my heart is at peace and my mind is set on art."
Join our commenting forum
Join thought-provoking conversations, follow other Independent readers and see their replies