Charles Kennedy died after major haemorrhage caused by alcoholism
Report makes clear it was a consequence of his battle with alcoholism
Matt Dathan
Friday 05 June 2015 22:29 Comments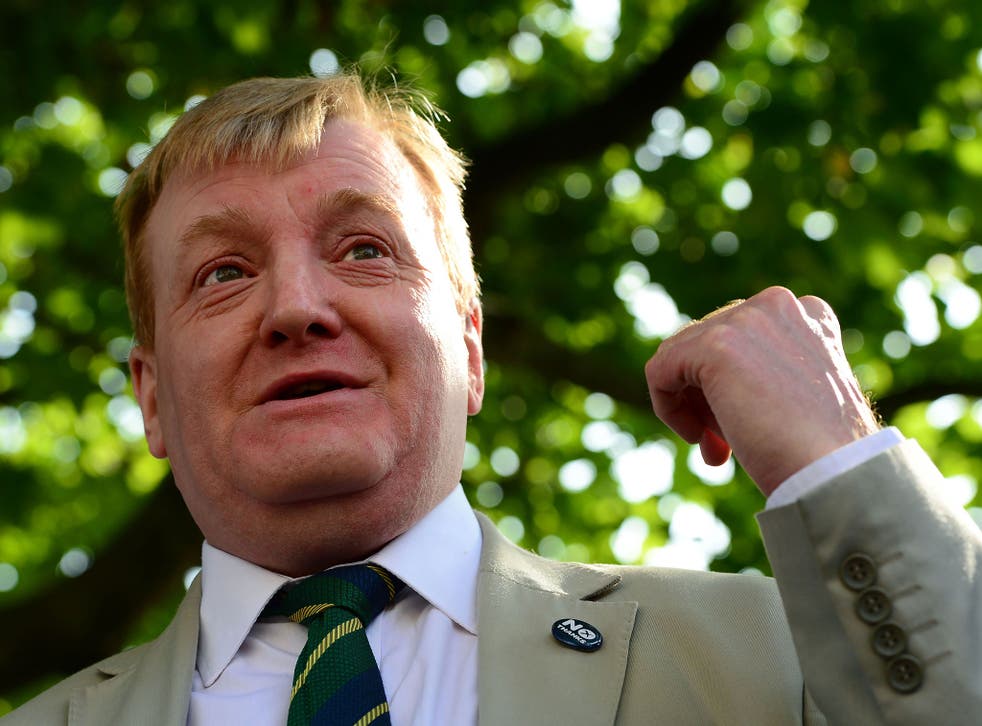 Charles Kennedy's death was caused by his long battle with alcoholism, his family has said.
The former Liberal Democrat leader was found dead at his home in Fort William in the Highlands earlier this week, aged 55.
A statement from his family this afternoon said he suffered a "major haemorrhage" and the post-mortem made clear his death was "a consequence of his battle with alcoholism".
His family thanked Mr Kennedy's "many friends" and medical experts who had tried to help Mr Kennedy with his alcohol problem, but accepted it was "ultimately an illness Charles could not conquer".
"The pain we feel has been at least eased somewhat by the reaction of so many people across Scotland, the UK and beyond, and by the affection expressed by politicians across the spectrum," the statement said.
"It has become all too apparent to us how much Charles meant to so many people and how many lives he touched."
Further tests were required to find out the cause of Mr Kennedy's death after an initial post-mortem was carried out. Police said there were no suspicious circumstances surrounding his death.
Alastair Campbell, Tony Blair's former spin doctor who forged a close relationship with Mr Kennedy over their "shared enemy" of alcoholism, said he hoped his friend's death would finally make politicians take the illness seroiusly.
"None of us are surprised that alcoholism played a part in his tragic death but what has been great about the tributes is that they have focused on so much more than this," he said.
"I hope that remains the case as people continue to remember him as we move towards the funeral and then subsequent memorials.
"I also hope that politicians of all parties develop a better understanding of alcoholism, take it more seriously and devise policies to treat it as a disease on a par with the other major diseases."
MPs from all parties paid emotional tributes to him in a special session in the House of Commons on Wednesday as his 10-year-old son Donald watched from the viewing gallery.
David Cameron hailed Mr Kennedy for representing the "best that politics can be" and praised him for his principled stand against the Iraq War.
Donald sat in the viewing gallery with his mother, Sarah Gurling, who was married to Mr Kennedy for seven years before the couple divorced in 2010.
Nick Clegg, who stood down as Lib Dem leader after last month's crushing election result, described Mr Kennedy as a "fully signed up member of the human race" in a touching tribute to his former colleague.
He added the former party leader was the "polar opposite of a cardboard cut-out, points-scoring party politician."
In a particularly emotional moment, Lib Dem leadership favourite Tim Farron looked up to Donald sitting in the gallery and said: "It's not what you have done, it is who you are.
"And Charles Kennedy was a very special man. Donald you should be really proud of your daddy, I am proud of your daddy, I loved him to bits. I am proud to call him my friend," he added, close to tears.
Register for free to continue reading
Registration is a free and easy way to support our truly independent journalism
By registering, you will also enjoy limited access to Premium articles, exclusive newsletters, commenting, and virtual events with our leading journalists
Already have an account? sign in
Join our new commenting forum
Join thought-provoking conversations, follow other Independent readers and see their replies