Cher on Donald Trump's presidential bid: He's got 'an ego the size of Texas'
Added that she would rather 'stick needles in her eyes' than meet him
Rose Troup Buchanan
Thursday 18 June 2015 10:32 Comments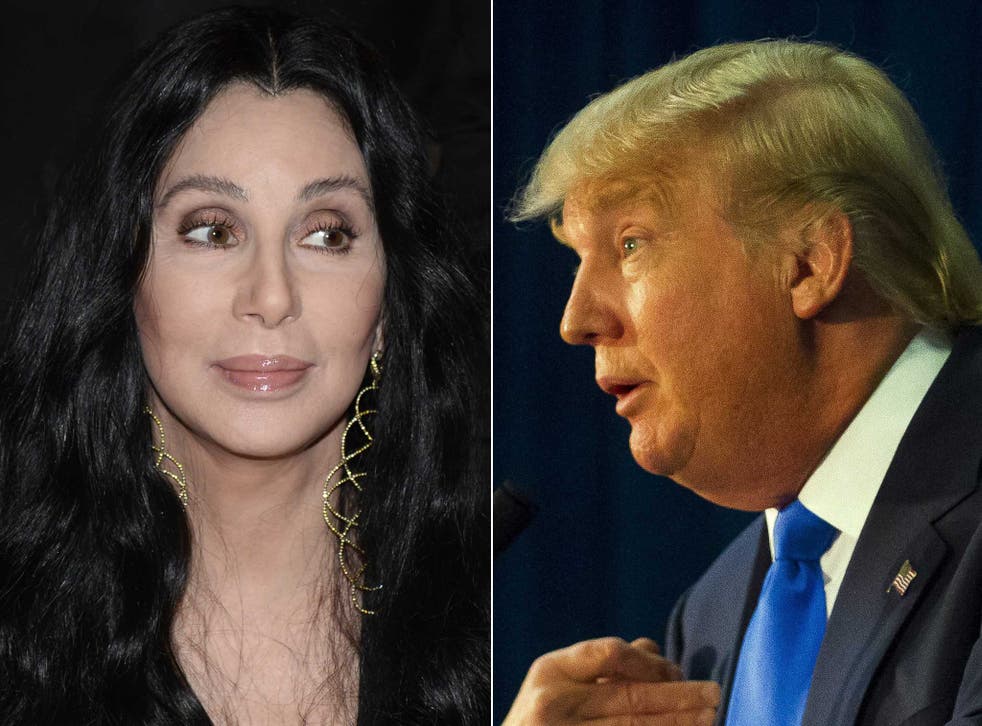 Cher has launched a scathing attack on Republican presidential hopeful Donald Trump.
The singer demolished the US tycoon, who declared his intention to run for the Republican nomination for president earlier this week, on social media last night.
The 69-year-old performer commented that "a******" Trump had an "ego the size of Texas" and claimed: "He's a loudmouth Bigot. If he had more money than Croesus he'd be an idiot."
Asked by Trump supporters whether she would ever take a picture with the man himself, Cher's response – "I would rather stick needles in my eyes" – appeared to suggest not.
In possibly the best critique of a future possible president, the lady renowned for her extravagant hairdos over the years also noted: "Donald Trump Can't come up with a hairstyle that looks human, how can he come up with a plan to defeat ISIS."
Cher's extravagant headgear

Show all 4
Trump, also 69, has been discussing a presidential bid since 2010, endlessly teasing supporters (and depressing liberals) with insinuations that he may launch a bid in 2016.
His announcement earlier this week was expected by many and has already caused controversy after singer Neil Young refused to allow his use of anti-communist anthem "Rockin' in the Free World".
Cher is known for her outspoken political beliefs. She supported Hillary Clinton in 2008 until Clinton lost the Democratic nomination to Barack Obama.
Despite switching her support for Obama, and giving interviews in which she called him a "good man", she maintained that Clinton would have made a better president.
Register for free to continue reading
Registration is a free and easy way to support our truly independent journalism
By registering, you will also enjoy limited access to Premium articles, exclusive newsletters, commenting, and virtual events with our leading journalists
Already have an account? sign in
Join our new commenting forum
Join thought-provoking conversations, follow other Independent readers and see their replies