Chloe Grace Moretz interview: The Equalizer star on being catapulted into Hollywood aged 11
Moretz sprang to fame in 2010, shocking parents everywhere as the profanity-spouting Hit-Girl in Matthew Vaughn's violent comic-book film Kick-Ass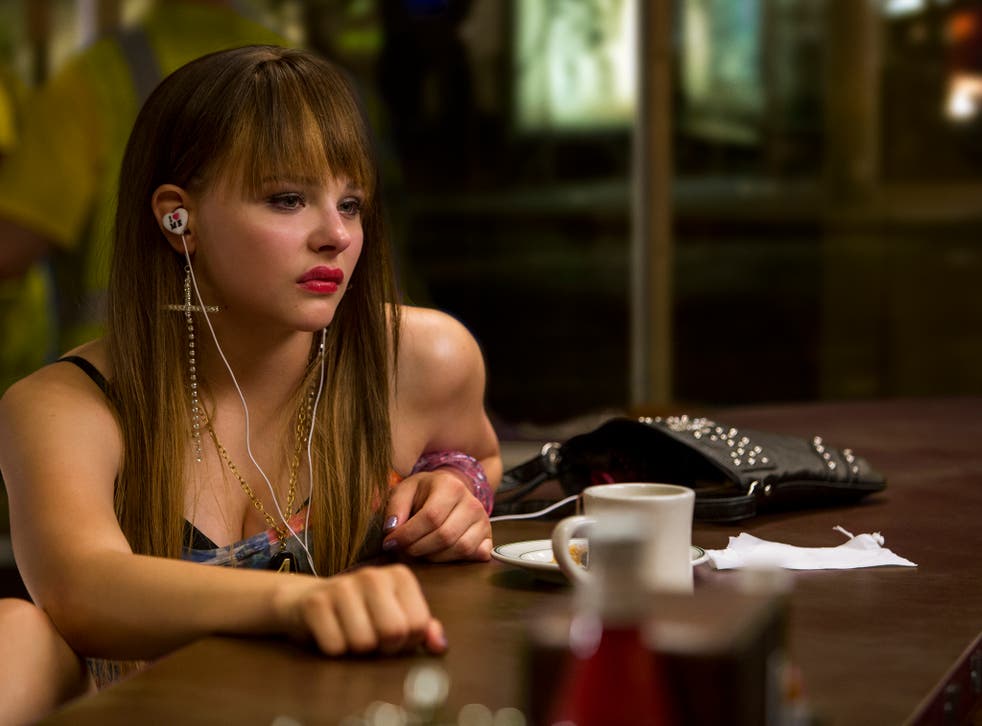 If ever there was a disparity between an actress and her characters, it's to be found in Chloë Grace Moretz.
She sprang to fame in 2010, shocking parents everywhere as the profanity-spouting Hit-Girl in Matthew Vaughn's violent comic-book film Kick-Ass. More recently, she played the vengeful high-school girl in an update of Stephen King's Carrie. And now? She totters onto the screen in a micro-skirt, heels and black wig, playing a Russian teen prostitute in The Equalizer.
In person, though, Moretz is all butter-wouldn't-melt. "I don't cuss in my own time," she confirms. "My mom is not cool with that." In fact, in an industry littered with child-star screw-ups, Moretz appears uncannily well-adjusted. "I don't have a need to go crazy," she says. "I'm already 17, so if I really wanted to, I would already be doing it – like a lot of the other actresses we've seen. By the time they're 15, they're in the club, doing crazy stuff. I don't enjoy the whole fame thing."
She reiterates her bemusement at the whole celebrity lifestyle, later on. "I would never be the type of person who just flies to Cannes to party and go on the red carpet." It'll be interesting to see if that changes, given Moretz has been dating the 15-year-old Brooklyn Beckham, son to David and Victoria. Recently glimpsed with his father and Vogue's Grace Coddington and Anna Wintour at New York Fashion Week, watching his mother's spring/summer 2015 collection, he's evidently more comfortable with that world.
They met at SoulCycle, the spin class beloved by the Beckhams, and have been seen together at a succession of music gigs – everything from Ed Sheeran to Jay Z's Made In America festival. Naturally, Moretz is cagey on the topic – though she's let things slip, from calling the Beckhams "a really sweet family" to showing her admiration for the way Brooklyn wants to follow his father into football. "I enjoy someone who is on my level with the seriousness kind of thing," she says.
It's rare to come across a young actress so motivated. She gets riled when thinking about the "several movies" where she's come on set, a little ray of sunshine, and been met by "totally cold and stand-offish" actors. She refuses to name names, proclaiming "I have to respect everyone", but then offers an interesting morsel. "A lot of people from the older generation are very set in their ways. It was a different time period when you're a mega-star in the Eighties and Nineties; like now it's a different world."
She swiftly assures me she's not talking about Denzel Washington, her co-star in The Equalizer, a nominal remake of the 1980s TV show in which Edward Woodward starred as vigilante private detective Robert McCall. Directed by Antoine Fuqua, the film sees Washington play McCall as a former black-ops soldier living with a new identity, working a day job at a hardware depot. Like Woodward's character, he sets out to protect the innocent, starting with Moretz's Teri.
Never mind that Moretz has already worked with such luminaries as Martin Scorsese (on Hugo) and Tim Burton (Dark Shadows), she's currently high on The Equalizer. "It's one of my favourite movies I've ever made," she gabbles. "Antoine Fuqua is like back in force. He kills it. He's one of the best directors ever, hands down. It's a solid, solid movie." Indeed, it is – if you like watching Washington violently scythe his way through a succession of East European heavies like a latter-day Charles Bronson.
Yet however much The Equalizer is just a gory slice of pulp fiction, Moretz took it seriously. "It's some scary stuff – and the scary part is it's very real. It's very, very real. Sex-trafficking is a huge issue." Visiting Children of the Night, an organisation dedicated to getting young girls off the streets in America, Moretz befriended a number of those in its care. "I hope I pay tribute to those girls… because they're the strongest girls I have ever met. They're amazing people. They're bad-ass."
Moretz still regularly returns to the shelter in Los Angeles. "You know as an actor they give you free clothes all the time? It's so stupid and I don't want any of them; I don't need the clothes. If you're giving them to an actor who can buy their own clothes, go give them to a shelter! So every time I get boxes, I don't even open the boxes. I just take them straight to the shelter and go, 'Here you go, here's your stuff, because this is not what I need. I just do my job. I don't deserve that.'"
Not that Moretz arrives for our interview in a hessian sack, it should be said. Dressed in a pleated pink shirt, short-sleeved grey jumper dotted with pearls and a pair of navy Chanel heels, she looks entirely at ease at the height of fashion (as pictures of her, stunning in a Dior gown, at the Toronto premiere of The Equalizer confirm). Again, you're not likely to catch Moretz in flesh-baring outfits that leave little to the imagination; she seems too classy for that Hollywood pitfall.
Born in Atlanta, the only daughter of nurse mother Teri and plastic-surgeon father McCoy, Moretz has called her upbringing "very Christian". With four older brothers, she has a strong family network wrapped around her whenever she's on set. "My brother Trevor is with me, at all times, and my mom is always with me," she says. Now her acting coach, it was Trevor who first pursued the craft, after being accepted into New York's Professional Performing Arts School in 2002.
Inspired by that, Moretz made her television debut two years later, when she was seven, on CBS show The Guardian – before swiftly transferring to the big screen, in everything from The Amityville Horror to (500) Days of Summer. There were kids' films too – she voiced a character in Pixar's Bolt and featured in the first Diary of a Wimpy Kid film. But it was Kick-Ass that changed things. "When I was 11, and I did that, that was crazy. No 11-year-old was doing that," she says. Catapulted into an entirely different arena, A-list directors queued up for her.
She recently worked with Steven Soderbergh on The Library, an off-Broadway play about a survivor of a school shooting. He told her to only ever choose a project if she'd do it for free. "And that's how I've always lived my life," she says. "I've never been like, 'I'm only going to do this project if I get paid $5m!'… I've never lived my life in that way." It's why you'll find her in indies like the recent If I Stay and the forthcoming Say When, co-starring Keira Knightley.
Pausing, she thinks for a second. "You're unhappy when you're making the projects that your agents want you to make." Still, they're probably not unhappy that she signed on for the highly-anticipated Dark Places, an adaptation of the novel by Gone Girl author Gillian Flynn. "It was one of the hardest projects I've ever done, and it was the darkest," Moretz promises. "It's the darkest I've gone as an actor. When you see the movie, you will not recognise me." Given her track record to date, that's saying something.
'The Equalizer' is on release.
'Say When' opens on 7 November
Join our new commenting forum
Join thought-provoking conversations, follow other Independent readers and see their replies