Chris Gayle repeats infamous 'don't blush' comment in interview with former Aussie cricketer Tom Moody
'Cheers Tom. Don't blush Tom'
Maya Oppenheim
Sunday 14 February 2016 12:06 Comments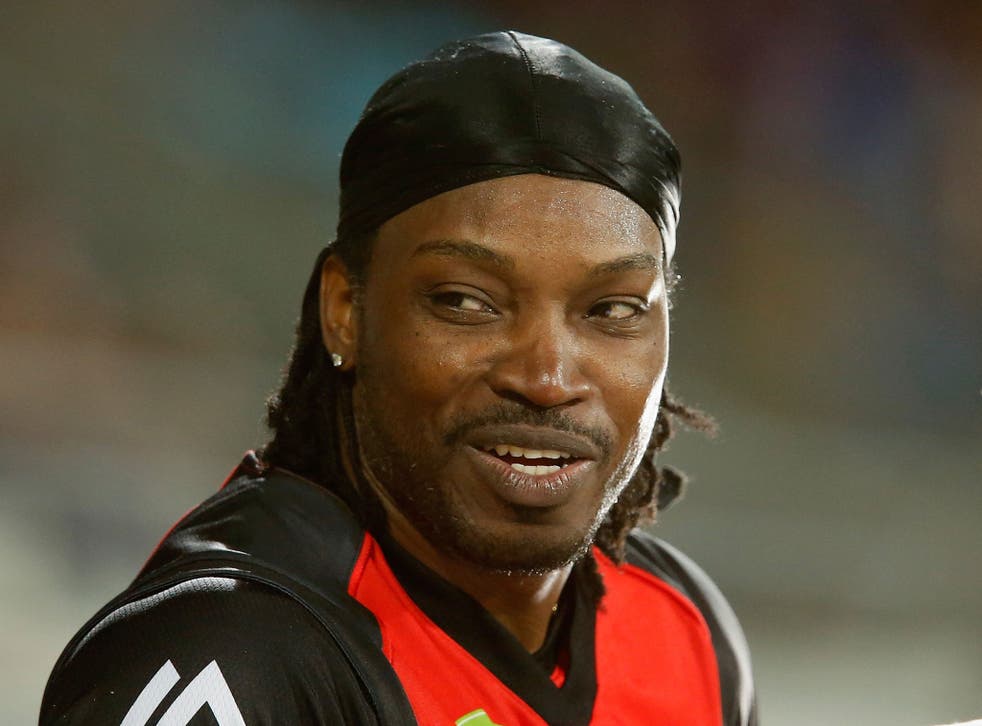 Chris Gayle might have landed a $10,000 fine for his infamous "don't blush, baby" comment to a female news reporter, but now the West Indies cricket star has decided to repeat the comment on live TV - this time to a man.
Last month, the former West Indies captain was fined for inappropriate conduct when he asked journalist Mel McLaughlin out for a drink and then said to her "don't blush, baby" on live television.
Poking fun at January's saga, the 36-year-old told former Australian cricketer Tom Moody not to blush in an interview during a Pakistan Super League match.
"Cheers Tom. Don't blush, Tom," Gayle said before bursting into laughter.
After propositioning renowned Australian sports reporter McLauglin, Gayle sparked criticism and angered Australian Cricket officials.
"I wanted to have an interview with you as well, that's why I'm here," the Kingston-born cricketer said on national television.
"I get to see your eyes for the first time, it's nice. Hopefully we can win and go for a drink after. Don't blush baby."
In response, McLauglin appeared noticeably upset and replied by saying "I'm not blushing".
In the aftermath of the incident, McLaughlin told Channel 10 news she wanted to move on from the furore.
Great Sporting Moments: Cricket

Show all 10
"I don't really want to be the subject of such conversations, I like just going about my business and doing my job. (It's) definitely a good thing people are talking ... you know, we want equality, we always want equality.
"I've always felt in my career I've felt nothing but respect.
"Of course you don't expect to get that answer (from Gayle).
"(It's) a little bit disappointing .. because it just doesn't happen normally."
Following a flood of criticism on social media, the batsman apologised for his remarks at a press conference at Melbourne airport.
"A lot of things have occurred from a simple comment, a joke, a simple joke. It seems it went out of proportion."
"There wasn't anything at all meant to be disrespectful to Mel, or offensive.
"If she felt that way, then I am really sorry for that. There wasn't any harm meant. It was a simple joke."
Register for free to continue reading
Registration is a free and easy way to support our truly independent journalism
By registering, you will also enjoy limited access to Premium articles, exclusive newsletters, commenting, and virtual events with our leading journalists
Already have an account? sign in
Join our new commenting forum
Join thought-provoking conversations, follow other Independent readers and see their replies