Chris Gayle: West Indies cricketer asks female journalist how many black men she has slept with in latest interview
Gayle is facing fresh allegations of sexism after giving a controversial interview to Charlotte Edwardes
Jack de Menezes
Saturday 21 May 2016 10:15 Comments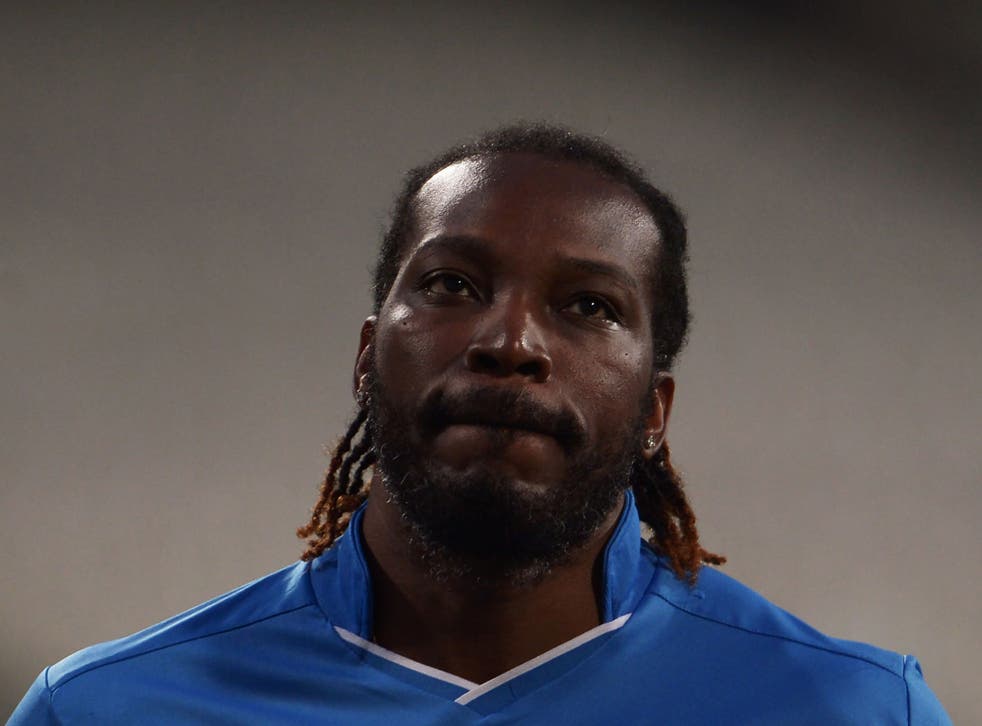 West Indies cricketer Chris Gayle is facing fresh allegations of sexism after appearing to ask a female journalist how many black men she had slept with, months after he asked out another woman during a live interview.
36-year-old Gayle was speaking to Charlotte Edwardes for an article that appeared in Saturday's Times magazine, in which he made a string of lewd and sexist comments.
The article states that Gayle claimed he has "a very, very big bat, the biggest in the wooooorld," before asking Edwardes: "You think you could lift it? You'd need two hands."
Gayle then went on to ask how many black men Edwardes has slept with as well as asking her if she had ever had a "t'eesome", and added: "I bet you have. Tell me."
He added: "Women should have equality and they do have equality. They have more than equality. Women can do what they want. Jamaican women are very vocal. They will let you know what time it is, for sure.
"Women should please their man. When he comes home, food is on the table. Serious. You ask your husband what he likes and then you make it."
Gayle was also asked for his views on homosexuality, to which he answered: "The culture I grew up in, gays were negative. (But) people can do whatever they want. You can't tell someone how to live their life. It's a free world."
Chris Gayle flirts with interviewer live on air
Gayle's latest comments come just four months after he asked Australian reporter Mel McLaughlin out during a live interview, with the batsman later being fined 10,000 Australian dollars for his comments during Big Bash League match.
He asked McLaughlin if she wanted to go for a drink afterwards, before telling her "don't blush baby" while McLaughlin continued with the interview. Addressing the incident, Gayle said: "It was a joke. She knew that. That's who I am, the joker."
Gayle is currently in India playing in the Indian Premier League for the Royal Challengers, and he is due to join Somerset later in the year for the Natwest T20 Blast.
Register for free to continue reading
Registration is a free and easy way to support our truly independent journalism
By registering, you will also enjoy limited access to Premium articles, exclusive newsletters, commenting, and virtual events with our leading journalists
Already have an account? sign in
Join our new commenting forum
Join thought-provoking conversations, follow other Independent readers and see their replies