Chris Langham interview: Disgraced actor opens up about his child sex abuse images conviction and why he's making a film in an orphanage
Chris Langham's career pretty much ended with his conviction in 2007 for downloading child abuse images but, he says, whatever his motives then, that shouldn't disbar him from doing good, surely. Here he talks about his remarkable new project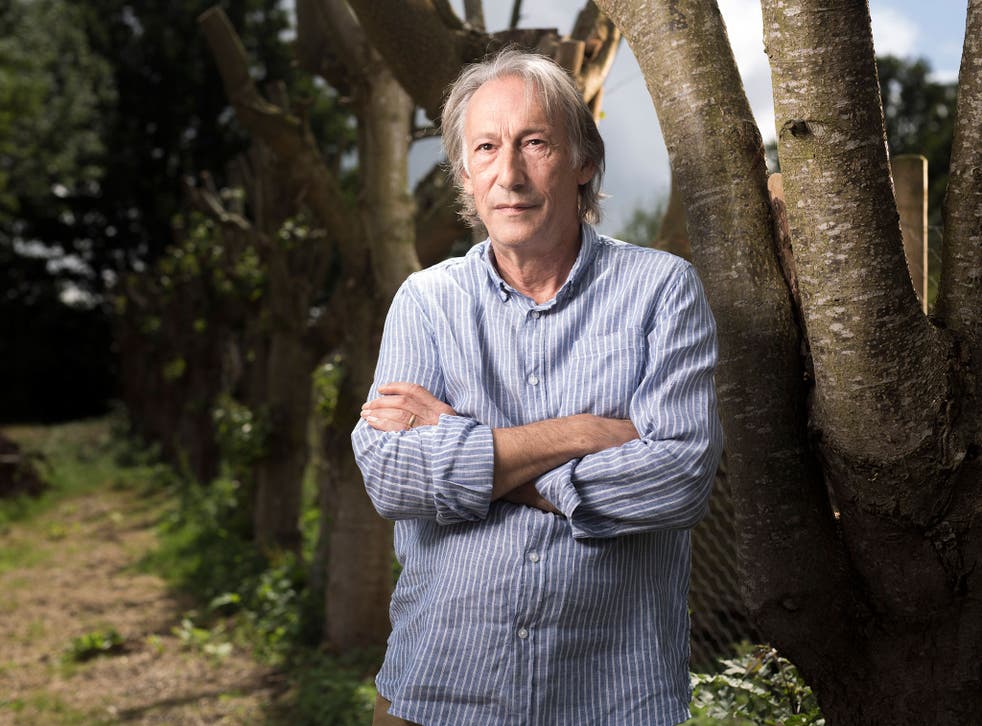 We're sitting in a darkened office, watching film of a young boy in Sierra Leone being rescued from a life of slavery. The sunlight catches his face and I say, without thinking, that the boy is beautiful. "Yes," says the man beside me, who directed the footage. "But I can never say that."
Chris Langham can't say much without someone calling him a pervert or worse, but that's his own fault, as he is the first to admit. "I have completely f***ed up my own life. It wasn't circumstances. I'm not blaming it on anything or anybody."
The actor and writer fell from grace at the height of his fame, just a few days after winning a pair of Baftas in May 2006, one of them for best comedy performance in The Thick of It.
He was charged with 15 counts of downloading indecent images, including clips that showed the rape of a teenager and the sexual abuse of an eight-year-old. "I did something terribly wrong. I offended my community and I was punished, quite correctly, for being as stupid and arrogant as the judge described me to be," says Langham now.
He wants to try and do good, even though he is a social pariah. Extraordinarily, his way of doing that involves trying to make a documentary about an orphanage. It is run by inspirational former child soldiers in Freetown who have overcome the horrors of their past to help victims of Ebola.
"These people are intoxicating to be around," says Langham, his voice breaking with emotion. "You listen to them and you just go, 'Take me with you.'"
There are many tough questions to be asked as we move out into the garden of his large family home near Cranbrook in Kent, with its sprawling grounds. In the sunlight, Langham looks exhausted.
The 66-year-old is far skinnier than he used to be, angular under an open-necked plaid shirt and chinos, with boat shoes and no socks. His hair and beard have silvered and grown long. But he has the same loping gait he had on screen, the same ability to slip from comic bafflement into a witty or perceptive phrase and back again.
His face looks harrowed, and when he pushes back his glasses to rub his eyes, as he does often, they are red and moist. "I am not to be forgiven. That has been made clear to me," he says, but it doesn't sound like self-pity. More like a flat assessment of the truth by a man who has run out of illusions. "Self-pity is so toxic."
He told the court that he had been looking at the videos to help him understand his own past, and as research for a character in his psychotherapy comedy Help!
The judge said: "Paedophilia is not an issue in this case. You are not a sexual predator." But a senior policeman ignored the ruling and told reporters outside the court that he still thought Langham was a paedophile. That stuck in the public mind. So when Langham was released from prison in 2007 after three months, he was angry, saying: "My career has been ruined, but my conscience is clear."
That's not what he is saying now. "I needed to change my position. I needed to be ashamed of what I was doing, why I was in court."
The big question that Langham now faces is this: when you have been found guilty, accepted the punishment and served the time, but people still shun you and refuse to give you work, what do you do next?
"As a result of going through the criminal justice system, I have ended up doing a lot of work on myself and trying to be a better person. Isn't that what is supposed to happen?"
The answer he has found is to try to tell somebody else's story in a documentary. Is he trying to rebuild his reputation?
"No. That wouldn't work!" he says. "It doesn't matter whether or not I am doing it so people will like me – they ain't gonna like me anyway. So it's very clean."
For the eight years since the trial, he has been living on the generosity of friends and the earnings of his wife, Chrissie, who travels the world overseeing productions of the musical Cats.
Their remote house has been a safe haven, but for the early days following his arrest, when news helicopters hovered overhead and the spotlights scared the children.
He has made one independent feature film, a dark comedy called Black Pond, which got great reviews from those who were prepared to see it; but there has been little other work. Some people argue that the BBC should never show Help! or his series of The Thick of It again. But Langham remains creative. "There is this hunger in me to make things."
The story he wants to tell is an extraordinary one from Sierra Leone. Langham first heard it in the most English of settings, from a friend on the boundary as they played cricket together. "He had just come back from Africa and looked as if he had been hit over the head with a bat."
The friend raved about the work and legacy of the late Reverend Richard Cole, who saved the lives of more than 800 former child soldiers during and after the civil war. He has been called the Oskar Schindler of Sierra Leone for the scale and daring of his rescues.
The boys had been forced to join the rebels at gunpoint, beaten and drugged, told to shoot their friends and taught to commit brutal, hideous acts of atrocity. When the war was over, they tried to go home but were rejected and some were killed. Cole rounded others up from the streets, often at great risk to himself, and set up a home for them, practising outrageous grace.
Enemies were forced to become friends and mentors to each other. No matter what they had done – and it was awful – they were told they could do good with the rest of their lives. Now four of those boys are grown up and continue the work in the Lifeline Nehemiah project in Freetown. They played a leading role in the community during the recent Ebola crisis, building their own treatment centre when nobody else would help, with instructions from the internet.
They also risked infection to feed 12,000 people who were quarantined and trapped in their homes because of the virus. Now they are expanding their work, to take in girls orphaned by Ebola. Langham is in awe of their work and attitude.
"I have been proved to be an untrustworthy member of society. If I am never trusted again, I shall understand that. I may not trust myself, but I completely trust these guys, so why don't I just do what they say?"
He and his friend helped set up a company called Needs Must Film, to make a documentary. There is a Kickstarter funding campaign and a website which goes live today.
They have come up with a way of making a film that he believes is revolutionary: instead of paying an industry fixer thousands of pounds to provide transport, hotels, office support and everything else that is needed, they pay the Lifeline Nehemiah leaders and trust them to do everything. Employing them means they can buy food for the boys, and any money left over goes directly to the work of the project.
"We make a film about what they are doing, and that pays for what they are doing," says Langham, who is only an employee of the company and not a director. The project leaders in Freetown are on the board alongside film industry experts.
"This helps other people and doesn't help me. That is important. I don't want anyone to hate Lifeline Nehemiah or Needs Must Film just because they don't like me. They are perfectly entitled not to like me. It's not about that kind of redemption."
What kind of redemption is it about, then? "I'm not expecting to be relieved of my guilt by doing this. I am guilty and I will always be guilty. What I did was wrong and it always will be wrong.
"So I'm left with thinking, how can I bear the burden of that in a way that doesn't hurt anybody, or even is creative, productive, contributing and participating helpfully in the lives of other people?"
That may be commendable, but there's a glaring issue here: it's an orphanage. A man who has been to prison for watching footage of children being abused is now trying to make a film about a home for children. He keeps saying that he is not trying to rebuild his career and I can only take him at face value, because this would be a crazy, disastrous place to start.
"I think you're absolutely right," says Langham, but he becomes visibly angry at the suggestion that it might be improper. "We are a professional outfit. We are trying to help a group of young leaders."
He has to tell the story they want him to tell, he says. Langham set out with the intention of making a film about a taxi company they set up, but events moved on and the story changed.
Standard safety procedures were followed and he was never alone in a room with a child.
"I didn't go out there and just walk around filming. The set is the set, even if you are making a documentary. There were always adults around anyway. They [the project leaders] happened to be child protection officers. I guess maybe that lulled me into a sense of security that I should still go ahead and do this, even if it means that some ill-informed people are going to think ill of me."
The executive director of Lifeline Nehemiah is PJ Cole, son of the founder, who is currently finishing law studies in London. He is with us for the first hour of a long hot day of talking in the garden, so I ask what he knew about Langham when they met. "I looked into his past. He was very open when I met him and explained who he was and what he had been through. I looked at the news reports and read the judgment," he says.
"We decided that we would work together. For us, that is what Nehemiah is about: rebuilding. Investing in people."
When he is gone, Langham breaks down as he tries to express his gratitude at being trusted. "When they sit in front of you, look you in the eye and say 'love is a weapon', you realise this is a life-and-death issue. You either do this or you never f***ing speak to your soul again."
Some people will wonder how he can speak to his soul, of course, after what he did. We need to talk about that. It happened in the office where we were earlier. Did he pay for the images?
"No, I didn't pay. What attracted the police to me was that I had used my credit card to go on porn sites 10 years earlier. There was nothing to worry them in that use of the card, but when they came to my house I was in the middle of doing this. It was like a jackpot [for them]."
He says he watched the films briefly on four separate occasions. Two of them were days that he sent scripts for Help! to the BBC, which he says was aware of the subject matter.
"I didn't tell the BBC I was looking at illegal material. I never got past the first few frames. The first time I ever saw the clips in total was when I was shown them in the police station."
He looked away then and "stared at the word Dell on the computer instead of the screen. It was horrible stuff. Atrocity footage, essentially, but in a hotel room in Sydney or Amsterdam. I had a gagging reflex. Someone in the jury threw up when they saw it, and I thought, 'good on you'."
All of this would be easier to understand if he had caught sight of the footage once, then turned it off. But he looked at the films four times. Why?
"That's the unhealthy side of it. That's the side of it that I need to be ashamed off. Doing it twice is a pattern. I was looking for something, I think. I found it in court, in the prison, in the sentence." What was it? "Blunderingly, I stumbled on a solution for myself: which was to be shown clearly where I was wrong and clearly the other place in me that needed healing."
He's talking about his own experiences. Langham told the court he was raped as a child, by a friend of the family who took him on a sailing weekend in Ontario. Part of his motivation for watching the films was to try to understand more fully what he had been through.
"But they were two separate issues. I can't condone one without the other. I'm sorry that I did it. I'm not justifying it or trying to explain it away, but those are the circumstances."
He also told the court that he was looking at the videos as research for a character in Help! Pedro would appear relatively harmless at first, but slowly emerge as dangerous. "Consciously, it was, 'I'm an artist, laws don't really apply to me, I'm doing it because I am interested in writing about this stuff and it is a very painful, personal subject for me.'"
Paul Whitehouse, his co-star in Help!, told the court that he did not know Langham had taken the research so far. Langham says he had delusions about winning an award for tackling a taboo.
"That was foolish. And ultimately selfish. Arrogant. I thought, 'I will do this difficult thing.' But it had no respect for the children whose tragedies I was prepared to witness. It was just driven by ego. Because then you would like me, for taking this difficult subject and helping us all to see it differently [through comedy]. Bollocks."
Many of his former colleagues and associates shunned him after the trial. Was that fair? "Yeah. Oh yeah. It's what happened. It's reality. People reacted honestly in the way they felt sincerely about and I completely respect that. I don't think I was treated unfairly by anybody."
Langham has five children from two marriages. Why have they all stood by him? "Because they understand more about love than I do. I have learnt a lot about love from my kids."
He is nervous about breaking cover now, after years of silence, so what do they think of it? "This is something we have discussed as a family. I have to say they don't like it. They are generous-spirited enough to understand this is important, because it needs to be done, rather than for reasons to do with me. Their way of contributing is to try not to mind about being hurt."
Langham has attended Alcoholics Anonymous for many years and you can hear it in his language, particularly when he talks about finding a way to be grateful for what happened. It stripped him of a life-long, crippling need to be liked and the feeling he was only as good as his last job. "I don't have a career. I don't have any respect. I don't have a reputation to save. I am unforgivable. In a way, that is a tremendous freedom."
Isn't there a secret part of him that wants to be forgiven, whatever he says? "Oh yeah. Of course there is all that greedy side of me that just wants people to like me. I still carry all that shit around with me, it just doesn't run my life any more."
He keeps saying that he is making this film to help the good people in it and any other motive would be "a corruption" of that. I believe that he believes it, but the appeal of the narrative is obvious: if these boys who committed war crimes and atrocities can be redeemed, then why can't he? Langham will not allow himself to say this out loud, but he comes close.
"The second promise of Alcoholics Anonymous is: 'We will not regret the past nor wish to shut the door on it.' That chimes so beautifully with Richard Cole's way of thinking."
He pushes up his glasses and rubs his eyes again. Then he quotes the man who told vicious killers they could still do change and do good, no matter what was in the past: "'You're not denying anything. If you need to be punished, that's fine, be punished for what you did. But what's really important is this: what are you going to do with your life now that is not like that?'"
Register for free to continue reading
Registration is a free and easy way to support our truly independent journalism
By registering, you will also enjoy limited access to Premium articles, exclusive newsletters, commenting, and virtual events with our leading journalists
Already have an account? sign in
Register for free to continue reading
Registration is a free and easy way to support our truly independent journalism
By registering, you will also enjoy limited access to Premium articles, exclusive newsletters, commenting, and virtual events with our leading journalists
Already have an account? sign in
Join our new commenting forum
Join thought-provoking conversations, follow other Independent readers and see their replies